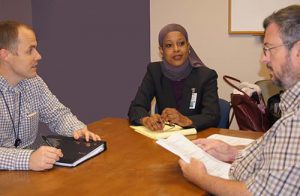 The Clinical Pastoral Education (CPE) Program at WVU Medicine provides an internship and a residency program for students and ministers to experience supervised encounters with patients, families, and staff in a hospital setting.
Students develop and expand on their interfaith professional caring skills to address a person's spiritual, emotional, and physical needs. People of all religious denominations, who are interested in serving as chaplains, are eligible to apply.
Our program offers two levels of CPE credit:
Internship – A part-time, volunteer internship from January 13 – June 15, 2020 (one unit)
Residency – A full-time employment, year-long residency from August 24, 2020 – August 20, 2021 (three units)
One unit of CPE consists of 300 hours of clinical service during which students visit and support patients, their families, and caregivers, plus 100 hours of classroom education. Four units are required to become a board-certified chaplain.
Accreditation
Since 1993, our programs have been nationally accredited by the Association of Clinical Pastoral Education, a nationally recognized accrediting agency through the US Department of Education. We are accredited to offer Level I and Level II clinical pastoral education by the:
Association for Clinical Pastoral Education
One West Court Square, Suite 325
Decatur, GA 30030
404-320-1472
Faculty
The Clinical Pastoral Education Program is led by Rev. Matthew Johnson, M.Div, an ordained minister with the Church of the Nazarene. Raised in South Carolina, he received his bachelor's degree in pastoral ministries from Trevecca Nazarene University in Nashville, Tennessee, and his master of divinity degree from the Nazarene Theological Seminary in Kansas City, Missouri. After 10 years of parish ministry, he completed a CPE residency at Self Regional Healthcare in Greenwood, South Carolina. Matt completed his ACPE Certified Educator training at Palmetto Health (now Prisma Health) in Columbia, South Carolina, before joining the WVU Medicine staff in September 2018. He was granted ACPE Associate Certified Educator in November 2018. Matt is married to Gaby, and they have two children.