The WVU Medicine Dietetic Internship is a stand-alone 41-week, full-time, comprehensive program with an emphasis on medical nutrition therapy. Applicants must have previously obtained a master's degree to apply. Eight applicants are matched to the program each year and obtain more than 1,400 hours of supervised practice experience with training in clinical, administrative, and community dietetics. Students have the opportunity to engage with their preceptors and patients on a regular basis in a variety of WVU Medicine hospitals and institutes.
This internship provides the necessary education and training to qualify you for a position as an entry-level generalist dietitian and qualifies you to sit for the national registration examination. For more than five years, our graduates have achieved an 85 percent pass rate on their first time taking the registered dietitian exam.
The WVU Medicine Dietetic Internship Program is granted accreditation status through June 30, 2026 by the Accreditation Council for Education in Nutrition and Dietetics (ACEND) of The Academy of Nutrition and Dietetics (AND), 120 South Riverside Plaza, Suite 2000, Chicago, IL 60606-6995, 1-800-877-1600. https://www.eatrightpro.org/acend
The WVU Medicine Dietetic Internship Program began in 1983 and is administered by the Department of Nutrition Services. Prospective applicants are encouraged to visit WVU Medicine and schedule a tour with Jill Johnston MS, RD, LD, internship director. You will be able to ask questions about the WVU Medicine Dietetic Internship Program and meet preceptors and current students.
Faculty
Our clinical preceptors are registered and licensed dietitians, and many are also graduates of the WVU Medicine Dietetic Internship Program. They have advanced training/certifications and experience in a variety of medical specialties. WVU Medicine dietitians complete nutrition-focused physical exams for patients, write orders for supplements and labs, and participate in malnutrition coding, which enables hospital reimbursement for services.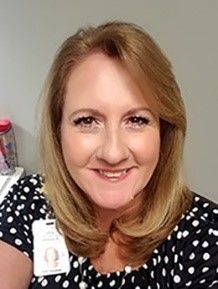 Jill Johnston, MS, RD, LD
Clinical nutrition manager and dietetic internship director
WVU Medicine Nutrition Services
1 Medical Center Drive
Morgantown, WV 26506-8016
jill.johnston@wvumedicine.org
304-598-4105
Dietetic Internship Resources