Below are some of our frequently asked financial/billing questions. Click on a topic to go directly to the answer.
---
Why am I receiving two bills for one visit?
Some WVU Medicine hospitals own and operate provider-based clinics. Based on regulations issued by the Centers for Medicare and Medicaid Services, "provider-based" refers to services administered in an outpatient clinic or location that is clinically and financially affiliated with a hospital.
The two separate bills from a provider-based clinic visit include:
One bill for the physician service from University Health Associates (as depicted in our patient portal, MyWVUChart)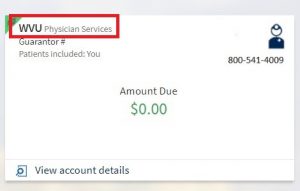 Another bill for the hospital/facility resources and services from WVU Medicine Hospital Services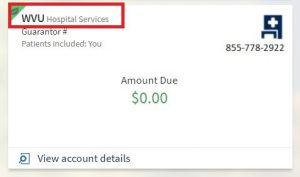 Patients benefit from provider-based hospital outpatient clinics and locations because these facilities are subject to high-quality standards and are monitored by The Joint Commission, a national organization that accredits and certifies healthcare organizations and programs.
Learn more about provider-based clinics.
What services are not covered by insurance?
Patients are responsible for services not covered by their plan. Every employer's benefit plan is different. Please check with your insurance provider before receiving scheduled services. If you have questions about services covered by insurance, please contact us at 855-778-2922.
WVU Medicine services that are not covered by insurance include:
Cosmetic services
Family planning
Non-emergent service provided in an emergency room setting
Services considered medically unnecessary
What insurance plans do you accept?
We participate with several insurers, as well as many smaller insurers. View a PDF list of insurers we accept. If your plan is not listed, please check with your insurer.
What healthcare expenses am I responsible for?
Patients may have different, required out-of-pocket expenses for healthcare services, including:
Deductible: The amount paid annually before your insurance pays for its share of your services. Some services may be excluded from the deductible depending on your plan.
Copay: Fixed expenses for each visit, such as a doctor's office visit (e.g. $25) or emergency room care (e.g. $100).
Coinsurance: The percentage of medical cost that you are responsible for paying.
Out-of-pocket maximum: This is the maximum cost you are expected to pay in a single plan year.
What if I do not qualify for financial assistance?
If you are unable to qualify for 100 percent financial assistance, you may still be eligible for discounted care. If you are uninsured, you will be charged 50 percent of billed charges for your hospital services. This discount ensures that you are not charged more than amounts generally billed for patients covered under Medicare or other private health insurers.
For more details, please review our Billing and Collections policy.