WVU Medicine offers a full-range of spiritual care support services for patients and their family members during hospitalization.  Our interfaith chaplains are available 24 hours a day, seven days a week to come alongside you and your family during what can be an anxious and uncertain time in your life and the life of your family.  Our chaplains offer a compassionate presence and seek to offer support in ways that are meaningful to you on your journey.  This support may include, but is not limited to, listening to your story, offering support in times of grief or decision-making, and connecting you to spiritual resources or rituals you find meaningful.
Ruby Memorial's Prayer and Meditation Room
The Interfaith Prayer and Meditation Room is located on the first floor of the Northeast Tower, between the Gift Shop and the Northeast Tower elevators.  Rededicated on October 30, 2017, it offers our visitors and patients of any or no faith tradition a peaceful and relaxing environment in which to pray, meditate, or reflect.  It is open 24 hours a day, seven days a week.  Guests may leave prayer requests in the book, which the chaplains pray for each day.  The stained glass window, by Ruth Mahoney (owner of The Glass Place), is a beautiful depiction of Appalachia's rolling hills and streams:  "[it] is a great example of the best use of glass to accomplish an idea—to create a window that would express an atmosphere of peace and beauty and be an encouragement for people."
Spiritual Care and Education Staff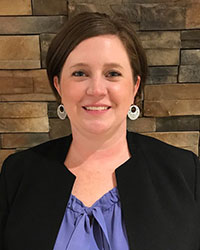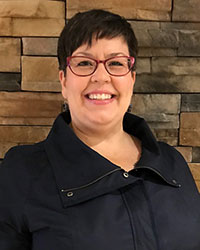 Kim Belcher, M.Div, BCC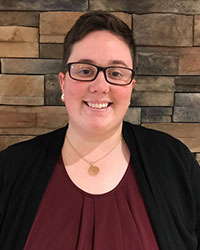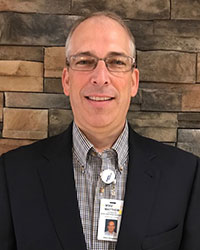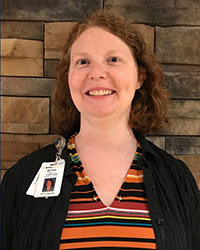 Moira Reilly, MAPM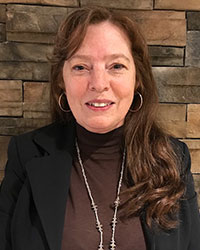 Penny Phillips
Department Secretary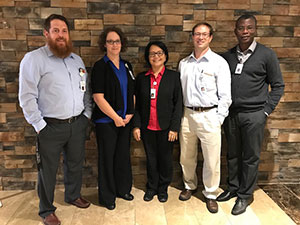 Chaplain Residents:
Bryan Baker—Surgical ICU, Emergency Department, 7E
Troy Beckner—Neuro Critical Care Unit, 10E, 10W, 8NE
Pauline Hsiao—Maternal Infant Care Center, Neonatal ICU
Nancy Matteuzzi—Medical ICU, 8E, 8W
Ebenezer Quaynor—Medical ICU, 7W, 7NE, 5E, 5W
Contact Information for Requests and Referrals
An interfaith chaplain is available 24 hours a day, 7 days a week. 
Patients, visitors and staff:
Any patient, family member or visitor may request to speak with a chaplain, and any staff member can make a referral to the spiritual care team.
Monday – Friday: 7:30 a.m. – 4:00 p.m.
304-598-4185 (from outside the hospital)
7-4185 (from a hospital telephone)
After 4:00 p.m., and on weekends and holidays, patients or visitors may ask a nurse or other staff member to contact the Ruby Memorial On-Call Chaplain.
Staff members:
To contact a chaplain, you may page "the Ruby Memorial On-Call Chaplain" 24/7.
On-Call Pager:  0590
West Virginia University Medicine
Department of Spiritual Care and Education
One Medical Center Drive
PO Box 8008
Morgantown, WV 26506-8008
Telephone/Voicemail: 304-598-4185
Fax: 304-598-4463
Email:  SpiritualCare@wvumedicine.org
Learn more about our Clinical Pastoral Education program.