WVU Medicine offers a full range of spiritual care support services for patients and their family members during hospitalization. Our interfaith chaplains are available 24 hours a day, seven days a week, to support you and your family during what can be an anxious and uncertain time.
Our chaplains offer a compassionate presence and support in ways that are meaningful to you, which may include:
Connecting patients and families to spiritual resources
Giving support during decision-making
Listening to your story
Offering grief support
Providing religious services or rituals
Responding to emergency or crisis situations
Visiting with patients and family
J.W. Ruby Memorial Hospital also offers the No One Dies Alone Program, which provides companionship for patients who are 48-72 hours from death and are not able to have friends or family present. Call 304-598-4134 to learn more.
Interfaith Prayer and Meditation Room
The Interfaith Prayer and Meditation Room at J.W. Ruby Memorial Hospital provides a peaceful and relaxing environment where visitors can reflect, meditate, or pray. Located on the first floor, between the Friends Gift Shop and elevators, visitors and patients of any or no faith tradition are welcome. The Interfaith Prayer and Meditation Room is open 24 hours a day, seven days a week. Guests may leave prayer requests in a special prayer book, which is located in the room.
The Interfaith Prayer and Meditation Room features an eight-foot-square, stained-glass installation that depicts a West Virginia nature scene. Ruth Mahoney, a well-known stained-glass artist, of The Glass Place, created this signature piece.
Learn more about our Clinical Pastoral Education program.
Contact Information
304-598-4185
spiritualcare@wvumedicine.org
WVU Medicine Spiritual Care and Education
1 Medical Center Drive
PO Box 8008
Morgantown, WV 26506-8008
Hours
Monday – Friday, 7:30 am – 4 pm
Chaplains are available 24/7: Ask a nurse or staff member to contact the on-call chaplain.
---
Spiritual Care and Education Staff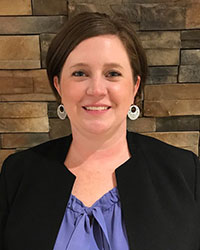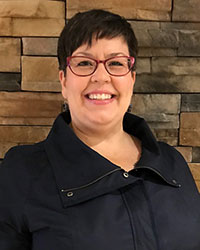 Kim Belcher, M.Div, BCC
Tyler Erickson, M.Div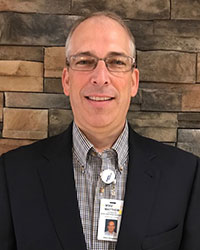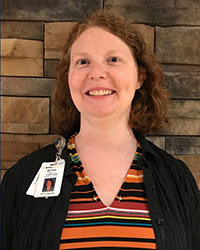 Moira Reilly, MAPM, BCC
Jen Suehs-Vassel, M.Div
Devan Voight, M.A.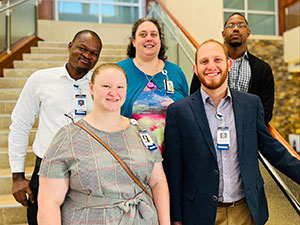 Chaplain Residents:
From left – Ajena John, Heather Moore, Cricket Hall, Jason Mark, and AJ Bethea