Sleep disorders can interfere with your ability to perform at work, drive a car, and enjoy your life. WVU Medicine doctors from a range of fields help adult and pediatric patients overcome sleep problems with the latest diagnosis and treatment methods.
If you or your child snores on a regular basis, consider an evaluation with one of our sleep disorder specialists as undiagnosed sleep apnea can lead to other health problems. Our sleep disorders team includes physicians with expertise in otolaryngology (ENT), neurology, psychiatry, pediatrics, and pulmonary medicine.
Conditions We Treat
Our specialists treat a variety of common and complex sleep disorders, including:
Insomnia
Obstructive sleep apnea
Restless leg syndrome
Snoring
Unusual sleep-related behaviors
Treatments and Services
If a sleep disorder is impacting your daily quality of life, your primary care provider can make a referral for a sleep study. At the WVU Medicine Sleep Evaluation Center, our experienced technologists conduct several types of overnight sleep studies that assess sleep stages, sleep-related breathing problems, movements during sleep, as well as other problems which may occur during sleep. Bedrooms at the Sleep Evaluation Center are designed with patient comfort in mind and include a large bed, window, private bath, and TV.
Information from your sleep study is interpreted by WVU Medicine physicians who are board certified in treating sleep disorders. If you are diagnosed with a sleep disorder, comprehensive treatment is available to you. As an academic medical center, we provide you with the most advanced, innovative sleep therapies. We offer non-surgical and surgical methods that may improve sleep quality including:
Correction of nasal obstruction
Nasal surgery
Oral appliance therapy
Palate procedures
Tongue-related obstruction treatment

Tongue suspension
Tongue advancement
Tongue reduction

Tonsillectomy (when indicated)
Inspire Therapy for Sleep Apnea

Inspire Therapy is an option for people with obstructive sleep apnea who aren't able to use or benefit from continuous positive airway pressure (CPA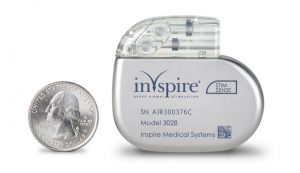 P) therapy and meet the following criteria:
Adults 18 years of age or older
Pediatric patients 13-18 years of age or older with Trisomy 21
Have moderate to severe obstructive sleep apnea
Apnea-Hypopnea Index (AHI) range from 15-65 for adults or 10-50 for pediatric patients with Trisomy 21, with <25% central apneas
Free of complete concentric collapse at the palate
Inspire works inside the body with your natural breathing process. The implant is placed under the skin of the neck and chest through two small incisions performed as an outpatient procedure with general anesthesia.
The device is activated by a remote that you control. Once you fall asleep, the system syncs with your breathing patterns and delivers mild stimulations to key muscles of the airway throughout the night to keep breathing passages open. Inspire Therapy continuously monitors your breathing patterns and delivers mild hypoglossal nerve stimulation during inspiration.
Learn more about Inspire
Click to read the Inspire Patient Guide.
Click to watch the Inspire Sleep Apnea Innovation – How It Works video.
Appointments and Directions
855-WVU-CARE 855-988-2273
WVU Medicine Physician Office Center
1 Medical Center Drive
Morgantown, WV 26506
Suncrest Towne Centre
1065 Suncrest Towne Centre Drive
Morgantown, WV 26505
Fairmont Medical Center, 4th Floor
1325 Locust Avenue
Fairmont, WV 26554
Uniontown ENT
10 Highland Park Drive
Uniontown, PA 15401
Sleep Evaluation Center
The WVU Medicine Sleep Evaluation Center provides services that identify and treat sleep-related disorders with a sleep study that monitors brain wave, eye movement, and heart beat measurements during rest. Adult and pediatric patients (two years of age and older) may undergo a sleep study with a referral from a primary care provider. The WVU Sleep Evaluation Center is nationally accredited by both the Joint Commission and the American Academy of Sleep Medicine.
Voluntary recall
On June 14, 2021, Philips Respironics (Philips) announced a voluntary recall of a majority of their continuous positive airway pressure, CPAP, BiPAP, and Adaptive Servo-Ventilator (ASV) units. This includes, but is not limited to, DreamStation 1 CPAP and BiPAP units, DreamStation Go Travel units, SystemOne (Q series), and REMstar SE. Learn more.
Why do I need a sleep study?
Quality sleep is essential for good health. Certain conditions can disrupt your sleep cycle and prevent you from having the best possible rest. These conditions may include:
Gastroesophageal reflux disease
Insomnia
Narcolepsy
Parasomnias (nightmares, sleep-walking and talking, bed-wetting)
Restless leg syndrome
Sleep apnea
Snoring
Sleep disorders may cause daytime sleepiness, fatigue, aggravated heart conditions, cardiac arrhythmias, and many other medical disorders, including morning headache, mood changes, depression, impotence, and hypertension. If you are experiencing problems with your sleep, talk to your physician about having a consultation with a WVU Medicine sleep disorder provider.
What kind of sleep study do I need?
After your sleep disorder consultation, you may need to have a sleep study for further evaluation. A sleep disorder physician may recommend a specific sleep study based on your individual condition, including:
Polysomnogram – evaluates snoring and sleep apnea (periods of interrupted breathing)
Continuous positive airway pressure study – similar to a polysomnogram, but you wear a mask fitted around your nose and/or mouth and a technologist introduces a stream of air into your airway to help you breathe and sleep comfortably.
Multiple sleep latency test – evaluates excessive daytime sleepiness and narcolepsy and determines how long it takes you to fall asleep with monitored naps throughout the day.
Maintenance of wakefulness test – evaluates your ability to stay awake and is an important test
for pilots, long-haul truckers, and others who need to be alert for public safety.
What happens during a sleep study?
You will arrive at the WVU Medicine Sleep Evaluation Center at a scheduled time usually between 8-10 pm. An experienced sleep technologist will show you to a private room, where sleep monitoring equipment will be set up. Electrodes, a respiration belt, and other devices will be applied to your head and body using a paste that can be easily removed by showering the next day.
Once the technician has the sleep monitoring equipment in place, the lights are turned out, and you are ready to go to sleep. We monitor data and record video during your sleep study to evaluate any health issues that might be affecting your quality of sleep.
At the completion of the sleep study the next morning, electrodes are removed, and a shower is available for you. A sleep technologist and a board-certified sleep specialist will evaluate your sleep study and provide you with a diagnosis and treatment plan within two weeks after your sleep study.
---
Appointments and Directions
855-WVU-CARE 855-988-2273
Sleep Evaluation Center
205 Bakers Ridge Road
Morgantown, WV 26508
304-598-4285
Fairmont Medical Center, 4th Floor
1325 Locust Avenue
Fairmont, WV 26554