A Comprehensive Surgical Weight-Loss Program
WVU Medicine Metabolic and Weight-Loss Surgery offers a comprehensive, surgical weight-loss program. Our program has a strong focus on pre-surgery education and post-operative success. Regular follow-up appointments and monthly support groups are designed to help you succeed. We are here to help you every step of the way!
We offer a team approach to treating severe obesity. Our team includes dietitians, clinical psychologists, physician assistants, and nurses who work with each patient before, during, and after the surgery to ensure our patients receive the best care.
In addition, we have access to healthcare experts who provide a complete range of specialty care and state-of-the-art imaging and scanning services, helping us to deliver a superior quality of care.
Who is a candidate?
Morbid obesity is the qualifying diagnosis for weight-loss surgery. Morbid obesity is defined by being either 100% above ideal body weight or 100 pounds above ideal body weight. Candidates are those who have a body mass index (BMI) greater than 40 or a BMI between 35 to 39.9 with one or more other complications, including high blood pressure, type 2 diabetes, high cholesterol, or obstructive sleep apnea. BMI is calculated by dividing weight in kilograms by height in meters squared.
About Blue Distinction Centers
Blue Distinction Centers (BDC) met overall quality measures for patient safety and outcomes, developed with input from the medical community. A Local Blue plan may require additional criteria for providers located in its own service area; for details, contact your Local Blue Plan. Blue Distinction Centers+ (BDC+) also met cost measures that address consumers' need for affordable health care. Each provider's cost of care is evaluated using data from its Local Blue Plan. Providers in CA, ID, NY, PA, and WA may lie in two Local Blue Plans' areas, resulting in two evaluations for cost of care; and their own Local Blue Plans decide whether one or both cost of care evaluation(s) must meet BDC+ national criteria. National criteria for BDC and BDC+ are displayed on www.bcbs.com. Individual outcomes may vary. For details on a provider's in-network status or your own policy's coverage, contact your Local Blue Plan and ask your provider before making an appointment. Neither Blue Cross and Blue Shield Association nor any Blue Plans are responsible for non covered charges or other losses or damages resulting from Blue Distinction or other provider finder information or care received from Blue Distinction or other providers.
The first step in our program is to attend an information session.
Shortly after the information session, the bariatric surgery coordinator and surgeon will review the information you provided, and an appointment will be scheduled for you to meet with the surgeon.
At this visit, the surgeon will review your medical history and have a detailed discussion with you about different types of bariatric procedures. You may have to undergo additional testing and/or evaluations with other medical specialists. Screening tests done before surgery help your surgeon plan for your surgical care. You will meet with a psychologist and dietitian individually as well.
After all tests have been completed, the information is submitted to your insurance company. Once the insurance company pre-authorizes surgery, your appointment can be scheduled.
Two to three weeks prior to your surgery date, appointments are scheduled with the surgeon and pre-admission testing.
This final step before surgery is an opportunity to have your questions answered and to learn more about what to expect after surgery.
Bariatric Gastric Bypass Surgery Success Story – Wendy Goings
Highlight: "My attitude has changed toward life. I'm not looking at a headstone in my near future."
Wendy Goings has struggled with her weight since she was a child. When she was 7-years-old, her doctors told her she was overweight. In high school, she weighed more than 200 pounds. By the time she was in her late 30s, her weight soared to the highest it had ever been: 410 pounds. It was then that Wendy thought she was headed to an early death.
"I didn't want to die. I lost my mother and I was depressed. My weight had gone way up and I knew my mom wouldn't have wanted me to live like this. She'd want me to live to the fullest."
After watching a close friend go through bariatric surgery, Wendy decided to attend an information session. She immediately felt comfortable with the WVU Bariatrics team and soon after the session, she made the decision to proceed with the bariatric surgery process.
"We met once a month for nutritional classes and to learn about what we were going to be going through, how it was going to affect us, what to expect afterwards, and how to maintain a healthy lifestyle pre-op and post-op. By the time I got to the surgery, I felt quite prepared and I knew what I was getting into."
Since the surgery, Wendy has lost 140 pounds. In just one year, she is down to 270 pounds and has more energy and confidence than ever before.
"It's great to be able to sit in a chair and not have to wonder if my keister is going to fit. I went on a trip to Vegas and I was so comfortable on an airplane. Things are just so much better on this side of the procedure."
Not only is Wendy making healthier choices when it comes to food, she's also exercising regularly. She lifts weights, walks on the treadmill, and goes on bike rides when the weather is nice. Wendy says she plans on being around for a long time and is looking forward to spending time with her loved ones and enjoying life to the fullest.
"I've had a huge life change. I feel so much better. My attitude has changed toward life. I'm not looking at a headstone in my near future."
Bariatric Gastric Bypass Surgery Success Story – Wendy Goings
What is "morbid obesity" or "clinically severe" obesity?
Morbid obesity and clinically severe obesity are medically defined conditions. Obesity is measured by comparing a person's weight to their size in a term called Body Mass Index or BMI. BMI is measured by dividing a person's weight (in kilograms) by their height (in meters squared) BMI calculator.
Morbid obesity is defined as a BMI of 40. Persons with diseases associated with obesity like high blood pressure, diabetes, degenerative arthritis, and sleep apnea and a BMI of more than 35 are considered to have clinically severe obesity. A BMI of 40 usually corresponds to being 100 pounds overweight.
What are the qualifications for this procedure?
You must be at least 100 pounds over your ideal weight and be able to document other weight loss programs that you have tried, but failed, including at least one medically supervised weight loss program. In addition, a psychologist and a nutritionist will evaluate you.
How safe is bariatric surgery?
As with all types of major abdominal surgery, there is a chance of post-operative complications. Complications may include (but are not limited to) cardiac arrhythmia, pulmonary embolism, or wound infection. Your surgeon will discuss possible complications and risks with you. However, bariatric surgery is proven to be safe and effective with minimal overall complications.
What non-surgical complications are associated with bariatric surgery?
Some common complications are hair loss, vomiting, intolerance of some foods, mineral deficiency, or stomach ulcer development. Most of these complications can be resolved or avoided by good nutrition and careful eating. Your surgeon has a sound pre-surgical medical plan and comprehensive post-surgical follow-up plan that minimizes the risk of these complications.
How long does the surgery take?
The average length of surgery for the bypass is about 1 hour.  A lap band takes about 30 minutes to complete.
Can I ever lose too much weight?
It is very unlikely for patients to lose too much weight.  Occasionally, patients can develop a stricture (outlet obstruction) within the first few weeks after surgery.  This is easily correctable. Blood work to screen for vitamin deficiencies is conducted on a regular basis to ensure that patients are well nourished and their needs are being met.
From the time I am seen in the office, how long before I will have the surgery?
In general, after the initial consultation in the office, it can take anywhere from 3 to 6 months to have the surgery. Once we have gathered the information that we need, we send a letter to your insurance company for pre-approval for the procedure. Once obtained, you would then undergo an in-depth history and physical examination as well as some laboratory tests and x-rays. Once those are done, provided there are no additional or unexpected medical problems that would require treatment first, we would schedule your operation.
How long is the hospital stay for a bariatric operation?
The average length of stay for a gastric bypass or sleeve gastrectomy is 2 nights.  If you have a lap band placed, you will typically be in the hospital for one night.
How long would I be off work after bariatric surgery?
In general, you can return to work within 4 to 6 weeks of having the operation.
How much food can be eaten after surgery?
The food intake is limited to 1 or 2 ounces per scheduled meal immediately after surgery so that the stomach can heal properly. Later, the quantity of food that can be eaten increases. At its maximum capacity, about 6 months after surgery, the pouch holds between 4 to 8 ounces of food.
How quickly does a person lose weight after the surgery?
Patients generally lose 60 to 85 % of their excess weight within the first year after surgery. After that, weight loss continues until about 18 months post-surgery when the patient usually achieves his/her goal weight. If you exercise, attend support groups and eat healthy foods, your weight loss from bariatric surgery can be significantly greater.
Can I become pregnant after having the surgery?
Women of childbearing age should avoid pregnancy for 1 year after surgery because rapid weight loss and nutritional deficiencies can harm a developing fetus. If you should become pregnant, you will need to carefully watch your dietary program to make sure you and your baby are well nourished.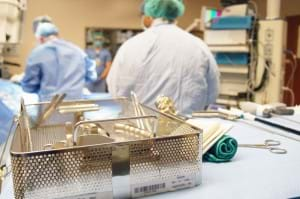 The WVU Bariatric Surgery program offers a minimally invasive laparoscopic approach as well as an open alternative if needed.
Weight loss surgery is major surgery, yet safe and effective. It is not a cosmetic operation. You should consider it to be permanent.
The minimally invasive approach consists of a few small incisions. Not all patients are candidates for minimally invasive surgery. The surgeon will assess which approach suits you best during your first appointment.
Surgical options that WVU Medicine offers include:
Roux-en -Y Gastric Bypass According to the American Society of Bariatric Surgery and the National Institutes of Health, Roux-en-Y gastric bypass is the current gold standard procedure for weight loss surgery. In this procedure, stapling creates a small (15-30cc) stomach pouch. The outlet from this newly formed pouch bypasses most of the stomach and several feet of the small intestine, preventing your body from absorbing all the calories and nutrients from the foods you eat. By combining the smaller stomach and the malabsorption feature, this surgery produces more weight loss than operations that only decrease the intake of food. The malabsorption of nutrients, especially calcium, iron, and Vitamin B

12

can be managed through proper diet and vitamin supplements. An excess intake of sugar and fat may trigger a condition known as "dumping syndrome." The results can be extremely unpleasant and can include nausea, weakness, abdominal cramping, and diarrhea.
Laparoscopic Adjustable Gastric Banding This procedure restricts and decreases food intake as an adjustable band is placed around the top part of the stomach to create a small pouch. The size of the band is adjusted using a port placed under the skin. Adjusting the band changes how quickly food leaves the new pouch. It is one of the least invasive approaches to obesity surgery, because no permanent changes are made to the body's physiology. The stomach stays intact and the digestive process remains the same.
Laparoscopic Sleeve Gastrectomy This procedure restricts and decreases food intake through surgical removal of approximately 2/3 of the stomach. Sleeve gastrectomy, also known as vertical gastrectomy, can be used as a stand-alone procedure for weight loss or as a preliminary procedure in patients with very high BMI to render them fit for a more definitive second stage operation (gastric bypass).
Highlight: Now that Paul Hevner has lost more than 150 pounds, he's able to make the most out of his workout sessions
Paul Hevner has always enjoyed going to the gym. Despite his healthy habit, he had another habit that was hard to break: overeating.
At one point, Paul weighed 400 pounds. He tried several different diets, including Atkins and Weight Watchers, and even though he would temporarily lose weight, it always seemed to come back.
In November 2013, Paul attended a Gastric Bypass seminar that changed his life.
"The doctor made it very clear that obesity was one of the leading causes of death. Being 66-years-old at that time and weighing approximately 378 pounds, I knew I had to do something if I wanted to be around to see my grand children grow up to be adults."
To prepare for the surgery, a dietician told Paul he had to give up carbonated beverages and sweets. That alone helped Paul lose nearly 30 pounds. He had the operation, and by his 6 month checkup, his test results had already improved.
"Hopefully I've extended my life and I've been able to help fix a lot of my health problems. I was able to give up a lot of different medicines I had to take due to the problems with my obesity."
Now, Paul says his biggest problem is that he has to keep buying new clothes that fit him.
"I have dropped 16 pant sizes and two shirt sizes. I used to be to the point that I was so big I couldn't go to Walmart and buy clothes that would fit me. I'd have to look on the internet and spend 3-4 times to get clothes that would fit. Once I started losing weight, the energy came back and I am now able to do stuff that I want to do."
For Paul, losing this weight has made a dramatic difference in his life. He says he no longer gets hungry, and when he does he is able to control what he eats and how much he eats. He also continues to go to the gym almost every day.
Bariatric Gastric Bypass Surgery Success Story – Debora Hines
Type of Surgery: Roux-en-Y gastric bypass
Highlight: "It was time to live again."
Debora Hines could fall asleep anywhere. Her daily routine consisted of going to work, coming home and falling asleep right away. The grandmother of three says she didn't have much quality of life and missed out on important life moments.
"I missed out on a lot of time with my grandkids because I couldn't stay awake. I didn't have enough energy to get out and play with them the way that I would've loved to. I was very limited and my weight really slowed me down."
Another concern of Debora's was that her health was deteriorating. She was taking four insulin shots a day and still struggling to control her diabetes.
"My diabetes got to the point that I literally just slept all the time. Nothing seemed to work."
Her family doctor suggested that she consider gastric bypass surgery.
"I knew with my health condition, I was going to have to do something in order to be around to watch my wonderful children and grandchildren grow up."
Despite her fears, she decided to make an appointment with the Bariatric team at WVU Medicine. She says they walked her through each step of the way.
"In July 2012, I took the most important journey of my life. I decided I no longer wanted to be someone that had no energy to do anything. It was time for me to live again."
Debora says having gastric bypass has changed her life tremendously. She has a lot more energy and goes to the gym several times a week. She no longer takes four insulin shots a day and is now able to control her diabetes through oral medication.
"Before surgery, I was unable to walk very far without my knees hurting and I was so ashamed of the way I looked. Since the surgery, I am now able to walk several miles a day and love to do Zumba."
Debora says she would recommend this surgery to those who need it. In fact, her daughter just went through the same surgery. She says it's important to remember that this isn't a quick fix, it's a life change.
"Going into it, I thought 'oh wow, I'm going to have surgery and never worry about it again.' No, that's not how it goes. I still want pizza and things that I know I shouldn't have. The difference is, now I know what's going to happen if I eat the things I want, I'll get sick. You never get to the point where you don't have to worry. You are responsible for what you put in your mouth."
Weight-Loss Information Session Schedule
If you are overweight by more than 100 pounds, are committed to a healthy lifestyle, and have attempted multiple diet and exercise programs but still haven't kept the weight off, bariatric surgery may be an option for you.
We provide a free information session so patients can learn about the different weight-loss surgeries offered at WVU Bariatrics, including:
Roux-en-y gastric bypass surgery
Adjustable gastric banding
Sleeve gastrectomy procedures.
Attendance at a session is a mandatory first step for program participants.
Sessions are held at the University Town Centre in Morgantown or in classroom 1 at United Hospital Center in Bridgeport from 6–7:30 pm. There are only 50 seats available.  You are welcome to bring one adult support member (over the age of 18) with you to the session.
Reservations are required; please fill out the questionnaire or call 304-293-1728 to reserve your seat.
Location
WVU Medicine University Town Centre is conveniently located in the University Town Centre development just off I-79 in Granville. Click for a map or driving directions.
United Hospital Center is located just off I-79 (exit 124) in Bridgeport.  Click for a map or driving directions.
Free parking is available on site at both locations.
Reserve your seat at the next session:
Bariatric Gastric Bypass Surgery Success Story – Lyonel Weld
Type of Surgery: Gastric Bypass
Highlight: this roller coaster enthusiast can now ride roller coasters again!
Lyonel Weld has struggled with weight all of his life. When he was 26, the California, Pennsylvania native weighed 540 pounds. He was able to lose 340 pounds over a three year time period, but unfortunately he gradually gained it back until one day he was nearly 500 pounds again.
"I was just miserable, absolutely miserable."
Despite his best efforts to exercise and eat right, Weld could not lose the weight. He made the decision to seek medical help after watching his co-worker enroll in the Bariatrics program at WVU Medicine.
"I had a lot of friends who did it. There was a lady at work who had it done at Ruby and she had great success and looked great. I asked her about it and she gave me the number and told me to go in for a consultation."
A few months later, Weld attended a WVU Medicine Bariatrics information session to learn more and decide whether this procedure was right for him. After attending a six month pre-surgery education program, Weld says both he and the team felt that he was ready to move forward.
"I felt comfortable with them and with going through the process. They went over all the risks and walked us through how it's done. They showed us what the body looks like inside both before and after the surgery is done."
Now, Weld says he does his best to continue exercising often and eating well balanced meals. He says through his support group, he has learned about healthy eating, how to keep the weight off, how to handle holidays, and more.
"I love the support group because it keeps me on track. A lot of places don't have that kind of support. You get the surgery and they're done. Some friends I know had it done elsewhere and didn't get any help. Now, they ask me questions."
That said, Weld says gastric bypass is not for everyone and it's also not without complication. He himself has had a few complications.
"I would really say, I don't think it's for everybody. Food is an addiction just like anything else. If you aren't ready to give it up, it's not worth doing it because I don't think it will work. Really think about it and think about your life and what you want to do with your life."
For Weld, this surgery has been life changing. As a school teacher to a group of energetic sixth graders, he says that now, he can finally keep up with them. In fact, he says he seems to have even more energy than them.
"I work four flights up in a building. My knees and back were killing me. Now, I go up and down those stairs 20-30 times a day. I can walk now without feeling like I'm dying. I used to sweat and pant and now I can do it without losing my breath."
Outside of work, Weld says he's now able to partake in his favorite activities again, such as riding roller coasters. The roller coaster enthusiast says it's something he was unable to do when he was overweight, so now, he's making up for lost time. Just last year, he rode 68 new coasters that he had never been on before. His goal is to ride no less than 50 roller coasters a year.
Weight Loss Surgery Support Group Schedule
Have you had bariatric surgery in the past? Do you feel like you need extra guidance and understanding from peers? Come to WVU Bariatrics monthly support group, facilitated by a licensed healthcare professional. Once a month, pre-surgery and post-surgery patients can gather to discuss concerns, successes, and learn strategies to keep the weight off. All are welcome to attend!
No appointment necessary.
2018 Support Group dates and times
The group meets Tuesday evenings from 6 – 7 pm in the John Jones Conference Center at the WVU Health Sciences Center on the following dates:
Support groups and parking are free.
Please bring with you as many support members as necessary.
For more information, please call 304-293-1728.
Most, but not all, insurance companies cover bariatric surgery. Prior to attending the session, all patients are asked to contact their own insurance company to inquire about their specific benefits/policy.
Be aware that many insurance companies require proof of your having made long-term attempts to lose weight through diet and exercise and/or behavioral techniques.
Comprehensive Surgical Weight Loss Program Forms
Click to download:
Bariatric Surgery – Physician Office Center
Address
1 Medical Center Drive
Morgantown, WV 26506