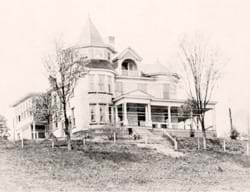 St. Joseph's Hospital is a thriving hospital located in the beautiful mountains of central West Virginia. The hospital embraces its mission of providing holistic care encompassing a person's physical, emotional, social and spiritual well-being. Faithful to the highest ethical standards, the hospital's guiding principles ensure that the values of the Catholic tradition are expressed in its daily operations.
The hospital's campus includes the St. Joseph's Medical Office Building and the Physician's Office Center located at the foot of the hill on East Main Street. The Medical Office Building is home to the Center for Women's Health at St. Joseph's, a team of mid-wives and PAs who, along with Dr. Peter Power, provide excellence in health care for Obstetrics and Gynecology.
Located adjacent to the hospital is the Medical Plaza housing St. Joseph's Physicians. St. Joseph's PromptCare Walk-In service, located next to the Emergency Department, is staffed with Emergency trained physicians and physician assistants from WVU's Department of Emergency Medicine. The hospital is also home to the Nursing Care Facility, a long-term care facility that in 2012 was awarded the Best in the State designation from U.S. News and World Report for three years in a row.