1 Medical Center Drive
Morgantown, WV 26506
304-598-4848
Located on the first floor of the Physician Office Center, next to Ruby Memorial Hospital.
Medical Center Pharmacy hours of operation are:
Monday to Friday – 7:30 am to 6 pm
Saturday – 10 am to 2 pm
Closed on Sunday and holidays
Free 15 minute parking is available in front of the canopy of the Physician Office Center.
Medical Center Pharmacy offer prescription refills 24 hours a day, seven days a week by calling 304-598-4848 and entering your prescription number or by clicking the prescription link and ordering online. You can pick up orders during regular business hours.
Prescription Refills
When refilling a prescription over the phone or online, please be sure to have your prescription number ready. Your prescription number is located on the front of the label just above your name.
.
By Phone – To refill your prescription over the phone please call 304-598-4848.

Online – To refill your prescription online, click the blue Refills button to the left and complete the Refill Request Form.
Form Directions
When filling out the refill form, remember that fields with an asterisk are required fields.
Under the Patient Information section, enter your first and last name. The last name must be entered exactly as it appears on the prescription label.
Under the phone number, please enter a number where you can be reached if the pharmacist has a question.
The e-mail address field is optional. If you wish to receive an e-mail confirming that your order was received by the pharmacy, enter your e-mail address.
In the prescription boxes, enter the prescription number or numbers that you wish to refill. You may enter up to eight prescriptions. The prescription number is located on your prescription label, the above example shows you where to locate the prescription number on your bottle.
All prescriptions entered must match the last name as written on the bottle label.
You can choose to pickup your prescription at the pharmacy or have it mailed to your home. You may also choose to have the pharmacy contact your doctor if your prescription needs authorization.
When you call to request a refill, the IVR system communicates with our pharmacy to verify the prescription status and determine if refills are available or if it is too soon to refill. The IVR system will tell you when your order will be ready.
Patient Safety
The Medical Center Pharmacy uses a robotic system for prescription accuracy and patient safety. We have installed a robotic prescription dispensing system that can automatically fill up to 200 common prescriptions and the SP Checkpoint, which is a system that verifies other medications, such as liquid or specialty prescriptions.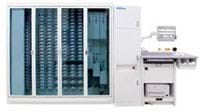 ScriptPro's SP 200 is a proven and reliable prescription dispensing system that automates the repetitive, manual dispensing tasks most subject to human error.
The SP 200, interfaced with the pharmacy computer system, delivers filled and labeled vials for up to 150 prescriptions per hour. The system contains 200 universal dispensing cells. It handles tablets and capsules of all shapes and sizes and supports standard pharmacy vials. Because the system fills directly from the dispensing cells, there is no drug cross-contamination. The SP 200 also prints and applies the prescription and auxiliary labels and delivers uncapped vials for final inspection using on-screen drug image verification.
Bar codes are used throughout the process for accuracy and quality control. Pharmacists manage the dispensing process from prescription entry to approval of the finished product.

SP Checkpoint is an interactive prescription verification, tracking, and management device that provides control over the entire dispensing process.
With SP Checkpoint, managers and supervisors can access pharmacy operations, local or remote, and view the status of prescriptions in process. Workload and workflow can be managed on-screen in real time.
Used at the point of dispensing, SP Checkpoint provides paperless prescription tracking and batching for each patient.

SP Station is a compact, interactive device for manually dispensing medications. The countertop unit integrates a touchscreen monitor, labeling device, and bar code scanner to provide workflow control and dispensing accuracy.
SP Station interfaces with ScriptPro's SP Central Workflow System to display on-screen prescription status lists and automate the collation of patient prescriptions. It presents prescription labels after verifying that the correct drug has been scanned, ensuring labeling accuracy.