Program Description
The Magnetic Resonance Imaging Program at WVU's Center for Advanced Imaging is a 12- month certificate program offering comprehensive didactic & clinical education in Magnetic Resonance Imaging (MRI). Successful completion qualifies graduates as eligible to sit for the American Registry of Radiologic Technologists (A.R.R.T.) primary certification exam in MRI pending A.R.R.T review and approval of the applicant. The Program is sponsored by West Virginia University Hospitals and is accredited by the Joint Review Committee on Education in Radiologic Technology (Contact info listed below under Links) (www.jrcert.org)
Facilities
The Center for Advance Imaging at WVU is an ACR-accredited, clinical and research facility with locations in the WVU Health Sciences Center (HSC), Physician Office Center (POC), and University Town Centre (UTC). The department is staffed by 26 technologists who provide MRI services to approximately 19,000 patients per year, which includes studies in Neuro, Body, MSK, Breast, Cardiac, MR Angiography, Spectroscopy, Functional (fMRI), and Pediatric MR Imaging. The state-of-the-art center operates 5 MRI units to include: 1- Siemens Verio 3T and 1- Siemens Aera 1.5T in the HSC, 1- Siemens Aera 1.5T in the POC, 1- Siemens Aera in the UTC, and 1- Siemens Avanto 1.5T Mobile Unit. The Siemens Aera 1.5T in the UTC and the Siemens Aera 1.5T in the POC were recently upgraded in 2015 and 2016, respectively, while the Mobile Unit was added in 2017 due to the increase in patient load.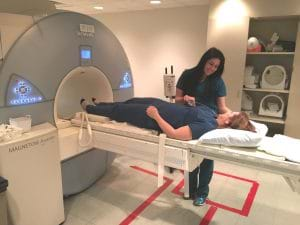 Tuition & Fees
Tuition is $2000 per semester ($4,000 for the 12 month program). Additional costs include books, uniforms, graduation fees, certification exam fees and conference registration & travel expense. Students are informed of required textbook and uniform purchases upon admission to the program. Upon acceptance into the program, students are assessed a non-refundable, $50 admission fee.  All tuition and fees are subject to change without notice. The Trajecsys Report System™ has been implemented into our MRI program for the purpose of clinical tracking. This electronic record has taken the place of the traditional paper clinical handbook that contained all of the student evaluations, including but not limited to the evaluations and competency examinations. Each enrolled student will be required to pay a one-time fee of $100.00 for usage of this system during the 12 month program. Fees are subject to change without notice.   
Financial Aid
The Magnetic Resonance Imaging program is approved by the USDE to participate in the Student Financial Assistance Programs to include Pell Grants and the Direct Loan program. In addition, the Program is approved for Montgomery GI Bill benefits for eligible enrolled veterans.  Student financial aid eligibility is determined upon admission into the program.  Additional information can be obtained by selecting the Financial Aid link in the navigation bar at the top of this page.
Links
Joint Review Committee on Education In Radiologic Technology (JRCERT)
Society for MR Radiographers & Technologists (SMRT)
American Registry of Radiologic Technologists (ARRT)
American Society of Radiologic Technologists  (ASRT)
West Virginia Radiologic Technology Board of Examiners
American College of Radiology: Guidance Document on MR Safe Practices
Contact Information

Charles "Brad" Holben   MSHA RT(R)(MR)
Education Program Coordinator
West Virginia University Hospitals
Radiologic Technology Education Programs – MRI
Box 8062,  Morgantown, WV 26506
Phone :(304) 598-4169
E-mail: cholben@hsc.wvu.edu