Program description
The Adult Echocardiography program at WVU Hospitals is an 12-month certificate program providing comprehensive clinical and didactic education program in echocardiography imaging. Upon successful completion of the program, students are eligible to apply for the Sonography Principles and Instrumentation (SPI) examination administered by the American Registry of Diagnostic Medical Sonography (ARDMS). Successful completion of the SPI examination then qualifies graduates as eligible to apply for the ARDMS specialty certification examination in Adult Echocardiography (AE).  Graduates may also apply for the Cardiovascular Credentialing International (CCI) exam to obtain a Registered Cardiac Sonographer (RCS) credential.
Pediatric concentration                                                                                                                                                                                                                                                                   WVU Hospitals offers a hospital-based six-month, 40-hour per week education program in Pediatric Echocardiography. It is designed as an extension of education after formal training in Adult Echocardiography, and it is not designed as a stand-alone program. It is designed to provide hands-on training in a pediatric echocardiography laboratory that serves inpatient and outpatient facilities, neonatal and pediatric intensive care departments, a pediatric cardiac catheterization laboratory, and a congenital heart surgery program.
Facilities
WVU Hospitals utilizes state of the art cardiac ultrasound equipment. Our machines have the most recent technological software packages available including 3D/4D imaging. A caseload of approximately 20,000 cardiac examinations per year provides students with an excellent comprehensive clinical education in echocardiography imaging.
Tuition and fees
Tuition is $1500 per semester ($3000 for the 12-month program.) Additional costs  include books, uniforms, graduation fees,  certification exam fees, and electronic clinical handbook fees (see below.)  Students are informed of required textbook and uniform purchases upon admission to the program. Upon acceptance into the program, students are assessed a non-refundable $50 admission fee. All tuition and fees are subject to change without notice. The program is not eligible for federal financial aid, but private student loan options may be available. 
Trajecsys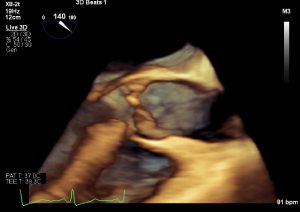 The Trajecsys Report System™ has been implemented into our echocardiography program for the purpose of clinical tracking. This electronic record has taken the place of the traditional paper clinical handbook and includes all evaluations and competency exam forms in an electronic format. Each enrolled student will be required to pay a one-time fee of $100 for use of this system during the 12-month program. Fees are subject to change without notice.
Links