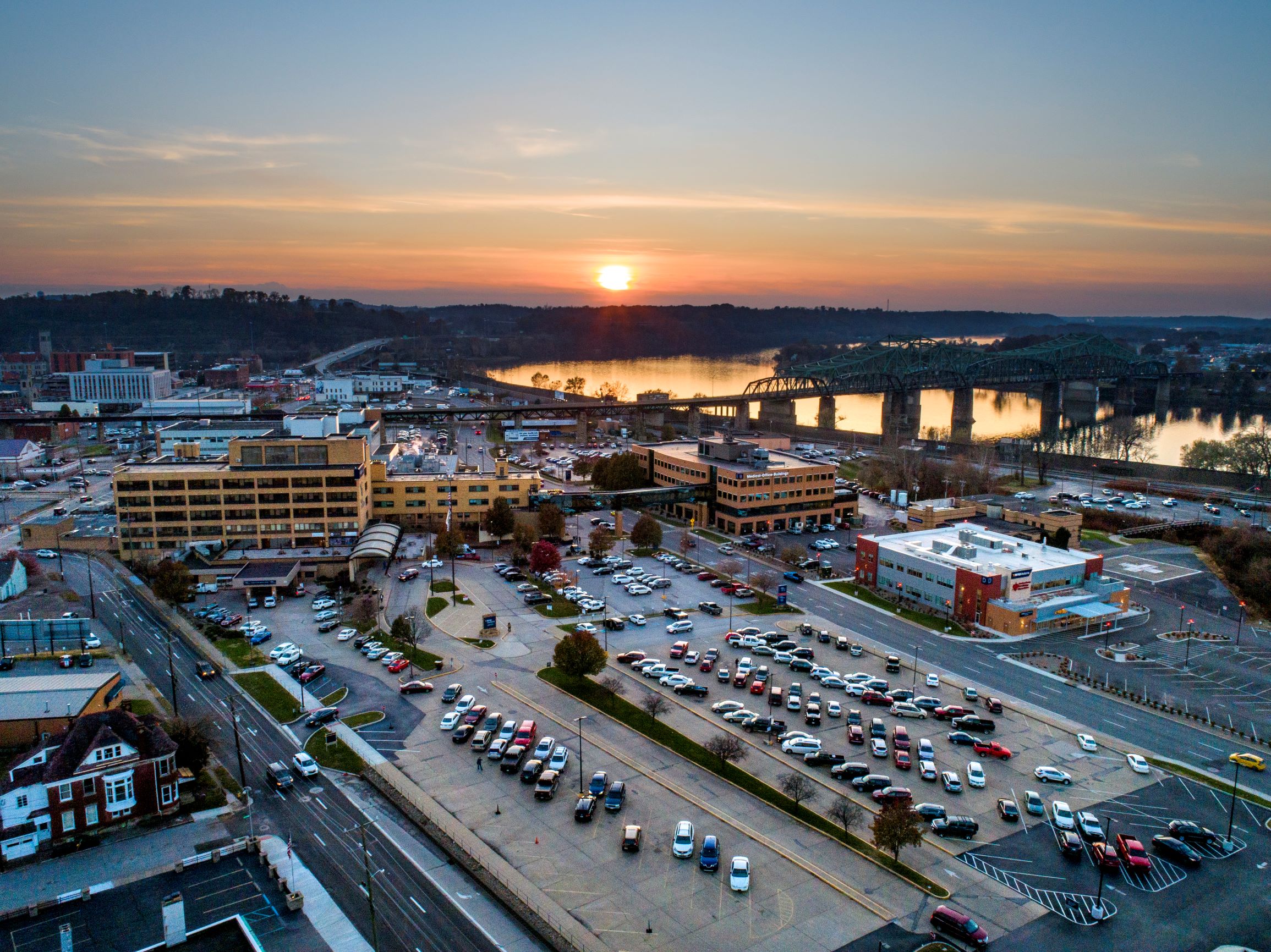 Are you visiting a loved one at Camden Clark? Here's a guide to what you need to know before you come to our facility.
We are currently observing a limited visitor policy. Patients may have one visitor per day. Exceptions may apply and are reviewed on a case by case basis (Pediatrics, OB, etc.). Visiting hours are from 10 a.m. – 7 p.m.
• Visitors should arrive wearing a mask and must continue to wear one while in the facility
• Visitors will be asked screening questions upon arrival
• Visitors must obtain, wear and return the specific visitor badge upon entering and exiting the building
• Physical distancing requirements are to be maintained
• For COVID-19 positive infectious patients and COVID-19 Persons Under Investigation, visitation to be permitted at admission and then every five (5) days pursuant to WV House Hill 2368.
• Inpatient visitors must remain in the patient room and limit travel to common areas.
• Clinical staff may request visitor not to be present in areas with limited space
• Local epidemiologic and supply factors can override these guidelines at anytime
Entry is restricted to the following entrances:
North tower lower level
South tower ER entrance
MOB-B main entrance
The Lower Level North Tower Entrance will be closed 8 p.m. – 6 a.m.
We are a tobacco free campus
Visitors in semi-private rooms should be considerate of both patients.
Adults or children with colds, sore throats or any contagious diseases should not visit patients.
You should avoid unnecessary noise.
You may be asked to leave the room during tests or treatments or when the doctor or nurse needs to see the patient.
Visitors should be limited to two at a time, except in extenuating services.
Calling a Patient
Telephones are provided in each room. Patients may receive calls in their room from 7:00 a.m. until 10:00 p.m. Friends and family members can dial a patient's room directly by dialing 424 and the four digits found on the name plaque above the patient's bed.
Telephones
Local calls may be made at any time from the room by dialing "9" and the number. Long-distance calls cannot be charged to the room. You may use a telephone calling card or dial the operator who will connect you to the service provider of your choice to make a collect call. Call the hospital operator by dialing "0" at any time for assistance.
Waiting Areas
Specific waiting areas have been designated for families of patients in the critical care units, the Emergency Department, Endoscopy, Same Day Care, Special Delivery Unit and the Main Lobby. During certain hours, a guest relations representative is on duty in the Surgery Waiting Room to keep family members informed about the progress of the surgery.
Gift Shop Hours
Monday through Friday: 8:30 a.m. – 4:00 p.m.
Check with the nurse before bringing gifts of food or drink to make sure your gift is appropriate. On critical care units, check first regarding any gifts for patients.
Mail and Flowers
Hospital volunteers deliver mail and flowers to patient rooms. Mail received for patients after discharge will be forwarded to their home. Flower arrangements are also available for purchase in the Main Lobby in the flower vending machine.
Newspapers, Books and Magazines
Newspapers are on sale at the main hospital entrance. Magazines may be purchased in the gift shop and books are available through the Hospital Auxiliary. Used paperback books are available by calling (304) 424-2345.
ATM
For your convenience, an ATM is located off the Main Lobby.
Guest Meals
On special occasions, guests may receive meals in patient rooms. Husbands of maternity patients may join their wives for lunch or dinner.
Chapel
A nondenominational chapel is always open to patients, visitors and staff.
Cafeteria and Snack Vending Center
The cafeteria is open for visitors for carry-out only beginning at 12:30 p.m.
We are offering a boxed meal dinner option for visitors of inpatients. The meal includes a turkey sandwich, Baked Lays, applesauce, shortbread cookies and bottled water. The cost is $5 and is only available only during visiting hours. Your meal must be requested during nutrition services team rounding between 1:30-2:30 p.m. The boxed meal will be delivered to the patient's room between approximately 4:15 and 5:30 p.m. Credit or debit card only.
The Camden Clark cafeteria is located on the ground floor in the South Tower.  A snack vending center, offering a variety of bottled beverages, sandwiches and snack items, is located in the North Tower lobby.
Directory
Main Hospital Operator – (304) 424-2111
Central Registration – (304) 424-2970
Financial Counseling – (304) 424-2380
Foundation – (304) 424-2200
Gift Shop – (304) 424-2707
Information Desk – (304) 424-2344
Lost and Found – (304) 424-2948
Social Services – (304) 424-2325
Pastoral Care – (304) 424-2179
Patient Accounts – (304) 424-2258
Patient Advocate – (304)-424-2712
Valet Parking – (304) 424-2021
Volunteer Service – (304) 424-2345