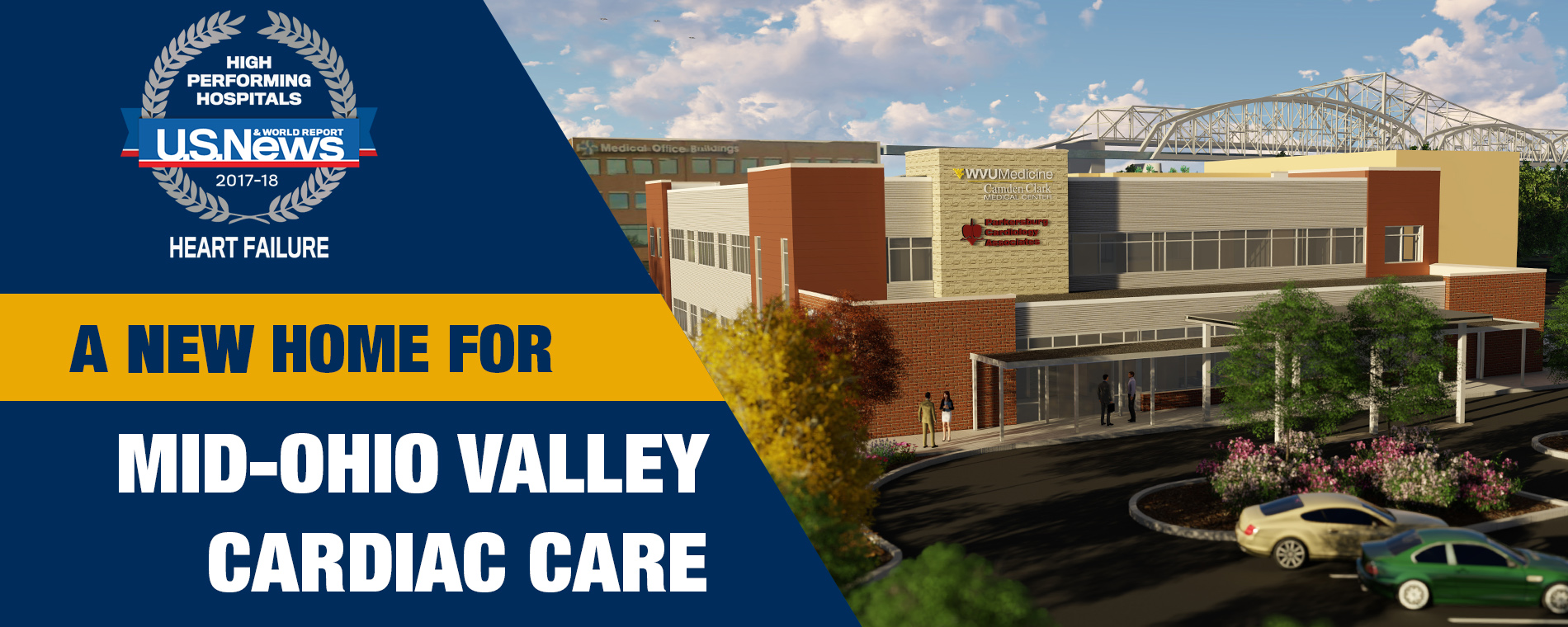 Cardiopulmonary services
Camden Clark's cardiopulmonary department offers diagnostic tests and procedures to provide a total picture of a patient's cardiopulmonary status. The physician will determine the best course of medical treatment based on the following.
Cardiac rehabilitation – Cardiac rehabilitation provides ECG and cardiac rehabilitative services for patients who have had a heart attack, valve replacement, stable angina, bypass surgery, and other heart-related conditions. Cardiac rehabilitation includes disease education and a comprehensive program to monitor exercise.
Cardiac catheterization laboratory – Cardiac catheterization helps diagnose the presence of heart disease, such as blocked coronary arteries. This diagnostic procedure evaluates blood flow to the heart and determines the condition of heart muscle, coronary arteries, and the valves and chambers of the heart. Pacemaker and defibrillator insertions are also performed in the cardiac catheterization laboratory.
Echocardiogram – This ultrasound procedure provides images of the heart from outside the chest wall. The echo may be done on an inpatient or outpatient basis and may be performed at the bedside. The transesophageal echocardiogram (TEE) is an ultrasound procedure that provides images of the heart from inside the esophagus. It is used mainly for diagnostic purposes, but can also be used to monitor cardiac patients during surgery.
Electrocardiogram (ECG) – This diagnostic test determines electrical activity and conduction within the heart.
Holter monitor – This ambulatory diagnostic test is used by physicians to evaluate the heart's performance over a 24- to 48-hour period.
Stress testing – Stress tests allow physicians to evaluate a patient's blood flow to the heart before and during exercise. These tests show how the heart functions when it has to work harder and requires more oxygen. Nuclear stress testing includes the injection of a radioactive material to enhance a higher quality of X-ray imaging. In non-exercise stress testing, a medication is utilized to stimulate and exercise the heart without actual exercise.
Camden Clark's cardiopulmonary department also provides the following related services.
Pacer clinic – This clinic provides pacemaker and defibrillator analysis for patients with implanted cardiac devices. Clinicians have the ability to assess function, test generator, and assess lead integrity and battery status to determine elective replacement time. Necessary changes can also be programmed into the device during pacer clinic under the direct supervision of a cardiologist.
Pulmonary rehabilitation – This comprehensive education and exercise program may benefit patients who have chronic obstructive pulmonary disease (COPD), emphysema, asthma, chronic bronchitis, lung cancer, and other chronic lung conditions. The Pulmonary Rehabilitation Department also offers monthly support group meetings.
Respiratory therapy – Respiratory care practitioners are directly involved in diagnosis, treatment, and preventive care of the patient with respiratory problems. Patients with COPD, emphysema, asthma, chronic bronchitis, lung cancer, and other chronic and acute lung conditions may benefit from respiratory care. Procedures include breathing treatments, arterial blood gases, oxygen administration, incentive spirometry, CPAP/BiPAP, and ventilator management.