Through strong leadership and commitment to our mission, the heart and vascular programs of West Virginia University and WVU Medicine are among the best in the United States.
Guided by our mission, our leadership ensures we provide the best possible heart, lung, and vascular care for our patients, improve the well-being of the diverse communities we serve, and continue to advance research and education.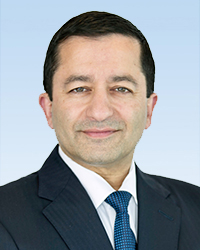 Vinay Badhwar, MD
Gordon F. Murray Professor and Chair of the Department of Cardiovascular and Thoracic Surgery; Executive Chair, WVU Heart and Vascular Institute and Service Line
Dr. Badhwar is internationally recognized as a master cardiac valve surgeon and a team builder with extensive healthcare leadership experience. He is also a national expert in complex mitral valve repair, atrial fibrillation surgery, minimally invasive valve surgery, and robotic surgery.
He previously served as the chief of cardiac surgery at the University of Pittsburgh's Presbyterian Hospital and director of cardiac surgery for the University of Pittsburgh Medical Center Heart and Vascular Institute.
Dr. Badhwar has lectured worldwide in the areas of mitral valve repair and atrial fibrillation surgery and holds several prominent leadership positions in national cardiothoracic surgery and cardiology organizations. He is a member of the American College of Cardiology, the American Association for Thoracic Surgery, the Society of Thoracic Surgeons, the European Association for Cardio-Thoracic Surgery, the Heart Valve Society, and the International Society for Minimally Invasive Cardiothoracic Surgery.
An accomplished clinical researcher and innovator, Dr. Badhwar is widely published, holds several patents, and is a member of the editorial boards of The Journal of Heart Valve Disease and The Journal of Thoracic and Cardiovascular Surgery.
Ramesh B. Daggubati, MD
Interim Chief, Division of Cardiology; Director of the Structural Heart Program for the WVU Heart and Vascular Institute
Dr. Daggubati received his medical degree from Kasturba Medical College, in Mangalore, India, where he also completed an internal medicine residency. He completed his neurology residency at Nizam's Institute of Medical Sciences in Hyderabad, India, and an internal residency at Jamaica Hospital Medical Center, in Jamaica, New York. He completed his research fellowship in cardiology at Loma Linda University Medical Center, in Loma Linda, California. Dr. Daggubati completed his clinical fellowship in cardiology at Winthrop University Hospital, in Mineola, New York. He completed his fellowship in interventional cardiology at the Yale School of Medicine, Bridgeport Hospital, in Bridgeport, Connecticut.
Dr. Daggubati is certified by the American Board of Internal Medicine in internal medicine, cardiovascular disease, cardiovascular imaging, and interventional cardiology.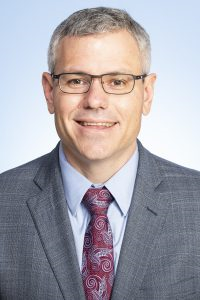 Matthew Ellison, MD
Director of Cardiothoracic and Vascular Anesthesiology for the WVU Heart and Vascular Institute; Associate Professor of Anesthesiology in the WVU School of Medicine
Dr. Ellison is board certified in Anesthesiology and is a Fellow of the American Society of Anesthesiologists. He is board certified in Advanced Perioperative Echocardiography by the National Board of Echocardiography and is also a Fellow of the American Society of Echocardiography. Dr. Ellison's areas of interest are early extubation after cardiac surgery, anesthetic management of complex cardiac surgical procedures, organ transplant, and perioperative management and quality.
Dr. Ellison is a member of the American Society of Anesthesiologists National Committee on Cardiovascular and Thoracic Anesthesia. He is member of multiple professional societies including the American Society of Anesthesiologists, the Society of Cardiovascular Anesthesiologists, the American Society of Echocardiography, and the American Association of Physician Leaders. He completed his Masters of Medical Management at Carnegie Mellon University. Prior to this, he completed his Anesthesiology residency training and medical school at West Virginia University.
Dr. Ellison has multiple publications and presentations at national and international meetings.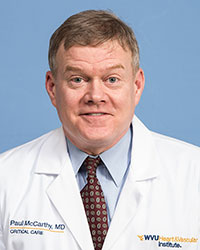 Paul McCarthy, MD
Chief, Division of Critical Care; Medical Director, Cardiovascular Intensive Care Unit, Assistant Professor, Critical Care Medicine
Dr. McCarthy completed his internal medicine residency at the Canton Medical Education Foundation. He completed his critical care medicine residency at the Louisiana State University Health Sciences Center. He completed his ECMO ICU residency at the Karolinska Institute, in Stockholm, Sweden. Dr. McCarthy completed his fellowship in nephrology at the University of Maryland Medical Center. He received specialized training in Hands-on ECMO Cannulation at Ecole de Chirurgie, in Paris, France.
Dr. McCarthy is board certified in critical care medicine and internal medicine.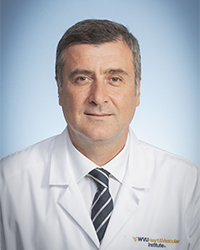 Alper Toker, MD
Associate Chief, Division of Thoracic Surgery; Director, Tracheal Reconstruction Program at the WVU Heart and Vascular Institute; Professor of Medicine in the WVU School of Medicine.
Dr. Toker is internationally recognized for his expertise in minimally invasive/robotic thoracic surgery and is one of the pioneers of robotic surgery for myasthenia gravis, a chronic autoimmune disease in which the skeletal muscles that are responsible for breathing and moving parts of the body, such as the arms and legs, become weak. He served as president of the European Society of Thoracic Surgery and continues to serve on the editorial boards of numerous thoracic and cardiovascular journals. He has published nearly 200 scientific publications in various international journals.
Dr. Toker leads the tracheal surgery program, robotic thymus/mediastinal surgery program, program for extended surgery for lung cancer, mesothelioma program, and chest wall surgery program.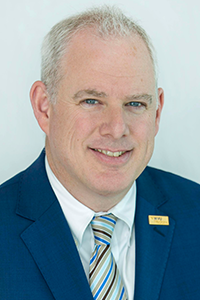 Frank Briggs
Vice President, WVU Medicine; Vice President, WVU Heart and Vascular Institute