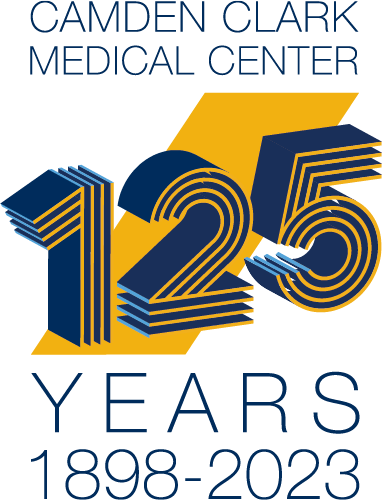 CELEBRATING

125 YEARS

OF HEALTHCARE SERVICE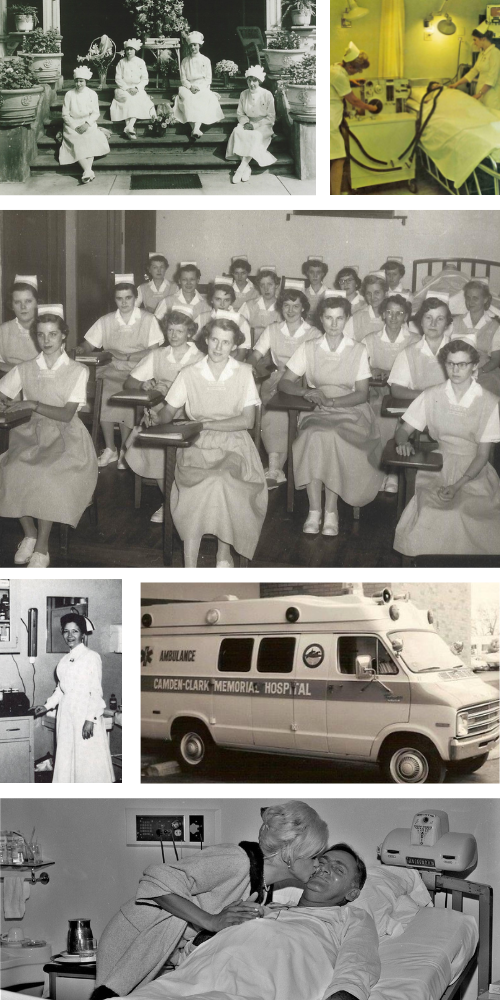 Camden Clark has served its mission to "meet the healthcare needs of our community for a lifetime" for 125 years and has been the foundation of the Mid-Ohio Valley community for generations. Its roots date back to the old City Hospital, a 40-bed facility that opened in 1898 on present 13th Street. It also operated a nursing school.
In 1920, the hospital moved to the Camden mansion on Garfield Avenue. That had been the home of former U.S. Senator and industrialist Johnson Camden and his wife, Anne. After her death in 1918, the family honored her by giving the mansion to the city of Parkersburg. With a donation and bequest from Dr. Andrew Clark, the city added a wing and adapted the mansion into Camden-Clark Memorial Hospital.
​In the 1970s, the hospital was expanded with a new kitchen, mechanical wing, surgery suite, and a North Wing Tower, featuring a radiology department, coronary care unit, emergency department, laboratory, and pharmacy. Later additions included a medical office building, outpatient physical therapy building, and catheterization lab.
In 2011, Camden-Clark merged with St. Joseph's Hospital to become Camden Clark Medical Center, an affiliate of the West Virginia University Health System. Today, WVU Medicine Camden Clark Medical Center is a 302 licensed-bed, not-for-profit, acute care facility that serves the Mid-Ohio Valley; an 11-county region of 275,000 residents of West Virginia and Southeastern Ohio. Camden Clark provides a broad range of services, offering the latest in medical technology and a highly trained staff. As the community's hospital for 125 years, Camden Clark plays a leading role as the region's primary source for advanced healthcare, wellness programs and has earned accreditation from The Joint Commission. In January 2023, Camden Clark was named one of America's 250 Best Hospitals by Healthgrades.
Each year, Camden Clark continues to serve and support the needs of the Mid-Ohio Valley by contributing thousands of hours supporting community initiatives. Our efforts in giving back to the community are aimed at reducing monetary and operational burdens, which many local organizations face.
For us, caring for our community is maintaining a leadership role as the region's primary source of advanced healthcare and wellness programs – but also, supporting community initiatives and organizations to meet the needs of Mid-Ohio Valley residents for generations to come.
​
Camden Clark Medical Center will be the leading regional medical center, known for high quality, comprehensive, state-of-the-art healthcare.
To meet the healthcare needs of our community for a lifetime.
Rights, Privacy, and Non-Discrimination
Respecting Your Privacy is Important to Us
Camden Clark is committed to protecting our patients' privacy and rights. HIPAA, the Health Insurance Portability and Accountability Act of 1996, is a law designed to help ensure the portability of health insurance coverage, reduce health care fraud and abuse, enforce standards of health information and guarantee the security and privacy of health information.
Our goal at Camden Clark Medical Center is to meet and exceed the demands of HIPAA, and to protect our patients' privacy and confidentiality without exception.
We encourage our patients and their families to familiarize themselves with Camden Clark's privacy practices.
Patient Rights and Responsibilities
In addition to being named one of America's 250 Best Hospitals, Camden Clark has received national excellence of care awards across major clinical areas from the Society of Thoracic Surgeons, CareChex, the American Heart Association, U.S. News & World Report, among other Healthgrades national awards. Camden Clark was also recognized for its journey to performance excellence utilizing the Baldrige framework and was the only hospital in the State of West Virginia to receive the Platinum Governor's Award for Excellence in 2022 from the Partnership for Excellence.