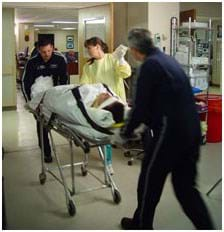 WVU's Jon Michael Moore Trauma Center, the only American College of Surgeons designated Level 1 trauma center in West Virginia, provides a full range of advanced trauma care for the people of the state and region.
Our trauma doctors also provide guidance to emergency medical technicians, paramedics, and flight nurses; collaborate with other specialists; co-manage the Surgical Intensive Care Unit; and provide wellness and injury prevention education.
The Center cares for more than 3,000 trauma cases per year. Our doctors also care for patients in the adult Surgical Intensive Care Unit, manage emergency general surgery consultations, and perform general surgery.
Visit the WVU Critical Care and Trauma Institute for additional information.
Surgical Specialties – Physician Office Center
Address
1 Medical Center Drive
Morgantown, WV 26505