We strive to deliver quality, compassionate, and innovative healthcare
close to home for the Potomac Highlands and surrounding area
as a member of WVU Medicine,
the largest healthcare provider in West Virginia.
Our highly trained staff ensures that your cancer or infusion treatment plan is customized to meet your individual needs.
We treat diseases affecting the bones, joints, and muscles with non-operative and surgical therapies, including minimally invasive procedures.
Our surgical experts perform a variety of inpatient and outpatient surgical procedures closer to home.
Our full-service, 24-hour emergency care center provides first-class care for your unexpected medical emergencies.
We provide high-quality rehabilitation services, including physical, respiratory, and occupational therapy.
We offer convenient, personalized care for your family's routine medical needs and the best possible preventive care to help you stay well.
Excellent jobs and great benefits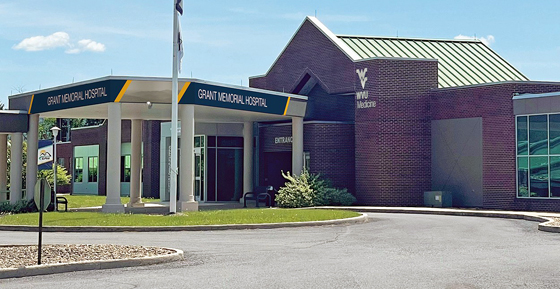 Grant Memorial Hospital offers competitive pay and benefits to attract and keep the best employees who share our commitment and compassion for providing the highest quality patient care. Pursuing a career here means you have access to challenging and rewarding opportunities in clinical and non-clinical areas.
Visit our careers page to view all open positions.
All of us at Grant Memorial Hospital are committed to leading the way to better healthcare for Grant County – always striving for excellence.
We are grateful for the confidence and trust you place in us. Everything we do supports our common goal: to provide you with a high-quality healthcare experience.
As your community hospital, Grant Memorial Hospital delivers excellent service with unmatched personal attention. Whether you are a patient in our facility or receiving outpatient care, we hope you find your visit more than satisfactory.
Committed to our community, we are continually improving our facility and services to better meet your needs. On behalf of our entire team, thank you for trusting us with your healthcare needs.
We've been in the business of caring and healing for more than 65 years
Grant Memorial Hospital has served patients throughout Grant County and the surrounding areas since 1958. Our mission is saving and improving lives with quality healthcare, one family at a time. Through excellence in quality service, Grant Memorial Hospital is the community's provider of choice.
117 Hospital Drive, Petersburg, WV 26847
if( /Android|webOS|iPhone|iPad|iPod|BlackBerry|IEMobile|Opera Mini/i.test(navigator.userAgent) ) { //jQuery("#main-header").show(); } else { //jQuery("#main-header").hide(); }