Summersville Regional Medical Center
We are committed to improving the health of our community, and as part of the WVU Medicine family, our patients have access to the most advanced care in the state and region.
Summersville Regional Medical Center has expanded its specialty services through WVU Medicine's telemedicine program, allowing you have an appointment with a Morgantown-based specialist without leaving Nicholas County.
This program offers patients a cost-effective and convenient option for those requiring frequent services, without the necessity of hospital admission.
Our Rural Health Clinic offers access to a variety of services close to home, often with same-day appointments.
When longer-term care becomes necessary, you'll feel right at home with our staff of professional and attentive caregivers.
Our full service, 24-hour emergency care center provides first-class care for your unexpected medical emergencies.
Excellent jobs and great benefits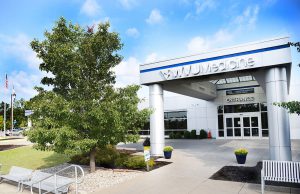 Summersville Regional Medical Center offers competitive pay and benefits to attract and keep the best employees who share our commitment and compassion in providing the highest quality patient care. Pursuing a career here means you have access to challenging and rewarding opportunities in clinical and non-clinical areas.
Visit our careers page now to view all open positions.
We are grateful for the confidence and trust you place in us to provide your healthcare. The focus of all our activities is to provide you with a high quality healthcare experience.
As your community hospital, Summersville Regional Medical Center is dedicated to bringing you excellent services with personal attention that is unmatched. Whether you are staying in the hospital or using one of our outpatient services, we hope you find your visit more than satisfactory.
Committed to our community, Summersville Regional Medical Center strives to continually improve our facility and services to better meet your needs. On behalf of our entire team, thank you for trusting us with your healthcare needs.
All your records, in one place.
Summersville Regional Medical Center is now using WVU Medicine's electronic medical records system. This means any time you receive care from any provider or facility in the entire WVU Medicine system, your health information will be readily available.
You can access your health record, manage appointments, check test results, and more through MyWVUChart, our patient portal. Click here to learn more about MyWVUChart and sign up today!
We've been in the business of caring and healing for more than 50 years
Since 1967, Summersville Regional Medical Center has served patients from all over southern West Virginia. Centrally located in Nicholas County, we work to deliver individualized patient care and improve the lives of those in our community.
400 Fairview Heights Road Summersville, WV 26651