Pool Area and Aquatics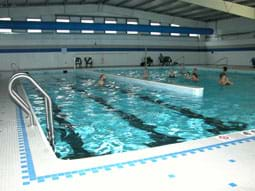 Open Swimming
Our heated indoor swimming pool is now open for your enjoyment during regular Camden Clark Health and Wellness Center hours.
Elite Swim School
Camden Clark's Elite Swim School is offered during spring and summer months.
Private Swim Lessons
Private swim lessons are available all year and by appointment.
Aquatic Classes
We also offer vigorous water aerobics and therapeutic arthritic water exercise classes.  These classes are a great workout done in a low-impact environment—great for people who are tired of hurting after exercise, but want to be challenged.
For the schedule of upcoming classes, click here.