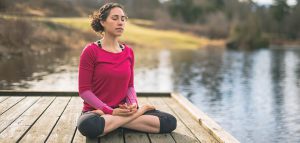 Dates: January 9 – March 10
Times: Mondays & Fridays a prerecorded meditation will be uploaded to the Wellness Center YouTube Channel, Wednesdays 1:15 pm – 1:35 pm with Laurel Faulkenberry on Zoom (all caps password: MINDFUL)
Mindfulness Meditation has become an important tool to calm the chattering mind, help be more in control of emotions and to feel centered in the moment.
The regular practice of Meditation is a powerful de-stressor and a tool for inner transformation and personal growth. It helps us to not be at the mercy of the fluctuations of the mind and to reduce anxiety and worry. The practice is transformational for the muscle of your mind!
Led by expert instructors with decades of combined meditation experience, Wellness offers three 20-minute mindfulness meditation sessions a week. Meditations are free to all students, faculty, staff, and employees of WVU and WVU Medicine.
Email wellness specialist Anthony.Danko@hsc.wvu.edu for access to the Zoom meditation link.