A cut, scratch or blister is no big deal to most of us; our bodies' natural healing mechanisms kick in and we are back to normal in no time. We take our bodies' ability to heal more or less for granted. But for millions of Americans, it may be much more serious. An estimated five million Americans with diabetes, pressure ulcers, circulatory or other health problems suffer from chronic nonhealing sores, which can result in serious infection, gangrene or even amputation.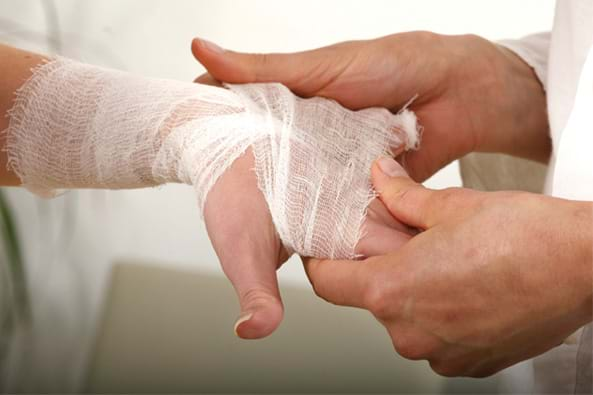 Who needs wound care?
There are a variety of circumstances in which a person may need wound care. They include, but are not limited to:
Ulcers (pressure, diabetic, neuropathic or ischemic)

Surgical wounds

Vasculitis

Burns

Peristomal skin irritations

Soft tissue radionecrosis

Actinomycosis

Preservation of compromised skin grafts and flaps

Crush injury/acute traumatic peripheral ischemia

Progressive necrotizing infections (necrotizing fasciitis)

Osteoradionecrosis

Traumatic wounds
United Hospital Center offers therapy to patients who have wounds that will not heal. UHC's Wound Care Center, is located at 916 West Main Street in Bridgeport.
Wound care treatment involves a comprehensive approach to nonhealing wounds that includes evaluation, treatment, instructions in home care and, when appropriate, hyperbaric oxygen treatment.
Hyperbaric Oxygen Treatment
Hyperbaric oxygen treatment is a treatment in which the patient breathes 100% oxygen inside a pressurized chamber. The treatment quickly delivers high concentrations of oxygen to the bloodstream, assists in the healing process of wounds and is effective in fighting certain types of infections. It also stimulates the growth of new blood vessels and improves circulation.
Conditions that may benefit from Hyperbaric Oxygen Treatment
Diabetic wounds of the lower extremity
Compromised skin grafts and flaps
Delayed radiation injury (radiation cystitis, radiation proctitis)
Necrotizing soft tissue infections
Osteomyelitis (refractory)
Select problem wounds
UHC's Wound Care Center brings together an integrated team of wound care specialists working in communication with the patient's primary care physician, all in a single location.
The team includes physicians with advanced training in wound management and a nursing staff trained in care of chronic wounds. The team evaluates and treats the wound, establishes measures to prevent its recurrence, and keeps the primary care doctor informed of the patient's progress. Patients are seen by a physician during each visit.
For more information, call UHC Wound Care, operated by United Hospital Center, at:
UHC Wound Care
916 West Main Street
Bridgeport, WV 26330
(304) 842-1034 or 1-800-920-3013