United Hospital Center has two organizations that actively seek volunteers interested in supporting the mission of UHC. For those interested in participating as a volunteer, opportunities exist with both the Auxiliary to United Hospital Center and with WVU Medicine Hospice.
---
Congratulations to the Auxiliary Volunteer of the Year: Gloria McClung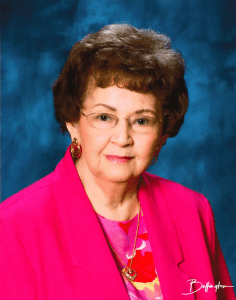 Gloria began volunteering at United Hospital Center in February, 1998. She has always volunteered in hospitality, which is the transporting of patients who are being admitted or discharged. Gloria is 92 years young and volunteering is her life. She has said before that if she didn't have this volunteering to do, she would just die. This 92-year-old lady does this, not once, not twice, but three times a week! Gloria has accumulated a total of 6,590 volunteer hours. She taught exercise classes at The Senior Center for ten years before she began volunteering which may have given her this extra ability to keep going. We definitely believe she has gone above and beyond, and continues to on a weekly basis. Gloria seldom misses a volunteer day at our hospital. She is truly dedicated to her volunteer services. Gloria also helps to train our teen volunteers when they come on board during the summer.
In her younger years, Gloria was employed by Hazel Atlas Glass Company, Continental Can, Brockway Glass and Newell Glass. She served as a selector/packer and wear inspector. A few of her hobbies are ceramics and sewing. She is an expert seamstress and has made men's suits, all the family's work clothes, pant suits and many alterations.
Gloria was born in Clarksburg, West Virginia and spent her entire life in this area. She was married to Charles McClung who passed away in 1980. She is the mother of three children: Daniel McClung and Charles McClung, both of whom live near her, and Sharon Martz who is married to Dr. Michael Martz of North Carolina.
---
Information Desk:
Information desk volunteers answer questions visitors and callers have about the location of patients and hospital services. They also sort patient mail. Good people, phone and computer skills are needed for this service.
Hospitality Desk:
Volunteers transport patients being admitted or discharged from the hospital. They also deliver patient mail and run errands.
Gift Shop:
Volunteers work in the retail environment as cashier, stocking, selling and ordering supplies. The proceeds from the Gift Shop is used to purchase needed equipment for the hospital. The Gift Shop carries all types of merchandise, flowers, books and gift items and also features items hand crafted in West Virginia.
UTCC:
Volunteers in this area work with the elderly and those recovering from surgery. Have fun calling Bingo or helping with a seasonal party or visiting with patients. These volunteers also help the Activities Coordinator with various projects and paperwork.
Critical Care Desk:
Volunteers are located at the nurses station controlling the flow of visitors into the department, answering the phone, along with some clerical duties.
Cheer Cart:
Volunteers travel throughout the waiting areas and patient rooms to cheer them with free gifts from the cart.
Care Partners:
If you like people and are interested in helping the patients at UHC you would enjoy making rounds to assist patients with non-clinical needs such as helping with meal trays, meal orders, assisting with the comfort of patients by getting them warm blankets, pillows, water or ice and in many other ways. If you are interested, please click on the application link and send it to us!
How to Get Started:
For more information about United Hospital Center Volunteer Opportunities, call 681-342-1640 or fill out the electronic application to volunteer click below.
Junior Volunteer:
Students ages 14-18 (Middle School and High School) may apply by downloading the printable application below. Please have your school counselor fill out the first page. Mail the completed application and you will be contacted for an interview.
WVU Medicine Hospice Volunteers
Give a few hours each week to WVU Medicine Hospice and see just how much you gain from helping others. You'll help patients, their families, visitors or the hospice staff. You might work closely with the patients and their families by providing companionship, love and understanding or you might help with the clerical work at the office, work on special projects, help with fund raising, the speakers' bureau or assist with the bereavement program. Call today and become one of our much-needed volunteers.
For more information about WVU Medicine Hospice Volunteer Opportunities, call 681.342.3200, 8 a.m. to 4:30 p.m.