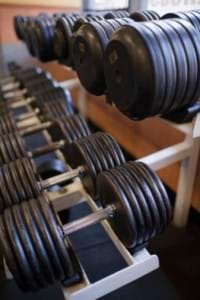 Fitness Programs
Free Weight Equipment
Our free weight room contains 3,400 pounds of dumbbells in pairs to 120 pounds, numerous benches, squat rack, straight and curl bars, T-bar rower, Smith machine, twin 200-pound stack cable crossover, lat pull down low row, and over 1,900 pounds of Olympic plates. We also offer Nautilus and Cybex equipment to make up a complete weight training circuit.
Cardiovascular Equipment
Our wide array of cardiovascular equipment includes 10 treadmills, six Stairmasters, three Startrac upright probikes, five Air Dynes, four Startrac recumbent probikes, six Precor EFX machines and two Concept II Rowers.
Bicycle Spinning Classes
Spinning, or "bicycling aerobics," is a popular fitness program using stationary bicycles. Classes, which are held November through March, are led by trained spinning coaches who guide the class up and down hills on a simulated course at different speeds using different hand and body positions. Classes vary from riding "flat courses" for building endurance to "steep climbs" for building strength. Spinning builds muscles in the lower body and abdomen and improves aerobic fitness.
Aerobics
Classes are offered at various times six days a week and are taught by certified aerobic instructors. Our classes center around benching and other routines are offered at a variety of levels, including beginner, intermediate and advanced. Classes focus on step, low- and high-impact, weights and floor work. A specialized ab class is also offered.
Racquetball
The Camden Clark Health and Wellness Center is ideal for racquetball in the mid-Ohio Valley, offering three courts and Tuesday night shootouts for members and guests.
Boxing
Boxing provides an excellent alternative cardiovascular workout. Equipment includes one heavy bag, one speed bag, multiple jump ropes and floor mats.
Basketball/Volleyball/Walleyball/Pickleball
Our gymnasium is equipped for basketball and volleyball. Club leagues are offered at varying times  throughout the year. We also offer Walleyball, a game combining the athletic skills of volleyball and the fast-paced action of racquetball.
Whirlpool/Saunas
A whirlpool is located in the swimming pool area. Both locker rooms are also equipped with dry saunas. A steam room is located in the men's locker room.