WVU Cancer Institute Regional Cancer Center
The best in Cancer treatment care…close to home!
As part of the WVU Cancer Institute, the WVU Medicine Regional Cancer Center provides cancer care in the Eastern Panhandle of West Virginia. Our cancer program, based at Berkeley Medical Center, has been accredited by the American College of Surgeons Commission on Cancer since 1992 and is a recipient of their Outstanding Achievement Award. We are proud to be among the 25% of hospitals in the country with an ACOS accredited cancer program. Quality, Compassion, Collaboration…our comprehensive cancer program includes the Outpatient Cancer and Infusion Center, a dedicated Inpatient Oncology Unit with all private rooms, Board Certified Radiation and Medical Oncologists, Patient Navigators, Radiation Therapy, and Clinical Trials. We partner with the American Cancer Society to offer education and support to patients and their families affected by cancer. A Resource Room, located on the 1st floor of the McCormack Center on Berkeley Medical Center's Campus, provides free information on various programs and services available to cancer patients and their loved ones. We also offer:
Enhanced inpatient facilities
State-of-the-Art Cancer and Infusion Center for Outpatients
Combined Chemotherapy and Radiation Therapy
Most Advanced IMRT Procedures (Intensity Modulated Radiation Therapy)
IGRT (Image Guided Radiation Therapy)
High Dose Radiation (HDR)
Appointments may be made by calling 304-260-1477.
Oncology Inpatient Unit
Patients requiring admission for chemotherapy treatments, complication of cancer treatment, pain management, end of life care, and those requiring surgical intervention as part of their treatment plan are cared for in the Oncology Inpatient Unit on the 6th floor of Berkeley Medical Center. The unit has flexible visiting hours and family members are encouraged to spend as much time with the patient as they desire. Cancer and Infusion Center A department of Berkeley Medical Center McCormack Center – Suite 2600 Berkeley Medical Center Campus 304-267-1944 Patient Navigators  Samantha Spearing, 304-264-1287, ext. 32027 Oncology Inpatient Unit 6th Floor Berkeley Medical Center 304-264-1220
This therapy involves the use of radiation (X-rays, gamma rays, or electrons) to treat cancer.
Services include:
EBRT (external beam radiation therapy)
IMRT (intensity modulated radiation therapy)
IGRT (image-guided radiation therapy)
LDR brachytherapy
HDR brachytherapy
3D-Conformed radiation therapy
SBRT (stereotactic body radiotherapy)
Contact: Katin Radiation Therapy, Suite 1100, McCormack Center, 304-262-8800.
Your Care is Our Focus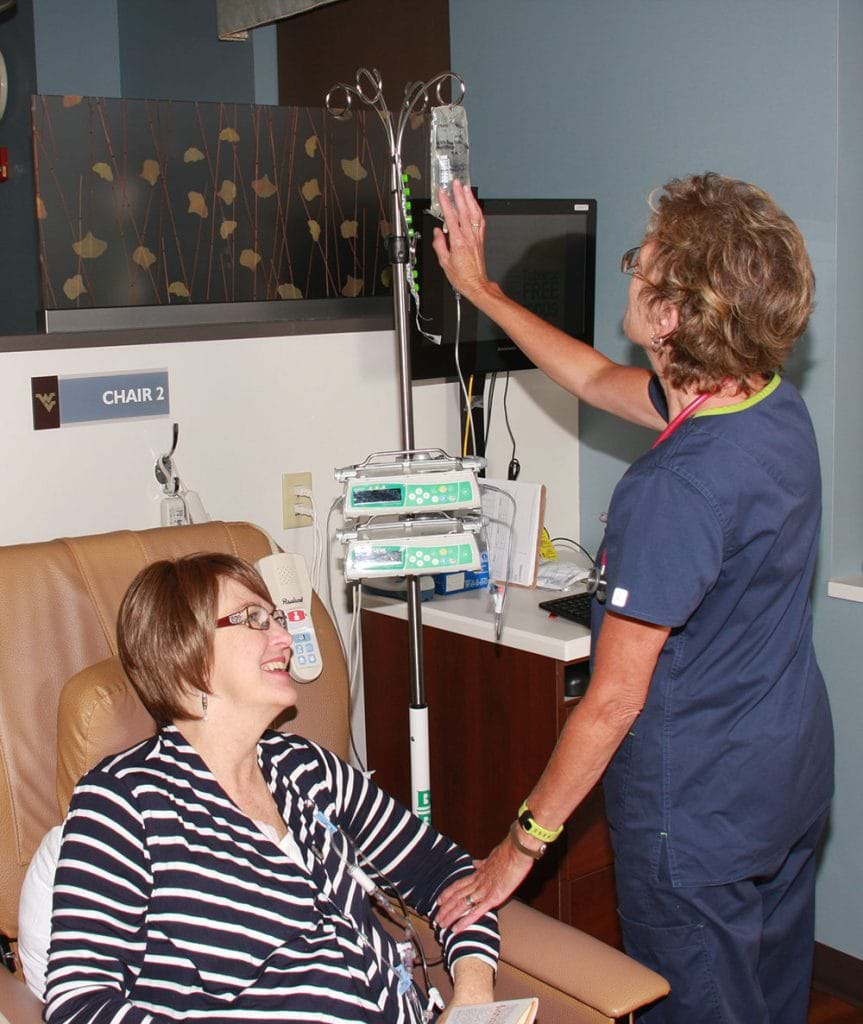 Learning that you or a loved one has cancer is devastating. As you find yourself trying to deal with the worry and fear that accompany such news, take comfort in knowing that compassionate, quality cancer care services are available right here at the WVU Cancer Institute.
The Outpatient Cancer and Infusion Center, a department of Berkeley Medical Center, is located on the 2nd floor of the McCormack Center, Suite 2600.
We offer:
Chemotherapy treatments,
Blood and blood component therapy,
Immunotherapy,
Nutritional support therapy,
Intravenous antibiotic therapy,
Referrals for radiation therapy
Emotional support, spiritual support and counseling, case management and patient/family education are also available.
Services are offered 8 am – 6 pm weekdays, with weekend staffing on an as-needed basis.
For more information, contact: Andrea Hartman, Director, 304-267-1944.