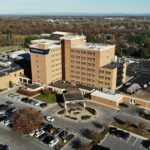 2500 Hospital Drive
Martinsburg, WV   25401
If you are experiencing a medical emergency, please call 911 immediately.
Use the form below to contact us regarding general inquiries. Please do not include any personal information or medical records as this is not a secure form.
To make, cancel, or reschedule an appointment, contact Community Wide Scheduling at 844-802-2734.
For MyWVUChart technical support, contact us by email at MyWVUChart@wvumedicine.org or for immediate assistance call 866-982-4278.