WVU Rockefeller Neuroscience Institute offers cutting edge, university-quality care for everyone who suffers from a disease or injury related to the brain and spine.
Our Board Certified Neurosurgeons bring top-level care and treatments to residents of the Eastern Panhandle of West Virginia, western Maryland and southern Pennsylvania. WVU Rockefeller Neuroscience Institute provides innovative inpatient and outpatient brain and spine care with superior expertise that greatly benefits patients.
We are committed to patient-centered care that enhances the patient's experience through the often confusing and frightening process of spinal, brain, and nerve problems.
Before seeing a neurosurgeon, it's important to have a good relationship with your primary care physician. If you have been experiencing back pain for six weeks or more, and it is not relieved with conservative treatment, you may want to ask your doctor for a referral to WVU Rockefeller Neuroscience Institute for a neurosurgical opinion.
Other signs you may need to see a neurosurgeon are extremity pain, numbness, or weakness; or sudden loss of bowel or bladder control.

---
Services
Our focus is to diagnose the medical condition, and then educate the patient and family, so that they have a thorough and honest understanding of their condition and course of treatment. We explore all non-surgical options before any surgery is considered. WVU Rockefeller Neuroscience Institute offers a full spectrum of services for the brain and spine including:
Neurosurgery for many conditions of the brain, neck and spine
Pain management
Robotic assisted surgical options
Medical virtual reality and augmented reality
Depending on your course of treatment, WVU Rockefeller Neuroscience Institute may refer you to physical therapy, pain management, or other recovery options.
Second Opinions
Patients are encouraged to contact WVU Rockefeller Neuroscience Institute for an expert second opinion, especially those who have experienced failed back surgery, which is more common than you may think.
Our surgeons are considered second opinion spine specialists. As a board-certified neurosurgeons, they have extensive training in the diagnosis and treatment of disorders of the entire nervous system.
Board-certified neurosurgeons train longer and to a higher level than any other specialty in surgical conditions of the spine and brain. Most of their practice is comprised of spine surgery, both complex and minimally invasive, and they are always available to offer honest second opinions.
Referring Physicians
At WVU Rockefeller Neuroscience Institute, we are committed to helping our physician colleagues, both within our system as well as outside of the WVU Medicine organization.
Whether for treatment, a single consultation, second opinion, or ongoing follow up, we will keep consulting physicians informed of their patient's treatment plan and will assist in coordinating long-term care management.
To refer a patient, call 888-WVU-1DOC (888-988-1362).
Locations and Contact Information
Martinsburg
Medical Office Building 3
880 Tennessee Avenue, Suite 104
Martinsburg, WV 25401
304-596-5160
Hagerstown
13 Western Maryland Parkway
Hagerstown, MD 21740
240-513-4591
Medical Virtual Reality and Augmented Reality with Surgical Theater

Surgical Theater offers patients and surgeons a new way to take an immersive look inside the brain and spine. This advanced visualization platform allows physicians to create a 360-degree reconstruction of a patient's anatomy that can be used for patient engagement, preoperative planning and intraoperative visualization.
Before your surgery, our team uses Surgical Theater to create a precise surgical plan based on your unique anatomy. Using this advanced medical virtual reality platform, your physician can take you on a walk inside your brain and spine to help you visualize the tumor and surgical plan.
During your surgery, our Neurosurgeons use the 360-degree visualization to get a closer look at your brain and spine from every angle. Through the use of SyncAR, Surgical Theater's augmented reality platform, surgeons are able to overlay critical structures onto your anatomy through the oculars of the microscope to deliver critical visual navigation information and enhanced precision during your surgical procedure.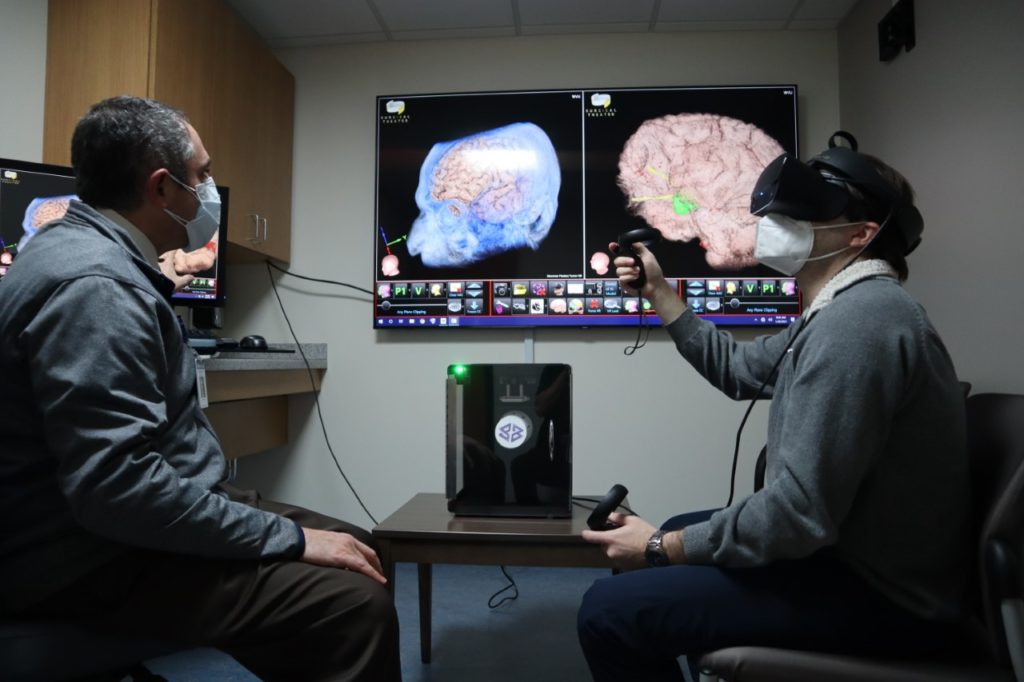 The interventional Spine & Pain Specialist of WVU Rockefeller Neuroscience Institute use an evidence-based approach to diagnose and treat painful spine disorders. Our Fellowship trained providers take the time to figure out the source of your pain and develop an integrative and individualized plan to target the affected area, to provide relief from pain, and improve your quality of life.
Conditions We Treat
Bulging discs
Cervicogenic Headaches
Degenerated discs
Facet joint arthrosis
Herniated discs
Hip joint arthritis
Pain (Shoulder, Neck, Hip, Knee, Back, Buttock, Arm, Elbow/Wrist etc.)
Osteoporosis
Radicular pain
Radiculopathy
Sacroiliac joint dysfunction
Sciatica
Spinal and pelvic fractures
Stenosis
Whiplash
Treatments and Procedures
Bursa Injections
Carpel and Cubital Tunnel
Epidural Steroid Injections
Facet Joint Injections
Facet Joint Radiofrequency Ablation Neurotomy
Ganglion Impar Block
Intercostal Block
Joint Injections
Knee Radiofrequency Ablation Neurotomy
Medial Branch Blocks
Sacroiliac Joint Injections
Sacroiliac Joint Radiofrequency Ablation Neurotomy
Selective Nerve Root Blocks
Shoulder Radiofrequency Ablation Neurotomy
Spinal Cord Stimulator Trials, ect.
Location and Appointments
Martinsburg
Medical Office Building 3
880 Tennessee Avenue, Suite 104
Martinsburg, WV 25401
304-596-5160
Hagerstown
13 Western Maryland Parkway
Hagerstown, MD 21740
240-513-4591