Since its founding by Bishop Richard Whelan and Dr. Simon Hullihen in March 1850, Wheeling Hospital has provided Catholic health care as a ministry of the Diocese. At Bishop Whelan's request, the Sisters of St. Joseph arrived in Wheeling to staff the hospital in 1853. Since then, members of their religious congregation have continued to work and volunteer at the hospital, which has provided compassionate care to all people longer than any other hospital in West Virginia.
In March 2021, Wheeling Hospital joined WVU Medicine while preserving its Catholic identity, and continues to operate as an official ministry of the Diocese of Wheeling-Charleston. The Ethical and Religious Directives for Catholic Health Care Services guide our hospital practices so that we can continue embodying Jesus Christ's special concern for the sick and suffering.
The Most Rev. Mark Brennan, Bishop of the Diocese of Wheeling-Charleston, offered this prayer at the ceremony marking the transition: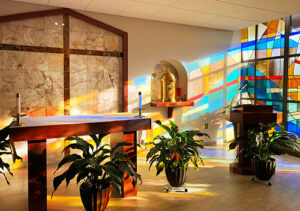 Lord God,
We thank you for the good health care offered to the upper Ohio Valley for over 171 years. We ask you that it may continue.
Bless the effort of health care here at WVU Medicine Wheeling Hospital.
May if flourish for many years into the future with your blessing,
giving you honor and glory.
We ask this in your Holy Name.
Amen.