The Family Medicine faculty and staff are a dedicated group of physicians and health professionals involved in the medical education, professional development and well-being of the residents and students on our campus. They are highly motivated and involved in all areas of residency training, the hospital and the community.
Eric J. Radcliffe, M.D.
Program Director/Designated Institutional Official
Dr. Eric Radcliffe received his medical degree from West Virginia University School of Medicine and completed residency training in Family Medicine at Wheeling Hospital. He is ABFM board certified. His experience includes private practice in Buckhannon WV and serving as an Assistant Professor of Family Medicine at West Virginia School of Medicine.
His professional interests include hospital medicine where he serves as the Chair of the Hospital Patient Safety Committee. Other interests include Family Medicine career development, and primary healthcare in West Virginia.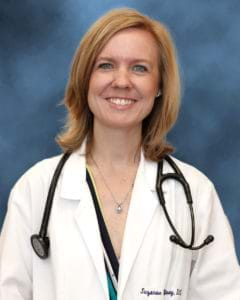 Suzanne Whitney Courtney, D.O.
Osteopathic Program Director
Dr. Courtney is a 2006 graduate of UHC Family Medicine Residency Program. Originally from Fayetteville, West Virginia, she holds a B.S. in Biology from Concord College and obtained her D.O degree from West Virginia School of Osteopathic Medicine. She is a member of the AAFP, AOA and ACOFP and is board certified by the American Board of Family Medicine and the American Osteopathic Board of Family Physicians.
Research and scholarly activities are among Dr. Courtney's focus areas within the residency training program. She also provides oversight and guidance to her panel of resident advisees, as well as all Osteopathic residents. In addition to being the Chairman of the hospital Ethics Committee, Dr. Courtney's professional interests include women's health, preventive medicine, and the care of children. She enjoys playing the piano and traveling with her family. She, her husband, and their three children, reside in the Bridgeport area.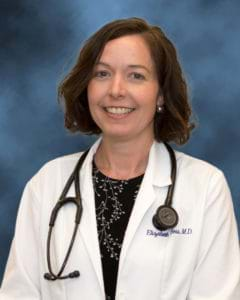 Elizabeth H. Hess, M.D.
Associate Program Director
Dr. Elizabeth Hess, a native of Grafton, WV, graduated from West Virginia University School of Medicine. She completed her residency in Family Medicine at UHC, where she served as chief resident. She is ABFM board certified. She is a member of the AAFP and Alpha Omega Alpha medical honor society. She also served as an American Board of Family Medicine test reviewer. Dr. Hess is an active member of the hospital medical staff and serves as the Chairman of the Pharmacy and Therapeutics Committee.
The didactic schedule, rotation block schedule and board preparation are among her areas of focus as a faculty member, as well as, mentoring her resident advisees. She is also the Chairman of the Clinical Competency Committee. Her professional interests include disease prevention through lifestyle choices, behavioral issues in pediatrics, child and adult learning theory, wilderness medicine and endocrinology. She is actively involved in community wellness efforts including promotion of clean indoor air and childhood obesity prevention. She enjoys spending time with her family and her dogs as well as exploring the outdoors of WV and running road races and marathons.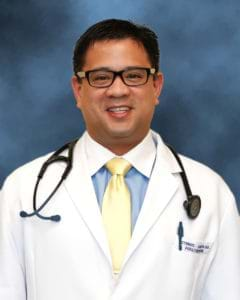 Victorico A.Singzon, M.D.
Clinical Director/PCMH Director
Originally from Waco, Texas, Dr. Victor Singzon joined the UHC Family Medicine team as a faculty member in 2014. Dr. Singzon graduated from Baylor University and St. Luke's College of Medicine. He completed residency training at UHC Family Medicine, where he was chief resident. Following residency he entered a solo primary care practice for three years in Phillippi, WV before returning to the Family Medicine team as a faculty physician.
In addition to precepting on the inpatient ward service and serving as a faculty advisor, Dr. Singzon's professional interests include the primary care clinic, quality measurement and improvement, Patient Safety and Patient Centered Medical Home activities. He currently serves the UHC Medical Staff as the Chairman of the Department of Family Medicine. Dr. Singzon, his wife and daughter reside in the Bridgeport area. His interests outside the office include coaching youth soccer, traveling and eating.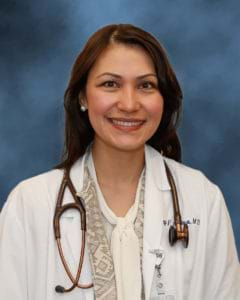 Mary Faith Casiwa, M.D.
Family Medicine Faculty, Physician Well-being Director
An alumnus of the UHC Family Medicine program, Dr. Casiwa joined the faculty team in 2015. She is ABFM board certified and a member of the AAFP and AMA. As do all Family Medicine faculty, Dr. Casiwa supervises residents in the hospital and clinic and she mentors a panel of resident advisees. As the Director of Physician Well-being Dr. Casiwa developed and maintains our resident wellness protocol including didactics, event planning, and monitoring of resident rotation schedules to ensure compliance of ACGME clinical experience and education guidelines. Her other areas of interest within the residency program include evaluation of resident performance, rotation curriculum and recording of resident experience.
When she is not at work, Dr. Casiwa enjoys spending time with her family, traveling, shopping, reading and watching movies.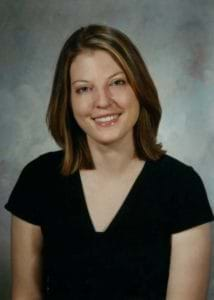 Jill Gherman, D.O.
Family Medicine Faculty, Integrative Medicine Track Director
A graduate of Marshall University and the WV School of Osteopathic Medicine, Dr. Gherman most recently served as a primary care physician in the Veterans Administration system in Clarksburg, WV prior to joining the faculty at UHC. She is board certified by the American Osteopathic Board of Family Physicians and a member of the AOA and AAFP.
Dr. Gherman's position as Integrative Medicine Track Director allows her to share her passion for treating the patient, rather than the disease with the residents. Within medicine her interests include Functional Medicine, Rheumatologic and autoimmune diseases, helping patients combat inflammation through diet and lifestyle modification, nutrition, taking a holistic mind, body, and spirit approach to patient care. Dr. Gherman is also very involved in career tract development, research, quality improvement and osteopathic manipulation curriculum.
When not at work Jill enjoys traveling and spending time with her husband and family, shopping, attending church groups and activities and working on DIY home projects.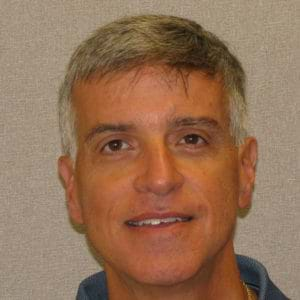 Born in Clarksburg, WV, Dr. Malone graduated from West Virginia University and the West Virginia School of Osteopathic Medicine. Currently, he is the Medical Director for two local nursing homes and supervises the residents on the Geriatrics rotation. The residents describe his zeal for medicine and love for his patients as infectious! Dr. Malone has maintained a busy continuity clinic for more than 20 years and is a Field Professor and Board Member for Rural Health Education Partners.
Dr. Malone enjoys running, snow skiing, going to movies, listening to music and spending time with his wife and children.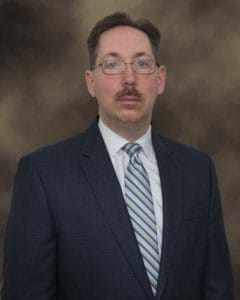 Dr. Mark Povroznik graduated from WVU School of Pharmacy and completed a Hospital Residency at WVUH with a focus on infectious disease. In 1995, he was one of the first to obtain a PharmD degree from WVU School of Pharmacy. Dr. Povroznik presently serves as the Vice-President of Quality with responsibilities for Performance Improvement, Patient Safety, Hospital Accreditation, Infection Control, Case Management, and Clinical Pharmacy. Dr. Povroznik serves as chairman of the Infection Control committee and assists the 200+ member medical staff with antibiotic stewardship. With a love for teaching, his career thus far has delivered over 600 continuing education programs, including those delivered to the Family Medicine residents. In addition to delivering noon lectures, Dr. Povroznik precepts resident physicians for the Quality Improvement and hospital regulations portions of their Multi-Disciplinary Studies (MDS) rotation. Mark is the proud husband of Dr. Lisa Povroznik and father to two wonderful daughters.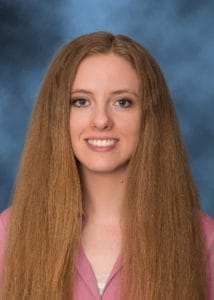 Anna-Marie Houtrouw MSN, APRN, NP-C
Nurse Practitioner/Patient Centered Medical Home Coordinator
Since joining the Family Medicine team, Anna-Marie's passion and responsibility have been to help transform UHC Family Medicine into a Patient Centered Medical Home and increase the high quality care provided to patients.
Anna-Marie is a graduate from Samford University, but performed her clinical hours locally in Bridgeport, Salem, and Buckhannon. Her passion for providing patient centered care started in when she graduated from University of Nevada, Las Vegas with her BSN. As a nurse on a youth unit of a psychiatric facility she came to love supporting people and families in need. This passion continued when she moved to West Virginia and worked in the Emergency Department. She became a nurse practitioner to have a wider scope of practice to have more tools to help people. At UHC Family Medicine she actively utilizes all of these tools to assist the physicians and staff in providing truly patient-centered care. In addition to providing direct patient care, Anna-Marie actively tracks patient outcomes and progress, and reports that information to the appropriate members of the care team.
Outside of the office she is actively involved in church, spending time with her family, hanging out with her dogs, and eating any delicious food she can find.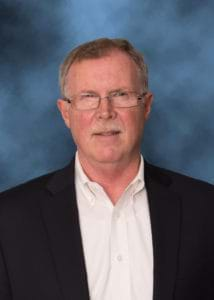 Dr. Kojsza graduated from United States International University psychology program and has been licensed since 1995. He is an Associate Fellow of the Institute of Rational Behavioral Therapy. Most of his work with others involves the treatment of depression and anxiety. Dr. Kojsza has developed wellness programs and has been a consultant at various hospitals in the Tristate area. He has also been an adjunct professor at Indiana University of Pennsylvania and Marshall University.
In the Family Medicine practice Dr. Kojsza assists with the management of patients with depression, anxiety, etc. who may benefit from short term counseling or group therapy sessions. He also provides noon lectures and provides instructional support to the residents and faculty of the residency program. The resident support and wellness program is facilitated by Dr. Kojsza.
He is the father of four daughters and lives with his wife in Fairmont, WV.