WVU Medicine Urgent Care is now offering virtual video visits at no cost.*
What our providers can treat in a video visit:
Abdominal pain (minor)
Allergy
Back pain (minor)
Cold sores
Cough
Cuts and bruises (minor)
Diarrhea
Fevers (mild)
Gout
Head injury (minor)
Headache (mild)
Heartburn
Lymph node swelling
Motion sickness
Mouth sores
Pink eye
Rashes
Runny nose (rhinorrhea)
Sinus pain
Sore throat
Sprains or strains
Upper respiratory illness (mild)
Urinary tract infection (UTI) or urinary frequency
Viruses
Vomiting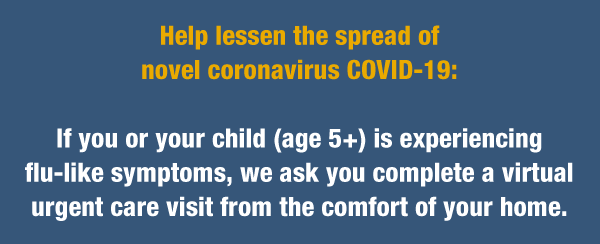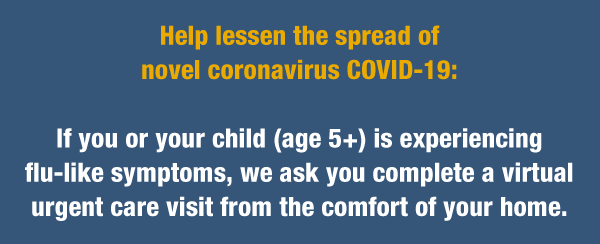 What they cannot treat:
More serious conditions that require an in-person visit to the doctor cannot be treated through virtual urgent care. Such conditions including the following:
Acute vision changes
Behavioral and mental health issues
Chest pain or palpitations
Stroke-like symptoms such as sudden-onset weakness, numbness, or tingling
Blood in the stool
Breast complaints
Chronic pain
Complications of cancer treatment
Congestive heart failure
Coughing up blood
Drug overdose
Fractures
Genital complaints
Hemorrhage
Large cuts or lacerations
Mental status changes
Pregnancy complications
Psychiatric disorders
Respiratory distress
Seizure
Severe headache or migraine
Sickle cell disease
Vomiting blood
*You must be physically located within West Virginia, Pennsylvania, or Maryland at the time of treatment due to licensure regulations.