WVU Medicine Urgent Care is now offering virtual video visits
What is a video visit?
Adults and children (all ages) can video chat with an urgent care provider via a smartphone or webcam-equipped computer. This service is for patients who have minor medical conditions, and not for emergencies. For emergencies, please call 911 or go to the nearest emergency care location.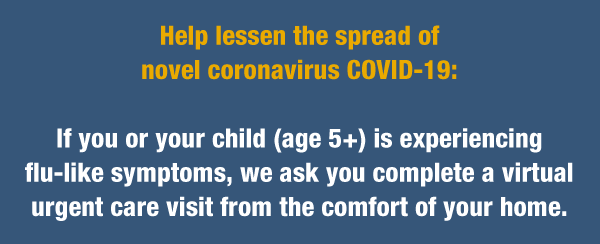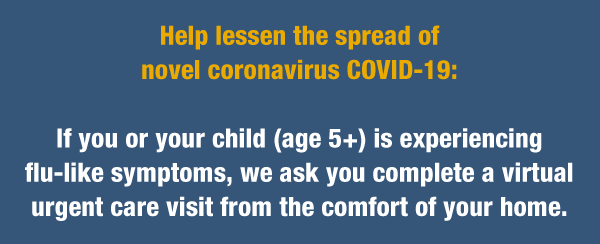 Please do not visit a WVU Medicine Urgent Care location or emergency department with flu-like symptoms.
With virtual urgent care, you or your child can:
receive an examination, diagnosis, and treatment from a WVU Medicine provider
be treated for a variety of minor medical concerns such as cough, sore throat, flu-like symptoms, rash, allergies, and pink eye
receive an after-visit summary containing a care plan and any follow-up instructions, including referrals for a specialist visit or diagnostic imaging
have us notify your primary care physician to contact you about your visit
have prescriptions recommended by your virtual urgent care provider sent to the pharmacy of your choice
Conditions we can treat with a video visit
Just as you would find at your local urgent care clinic, our providers are available to evaluate and treat many common illnesses through video chat.
Keep in mind that video urgent care visits are not intended to replace routine appointments with your regular provider for needs such as annual physicals. A referral is not needed to see a virtual urgent care provider. 
How to schedule and complete your virtual urgent care visit
Video visit instructions
Schedule your video visit appointment: Login to your MyWVUChart.com account and follow these step-by-step instructions.
In order to complete your video visit via smartphone or tablet, you'll need to install the MyChart app prior to your scheduled appointment. Complete your video visit by following these step-by-step instructions.
Requirements:
To complete a video visit through your mobile device (preferred):
MyChart app must be installed
Be sure you have a good connection to the internet or a 3G/4G network
Download the MyChart app:
To complete a video visit through your computer:
Make sure your computer has a working web camera, microphone, speakers, and high-speed internet connection
Problems? Call our patient help desk at (866) 982-4278.