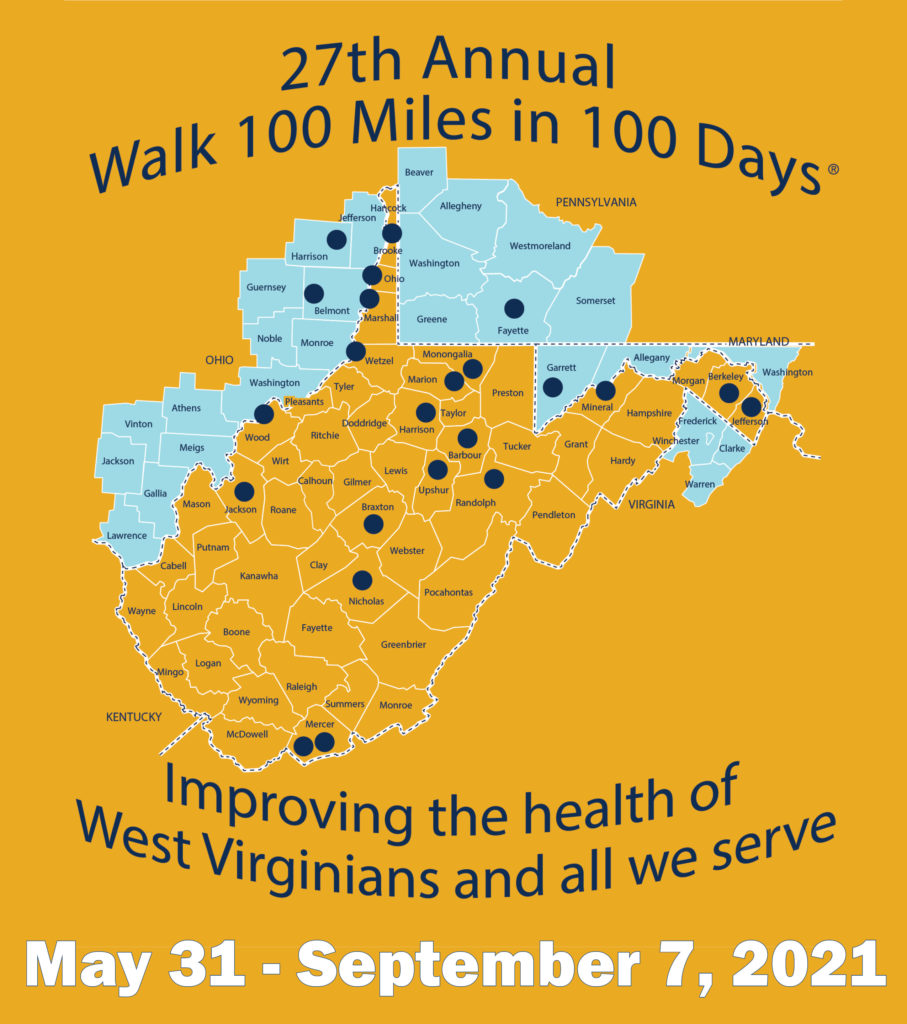 Walk 100 Miles in 100 Days® is a 15-week walking program which encourages participants to develop the habit of walking at least one mile a day as a form of exercise. Participants can purchase a commemorative t-shirt for a nominal fee!
Now in its 27th year, the annual program started on May 31 and concluded September 7.
"Last year we had over 5,500 people participate," said Dave Harshbarger, wellness manager for WVU Medicine making Walk 100 Miles in 100 Days® the largest exercise program in the state.
The 27th Annual Walk 100 Miles in 100 Days® is here! Although we state that the goal for participants is to walk at least one mile per day for 100 days, there is no limit as to how many miles can be reported per day. Other forms of equivalent aerobic exercise also count (use a scale of 20 minutes = one mile).
Please note: Submit Tracking Activity via Asset Health Portal by September 15.
WVU Medicine and Allied Health Solutions employees and covered spouses enrolled in a company-sponsored medical plan will participate and track their progress through the Wellness Rewards portal: assethealth.com/wellnessrewards.
Please click on the following link for more information: Walk 100 Miles in 100 Days® online participation guide for the Asset Health site.
Anyone NOT enrolled in a WVU Medicine sponsored medical plan can track their progress on an Individual Mileage Form and then submit it to either their team captain or The Wellness Center at the end of the program.
For questions or more information, please contact The Wellness Center at wellnesscenter@hsc.wvu.edu.