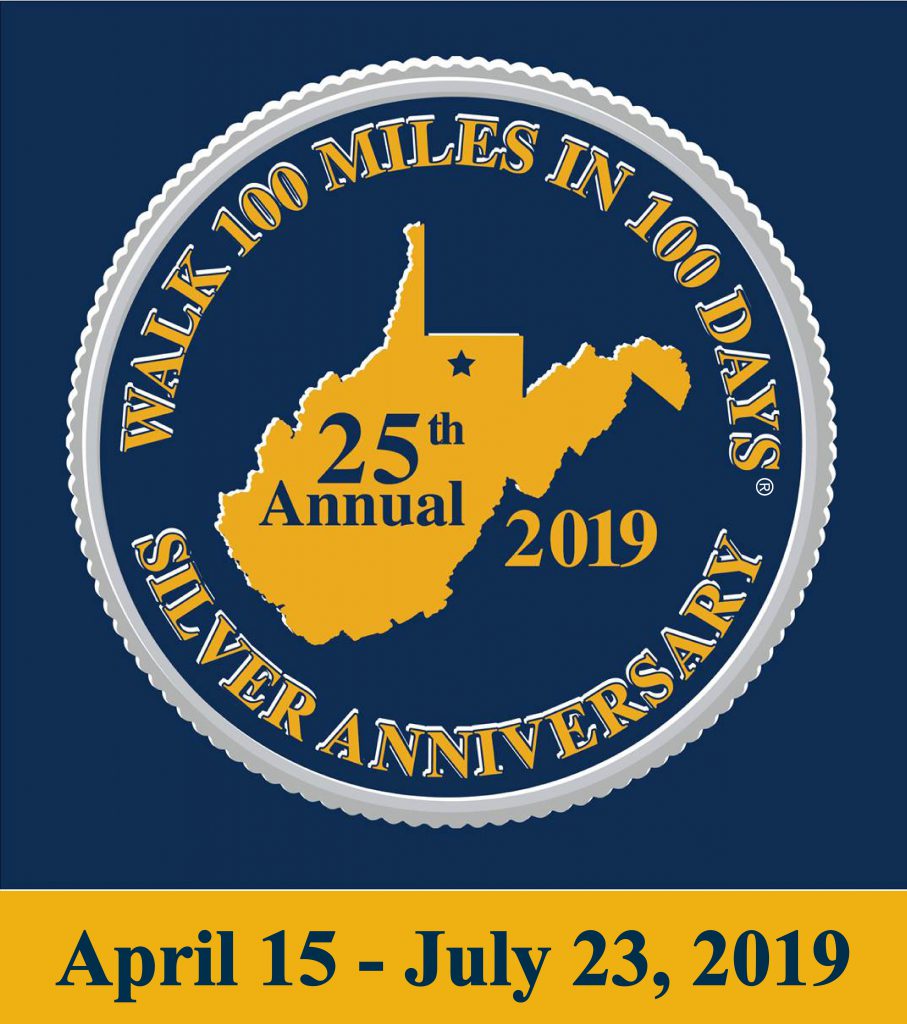 Walk 100 Miles in 100 Days® is a 15-week walking program which encourages participants to develop the habit of walking at least one mile a day as a form of exercise. Participants can purchase a commemorative t-shirt for a nominal fee which they will receive at program's end.
This year marks the 25th anniversary for the program which will run from Monday, April 15 through Tuesday, July 23.
"Last year we had over 4,700 people participate," said Dave Harshbarger, wellness manager for WVU Medicine making Walk 100 Miles in 100 Days® the largest exercise program in the state.
Reminders:
Participants can track and record all miles completed without a weekly cap. Participants can use an Individual Mileage Form to record their miles and submit to their team captain.
Team captains can update their team's mileage weekly through the Walk 100 Miles in 100 Days® Tracking Portal.
Listed below are directions:
Team members will report their miles walked to their team captains. Team member miles are tracked on a Monday-Sunday schedule. Please note: Week 15 is only 2 days (Monday, July 22 & Tuesday, July 23)
Team captains will add miles after each completed week of the program for team members by logging into the Walk 100 Miles in 100 Days® Tracking Portal clicking "Add Miles" and selecting the week of the program they want to add miles for team members on the drop down menu. Click "Save" at the bottom of the web page to complete the miles entry.
Team captains can always enter team member miles for past weeks, but NOT for future weeks that have not yet occurred.
There is no limit as to how many miles can be reported per day. Other forms of equivalent aerobic exercise also count (use a scale of 20 minutes = one mile).
For more information, contact the Wellness Center at (304) 293-2520 or wellnesscenter@hsc.wvu.edu.
Walk 100 Miles in 100 Days® FINAL Team Leader Board (based on average miles through Week #15)
| | | | | |
| --- | --- | --- | --- | --- |
| Rank & Team Name: | Team Captain: | Number of Members: | Total Miles: | Average Miles: |
| 1. THE LIFE SAVERS | Judith Richardson | 7 | 7056 | 1008 |
| 2. Twisted Blisters | Katherine Richards | 14 | 10233 | 730 |
| 3. Linen Losers | Zachery Gooden | 5 | 3069 | 613 |
| 4. blisters sisters | Johna Radabaugh | 49 | 29818 | 608 |
| 5. The Looney Walkers | Barbara Forbes | 10 | 5343 | 534 |
| 6. Walking Warriors | Christa Lantz-Hartzell | 12 | 6099 | 508 |
| 7. THE FAB 5 | Terri Snyder-Cogar | 5 | 2515 | 503 |
| 8. Sparkle Motion | Liz Butcher | 11 | 5498 | 499 |
| 9. The Committee | Elaine Sampson | 7 | 3345 | 477 |
| 10. Night Owls | Janet Phillips | 8 | 3673 | 459 |
| 11. HSC Movers & Shakers ll | Tom Fortuna | 13 | 5930 | 456 |
| 12. Pace Yourself | Summer Walls | 36 | 16099 | 447 |
| 13. Brain Stormers | Hayden McClead | 15 | 6634 | 442 |
| 14. Not Fast Just Furious | Billie Nicklow | 15 | 6600 | 440 |
| 15. Insured To Walk | Emily Butorac | 10 | 4333 | 433 |
| 16. You Bready For This? | Caitlin Thomas | 9 | 3753 | 417 |
| 17. The Pill Pushers | Adam Hartman | 6 | 2327 | 387 |
| 18. Dizty Dipsys | Cassie Lane | 10 | 3831 | 383 |
| 19. PFS-Power Fitness Squad | Derek Todd | 37 | 14099 | 381 |
| 20. 270° of Hotness | Charles Robinson | 43 | 16198 | 376 |
| 21. Humerus Walkers | Michelle Brown | 30 | 11078 | 369 |
| 22. LDL Blasters | Martha Gustafson | 6 | 2166 | 361 |
| 23. WVU Exercise Physiology | Daniel Getlik | 8 | 2865 | 358 |
| 24. Lab Rats | Carol Carter | 19 | 6777 | 356 |
| 24. Mixed Nuts | Patty Stewart | 11 | 3924 | 356 |
Leader board rankings out of a total of 300 teams