1. Which application do I complete UHC or PC&TC?
Individuals interested in pursuing radiologic technology training at United Hospital Center have two options when applying. Answer the following questions to determine the appropriate path for you: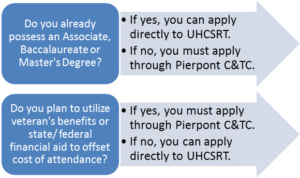 2. Where do I access and submit completed applications and transcripts?
| | |
| --- | --- |
| Required Application | Source of Application |
| UHC School of Radiologic Technology Application | Call 681.342.1871 or DOWNLOAD |
| PC&TC Application for Admission | Call 304-367-4892 or 800.641.5678 ext.2 or DOWNLOAD |
Please direct completed applications, transcripts or inquiries to
Education Coordinator
United Hospital Center Diagnostic Training Programs
327 Medical Park Drive
Bridgeport, WV 26330
681-342-1871
PC&TC applications may be submitted digitally:
admit@pierpont.edu or by mail to: Office of Admissions
1201 Locust Avenue
Fairmont, WV 26554
3. Do my transcripts and ACT/SAT scores have to be official copies?
All academic transcipts and test scores should be official, signed copies.
4. Is there a minimum ACT or SAT score for admission into the program?
Admission points are awarded based upon ACT(or SAT) test performance with required scores, as follows:
ACT Composite minimum score of 19 or SAT equivalent
ACT Math minimum score of 19 or SAT equivalent.*
ACT English minimum score of 18 or SAT equivalent.*
Additional admission points are also awarded based upon the ACT subsection score in Science, but there is no minimum score requirement.
*Alternative pathways to admission may exist for applicants with Math and English ACT subsection scores that are below the required minimums.
There is no alternative pathway to admission for ACT composite scores below 19.
5. If I already have a college degree, do I need to enroll through Pierpont Community and Technical College?
An applicant that possesses at minimum an Associate Degree may apply directly to UHC. The college degree, however, must be from an institution that is accredited by one of the agencies below:
Satisfactory completion of an Associates Degree or higher prior to entry or concurrent with program completion from an institution that is accredited through a mechanism acceptable by the ARRT to ensure certification eligibility including:
Middle States Commission on Higher Education: Delaware, District of Columbia, Florida, Maryland, New Jersey, New York, Pennsylvania, Puerto Rico, U.S. Virgin Islands
New England Association of Schools and Colleges: Connecticut, Maine, Massachusetts, New Hampshire, Rhode Island, Vermont
North Central Association of Colleges and Schools: Arizona, Arkansas, Colorado, Illinois, Indiana, Iowa, Kansas, Michigan, Minnesota, Missouri, Nebraska, New Mexico, North Dakota, Ohio, Oklahoma, South Dakota, West Virginia, Wisconsin, Wyoming
Northwest Commission on Colleges and Universities: Alaska, Idaho, Montana, Nevada, Oregon, Utah, Washington
Southern Association of Colleges and Schools: Alabama, Florida, Georgia, Kentucky, Louisiana, Mississippi, North Carolina, South Carolina, Tennessee, Texas, Virginia
Western Association of Schools and Colleges Accrediting Commission for Community and Junior Colleges (ACCJC) and Senior College Commission (SCC): California, Hawaii
6. How do you select students for admission?
Student selection is a two-part process that begins with a review of student academic transcripts. An impartial scoring system is used to rank applicants on the basis of performance on the ACT or SAT test and in the following recommended prerequisite courses – Biology, Chemistry, Physics, Anatomy/Physiology, Computer Science, Algebra and other advanced Maths. Admission points are earned for advanced math and science courses taken in high school and/or college with credit awarded based upon the grade point average. Lesser amount of credit is available for courses taken through business colleges or technical programs. Additional admission points are earned for ACT scores greater than the required minimum scores (see #4).
Applicants are selected for interviews based upon their academic scores with the interviews being conducted in March. All applicants will be notified by mail regarding whether they have been selected for a personal interview as not all applicants are interviewed. A maximum of fifteen students are selected to begin training each June. Five applicants are ranked as alternates and are notified in the event that an applicant selected for admission chooses not to attend.
7. Can I apply the WV Promise Scholarship or other sources of financial aid to offset my costs of attendance?
Those enrolling through Pierpont Community and Technical College should contact the financial aid office to determine eligibility for the WV Promise and other financial aid programs.
8. What are the total costs of attendance for the radiologic technology program?
Students are required to wear scrub outfits of a specific color and style number; the total cost for uniforms will vary by quantity, but rarely exceeds $200. The required student textbooks for the first year cost approximately $500; additional textbooks needed for the second year may cost approximately $250 and are purchased during the final quarter of the first year. Room and board are the student's responsibility during the 24 month training program.
United Hospital Center School of Radiologic Technology charges a tuition of $6000 for students that already have achieved a minimum of an Associate's Degree and are applying directly to the hospital. This may be paid in quarterly installments of $750. Students that enroll through Pierpont Community and Technical College (PC&TC) pay the current full-time tuition and fees for two years. Please contact PC&TC for further information at 304-367-4892, 1-800-641-5678 or www. pierpont.edu.
9. Is it necessary to take college classes while I am enrolled in the radiologic technology program at UHC?
Individuals employed in radiologic technology must first pass a national credentialing exam that is administered by the American Registry of Radiologic Technologists (www.arrt.org). To qualify for this credentialing exam, individuals must complete radiologic technology training and possess an Associate's Degree or higher from an accredited college. (See q. 5 for a list of ARRT acceptable accreditation agencies.) United Hospital Center has developed a relationship with Pierpont Community and Technical College whereby college credit is given for successful completion of the radiologic technology curriculum. Through completion of additional general education classes, an Associate of Applied Science Degree may be earned from PC&TC at the time of completing UHC School of Radiologic Technology. The required general education courses include:
English 1104
English 1108 or 1109
Communications 2200
Math 1107 or greater
3 credit hours of electives
College courses completed as Dual Enrollment courses while in high school may be applied to satisfy the general education requirements. Transfer credit for courses taken at another college or university is at the discretion of the PC&TC registrar.
10. Do I need to have a college degree before I can apply to attend the radiologic technology program?
See question # 9
11. Can I have a full- or part-time job while I am enrolled in the program?
United Hospital Center and its clinical affiliates may employ radiography students in capacities other than for the performance of radiologic procedures, but do so independently of any program affiliation.
The School of Radiologic Technology supports the intent of WV Code 30-23, "to ensure minimum standards of education, training and experience for radiologic technologists".
With respect to the WV Code, UHC School of Radiologic Technology neither endorses or discourages students who seek employment during their involvement with the training program.
Clinical and didactic schedules related to the training program WILL NOT be altered by the demands of such employment.
12. Do you wait list individuals that apply, but don't get in?
If you choose to reapply, you must complete and submit a new application form and update all academic records. Applications are accepted by United Hospital Center and Pierpont Community and Technical College prior to January 31 of the year in which you hope to enter the training program.
13. Will job placement services be available to me when I complete the program?
Radiologic technologists are employed wherever medical images are needed large medical centers, smaller community hospitals, independent imaging centers, urgent care facilities and physician offices.
There are also opportunities in education, administration and industry.
UHC boasts 100% employment at 6 months from graduation for those actively seeking employment opportunities.