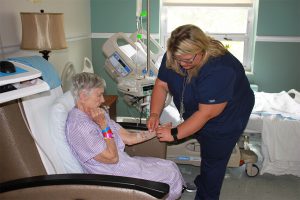 What is the Swing Bed Rehabilitation Program?
Swing Bed is a program that allows patients to receive rehabilitation services once acute hospital care is no longer required, but the patient continues to need services that cannot easily be provided at home.
We accept Medicare, Medicare Managed Care, and other private insurances. Medicare requires a three-day qualifying inpatient hospital stay prior to admitting a patient to a swing bed. For all other insurances, patients must check with their provider for eligibility. Unfortunately Medicaid does not cover this service.
What can I expect by using the Swing Bed Rehabilitation Program?
St. Joseph's Hospital Swing Beds are located on the second floor of St. Joseph's Hospital. We provide skilled nursing care to eligible patients on a short-term basis. Patients receive care designed to restore them to their highest level of independence.
Our experienced and caring staff include a team of physicians, nurses, physical therapists, occupational therapists, speech therapists, respiratory therapists, and social workers who will work with you to develop a customized plan to meet your needs.
We offer a comfortable environment with private rooms, including television and phone service.
Services Provided:
Occupational Therapy

Physical Therapy

Speech Therapy

Rehab after Surgery

Rehab after Stroke or Serious Medical Illnesses

Rehab after Orthopedic Surgery Including Hip and Knee Replacement

IV Medications/Antibiotics

Wound Care

Diabetic Teaching

Colostomy Teaching

Respiratory Therapy
For more information regarding the Swing Bed Rehabilitation Program, call 304-460-7928.
Bartley Brown, DO
Hospitalist

Matthan Jackson, DO
Hospitalist

Duane Sikarskie
Physical Therapist

Jessica Koerner
Physical Therapist

Caprice Tenney
Physical Therapist

Sarah Broadwater
Occupational Therapist

MacKenzee Watson
​Speech Therapist

Sara Burdette
Social Worker