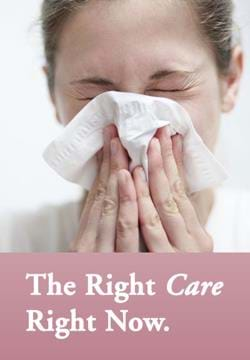 In response to your need for fast, quality care in the case of a minor injury or illness, St. Joseph's Hospital is pleased to offer you the convenience of our PromptCare Walk-In Treatment Center.
At PromptCare, you never need an appointment. Open evenings and weekends, PromptCare is here when you need it. Located adjacent to the Emergency Department of St. Joseph's Hospital, PromptCare provides rapid and efficient medical treatment for patients with minor emergencies at a lower cost than emergency room care.
With our bedside registration process, you will be seen quickly, without the long wait found in most emergency rooms. And by being located with the hospital, you will have fast and easy access to any testing needed, including laboratory and imaging services. No need to go elsewhere for tests, you will be diagnosed, treated and on your way to feeling better fast.
PromptCare is open every day between the hours of 11am and 9pm. Walk-ins are welcome and we accept insurance, credit cards, as well as payment plans, for those who qualify.
For more information contact PromptCare at (304) 473-2020.