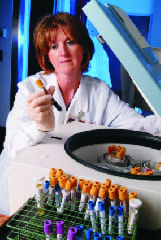 St. Joseph's Hospital's Laboratory provides patients and clinicians with round-the-clock access to high-quality testing services.  Our state-of-the-art equipment and highly-skilled technicians produce results that are interfaced to the patient's electronic health record in real-time, so that care providers have efficient access to the data they need to make informed clinical decisions.
The Laboratory's medical technologists and medical laboratory technicians are licensed professionals in the State of West Virginia, and the Lab itself is accredited by the College of American Pathologists (CAP).  A team of phlebotomists and support staff round out the team, with oversight from a Board-certified pathologist as Medical Director.
For more information, contact the Laboratory at 304-473-2042.