The Diagnostic Imaging Department at St. Joseph's Hospital provides a wide range of testing including Digital X-rays, Fluoroscopy, CT Scans, 3D Digital Mammography, Ultrasounds, Nuclear Medicine, and MRI.   To learn more about our services, call 304-473-2053.

MRI
Our Siemens Aera 1.5 Tesla Wide Bore Magnet  can comfortably accommodate a variety of patients, including the anxious or anyone who just likes a little more space.  For many types of scans, your head won't even need to be in the scanner due to the system's design.  With this MRI, you get the room you need with the quality you deserve.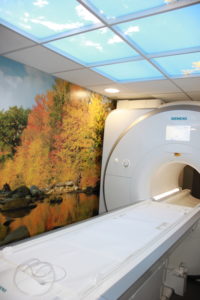 Siemens Aera Wide Bore MRI Features
One of the most advanced MRI systems available

Providing the exceptional image quality offered at large–scale hospitals

Multi-channel technology optimizes image detail for better patient outcomes

Faster exam and result time for patients and physicians

Increased patient comfort with wider bore opening for less anxiety & claustrophobia-Open for YOUR comfort

CT Scanner
Our Aquilion Prime 80-slice CT scanner provides faster exams at as low as achievable doses.  It produces high-quality images needed for accurate diagnoses.  Its large bore opening gives patients a more spacious feel, while a higher table weight limit expands the range of patients who can be imaged.  In addition, the Aquilion Prime includes industry-leading dose-reduction software.
The Aplio I-700 Canon Medical Systems offers the latest in ultrasound transducer technology to gain premium image quality with the strongest penetration on the market. The Aplio is able to capture 3D and 4D images of organs and tissues, enabling physicians to see them from every angle.  The system also has the capability to image fetal facial characteristics.  
It is a non-invasive medical test that uses high-frequency sound waves to create images of internal body structures and organs as well as to show blood flow through vessels.  Sound waves are sent and received by a hand-held device called a transducer which is placed on the body.  The ultrasound system shortens exam times for patients and provides physicians with a wider variety of advanced applications.  A high-frequency transducer increases the resolution and detail in breast tissue and thyroid nodules, standardizing the labeling, measuring and describing of lesions and nodules in breast and thyroids.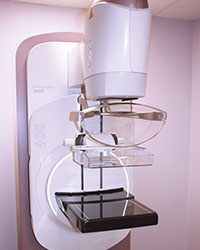 GE Senographe Pristina 3D Mammography Equipment
This state-of-the-art system was designed by women, for women, to offer:
1. More comfortable exams
2. Higher quality images
3. More accurate results
Comfort features include soft armrests and rounded edges, so women can better relax during the exam.