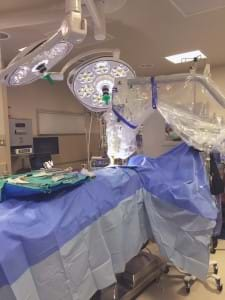 The WVU Cancer Institute is the only facility in the state of West Virginia to offer Intraoperative Radiation Therapy (IORT) for breast cancer patients using the Zeiss Intrabeam. The Intrabeam is a simple but ingenious device – in essence a miniature electron, beam-driven, X-ray source, which provides a point source of low energy X-rays at the tip of a 3.2-mm diameter tube. The intrabeam can be inserted into the area of interest immediately after excision of the tumor and switched on for 25-45 minutes to provide intraoperative radiotherapy (IORT), accurately targeted to the tissues that are at highest risk of local recurrence.
What is IORT?
Intraoperative radiation therapy delivers a concentrated dose of radiation therapy to a tumor bed during surgery. This advanced technology may help kill microscopic disease, reduce radiation treatment times, or provide an added radiation "boost."
Advantages of IORT
Typically, standard radiation therapy involves five days of treatment per week, for a total of three to six weeks. With IORT, our radiation oncologists can achieve  a similar radiation effect in a single treatment session while also preserving more healthy tissue. This helps to reduce side effects and the time spent going back and forth to the hospital for radiation treatments.
IORT offers some of the following advantages:
Maximum effect. IORT delivers a concentrated dose of radiation to a tumor site immediately after a tumor is removed, helping to destroy the microscopic tumor cells that may be left behind. The tumor site is typically at higher risk for recurrence than the rest of the breast, and traditional radiation therapy requires a recovery period after surgery, which leaves microscopic disease in the body for longer.
Spares healthy tissues and organs. During IORT, a precise radiation dose is applied to the rim of normal tissue around the resection cavity. The rapid dose fall-off with this technique allows for sparing of the skin, lungs, and heart, which can receive a higher radiation dose with conventional radiation.
Shortened treatment times. IORT may help some patients finish treatment and get back to their lives more quickly by reducing the need for additional radiation therapy, which is typically given over three to six weeks. The IORT treatment itself takes about 25-45 minutes.
Some possible side effects of treatment are skin redness, irritation, and swelling in the treated area, which often improve soon after treatment is complete.
Who is a candidate for IORT?
A patient must be a surgical candidate for lumpectomy in order to be eligible for IORT. This treatment is generally reserved for individuals with early-stage disease and favorable risk factors. Your doctor will discuss whether IORT is an appropriate treatment option for you, based on your individual diagnosis and medical history.