WVU Medicine pharmacies provide our community with advanced services that are not always commonly available. We take pride in offering our patients the highest level of care and competitive pricing strategies.
Pharmacy Compounding Services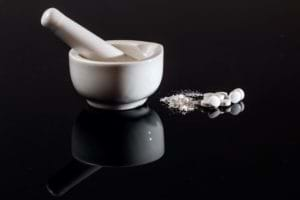 Sometimes patients need unique custom drug strengths, dosage forms, or a combination of medications that are not available in a pre-manufactured way. In these instances your physician writes a prescription for what you need, and a compounding pharmacy mixes the needed medication. Not all pharmacies are able to offer compounding services. WVU Medicine pharmacies are pleased to be able to offer this unique service.
Advantages of a custom medication include:
Custom-made medication that is unavailable from drug manufacturers
Prescription flavoring to help children take their medicine
Easier to use dosage formats – for people with difficulty swallowing
Custom-made strengths
Custom-made combinations of medications
Patient Education and Information about Over-the-Counter Medications
Some over-the-counter medications can interfere with prescribed medications. Our pharmacists are always available for patient consultations to help you determine which nonprescription drugs you can use safely.
Blood Glucose Monitor Training
We train patients to use their blood glucose monitoring equipment properly. Some monitors are easier to use because they have fewer steps to operate. Some machines use less blood or time to get results, but the training will show you how to correctly operate your testing system so you can ensure that you are getting the most accurate readings.
We will train you to properly store and check your testing supplies for your monitor. Because test strips and monitor supplies can be expensive, we can help you verify that your insurance company covers the cost of the supplies before purchasing your monitor.
Our staff will teach you how to properly clean and maintain your selected unit and how to ensure your glucose monitor's accuracy.
It is important, in addition to monitoring your blood glucose levels, that you maintain a written log of blood glucose test results. We will show you how to keep your testing records so you can take them with you to your doctor's appointments.
Contact us to schedule an appointment for your diabetes monitoring equipment training.
Face-To-Face Diabetes Program with PEIA
If you have PEIA insurance and are a diabetic, this program can help improve your health and save you money.
In this program, pharmacists work with you to teach you about your condition, train you on the use of your testing meter, track your blood sugar level, and evaluate and track your medications to help you achieve the best level of health.
For more information, visit the West Virginia Public Employees Insurance Agency Face To Face Care Management Program website.