WaveLight®  Laser Assisted In-Situ Keratomileusis (LASIK)
LASIK is a blade-free vision correction procedure that uses laser energy to reshape the cornea and improve vision. This procedure is used to treat people with refractive errors: nearsightedness, farsightedness, and astigmatisms. LASIK surgery is an outpatient procedure that can reduce or eliminate the need for corrective eyewear.
It is a popular procedure, and patients report improved overall vision quality that is clearer with reduced sensitivity to glare and better night vision.
The team at WVU Medicine uses the WaveLight® Refractive Suite when performing LASIK surgery.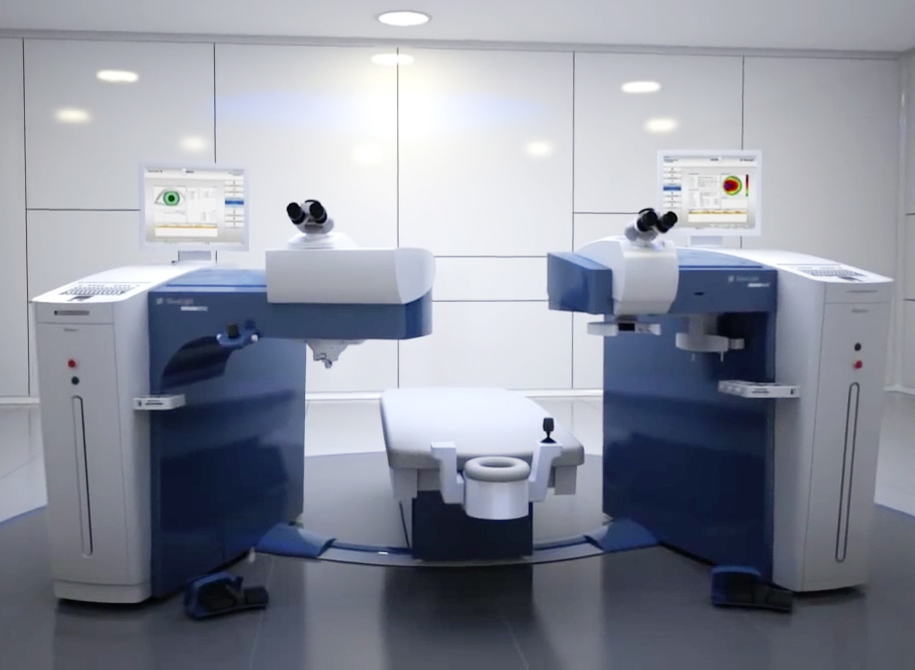 What Is The WaveLight® Refractive Suite?
The WaveLight® Refractive suite consists of three components designed to optimize the time and accuracy of a LASIK procedure, while providing the most accurate refractive outcome:
The WaveLight® FS200 Femtosececond Laser
The WaveLight® EX500 Excimer Laser
Customized swiveling patient bed designed to reduce the transition time between the lasers.
Clinical studies of WaveLight® patients show:
93% of nearsighted patients achieved 20/20 vision or better
93% of farsighted patients achieved 20/40 vision or better
92% described their vision as "good" or "excellent"
Evaluation
You must schedule an evaluation to determine if you qualify. The WVU LASIK team uses Pentacam diagnostic technology to inspect the topography of your eye, including pupil size and the cornea's shape and thickness. It can also create an in-depth image that identifies its distinct curvature and features. This information allows our surgeon to formulate a customized treatment plan and determine if the procedure is safe for you.
LASIK treatment
The first phase of the treatment involves the WaveLight® FS200 femtosecond laser, which is used to create the corneal flap. It allows our surgeon to customize the shape, thickness, and size of the flap.
The speed and precision of this laser enables:
An accelerated healing process for a faster recovery
Decreased cornea dehydration
Decreased pressure and discomfort
Decreased swelling and inflammation
Reduced visual distortions
After flap creation, the vision correction treatment is immediately initiated with no downtime. The patient is transferred, or "swiveled," directly to the state-of-the-art EX500 excimer laser.
In the second phase of treatment, the WaveLight® EX500 excimer laser delivers powerful yet gentle computer-guided pulsed beams of ultraviolet light to remove tissue and reshape or smooth the cornea. This procedure enables light entering the eye to accurately focus on the retina for improved vision.
To ensure your safety, we use PerfectPulse Technology®, which monitors and compensates for any involuntary eye movement during the surgery in order to deliver the correct placement of the laser pulse.
Once the cornea is reshaped, the flap is replaced and the cornea is permitted to heal naturally.
Is WaveLight® LASIK right for me?
To be eligible, you must:
Be at least 21 years of age or older
Have a prescription for corrective eyewear
Have a stable prescription for 12 months
Have a healthy cornea, retina, and eye pressure
Have no major eye disease
Contact us.
For more information, contact our patient counselor at 304-598-4494 to schedule a consultation and see if WaveLight® LASIK laser correction is right for you.