Vision Correction Surgery
The expert team at the WVU Eye Institute offers refractive laser treatments using the latest technology to correct astigmatisms, near-sightedness, and far-sightedness. These procedures can reduce or eliminate the need to wear glasses and contacts.
We believe in a team approach to laser eye surgery. This allows us to deliver personalized care resulting in the best outcomes. The physician and technicians that perform your initial evaluation are also involved with your treatment and follow-up care.
The Eye Institute's laser eye surgery team performs a detailed evaluation of the optics of your eye to deliver a precise laser treatment. Our testing devices enable our doctors choose the safest procedure to correct your vision, and our precision treatment enables us to customize your laser treatments with a level of accuracy that is unprecedented.
Laser Assisted In-Situ Keratomileusis (LASIK)
LASIK is the most commonly performed vision correction surgery. This procedure involves the creation of a thin flap by the laser which is retracted then repositioned following the laser vision procedure. This approach allows faster healing and vision recovery. The WaveLight procedure accomplishes this treatment with speed and precision.
Photorefractive Keratectomy (PRK)
PRK Surgery is an alternative vision correction treatment. Instead of creating a flap, the surface cells are removed and the laser vision corrections delivered to the cornea surface. This treatment may be a better option for those with thin corneas or occupations or avocations in which trauma resistance is important. (military, police, corrections officers, fireman, etc.) The ultimate vision outcome is equal to LASIK.
Our LASIK team will evaluate and determine which procedure is best suited for your eyes.
To Learn more about Lasik, read our Fact Sheet.
WaveLight®  Laser Assisted In-Situ Keratomileusis (LASIK)
LASIK is a blade-free vision correction procedure that uses laser energy to reshape the cornea and improve vision. This procedure is used to treat people with refractive errors: nearsightedness, farsightedness, and astigmatisms. LASIK surgery is an outpatient procedure that can reduce or eliminate the need for corrective eyewear.
It is a popular procedure, and patients report improved overall vision quality that is clearer with reduced sensitivity to glare and better night vision.
The team at WVU Medicine uses the WaveLight® Refractive Suite when performing LASIK surgery.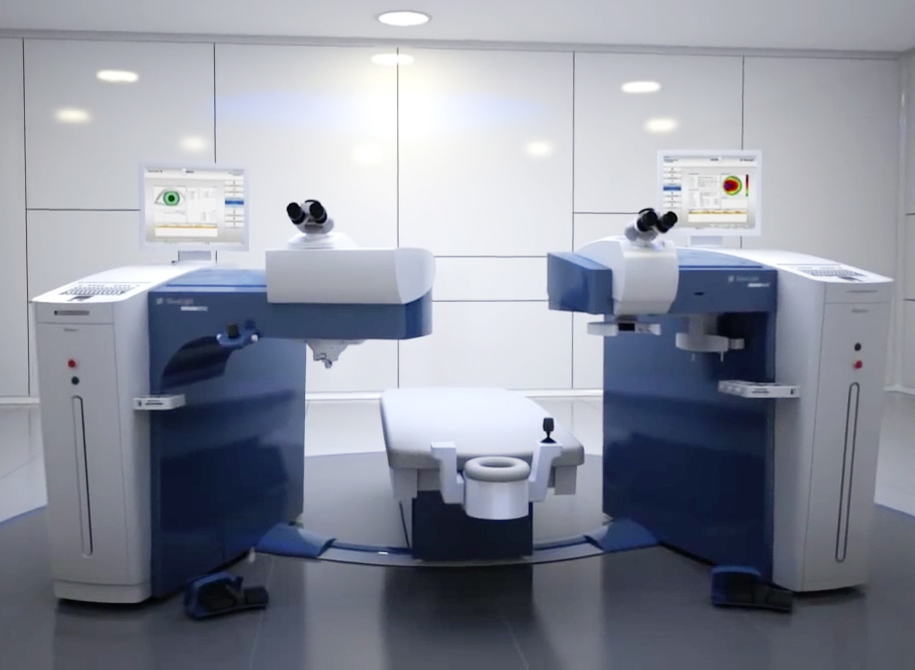 What Is The WaveLight® Refractive Suite?
The WaveLight® Refractive suite consists of three components designed to optimize the time and accuracy of a LASIK procedure, while providing the most accurate refractive outcome:
The WaveLight® FS200 Femtosececond Laser
The WaveLight® EX500 Excimer Laser
Customized swiveling patient bed designed to reduce the transition time between the lasers.
Clinical studies of WaveLight® patients show:
93% of nearsighted patients achieved 20/20 vision or better
93% of farsighted patients achieved 20/40 vision or better
92% described their vision as "good" or "excellent"
Evaluation
You must schedule an evaluation to determine if you qualify. The WVU LASIK team uses Pentacam diagnostic technology to inspect the topography of your eye, including pupil size and the cornea's shape and thickness. It can also create an in-depth image that identifies its distinct curvature and features. This information allows our surgeon to formulate a customized treatment plan and determine if the procedure is safe for you.
LASIK treatment
The first phase of the treatment involves the WaveLight® FS200 femtosecond laser, which is used to create the corneal flap. It allows our surgeon to customize the shape, thickness, and size of the flap.
The speed and precision of this laser enables:
An accelerated healing process for a faster recovery
Decreased cornea dehydration
Decreased pressure and discomfort
Decreased swelling and inflammation
Reduced visual distortions
After flap creation, the vision correction treatment is immediately initiated with no downtime. The patient is transferred, or "swiveled," directly to the state-of-the-art EX500 excimer laser.
In the second phase of treatment, the WaveLight® EX500 excimer laser delivers powerful yet gentle computer-guided pulsed beams of ultraviolet light to remove tissue and reshape or smooth the cornea. This procedure enables light entering the eye to accurately focus on the retina for improved vision.
To ensure your safety, we use PerfectPulse Technology®, which monitors and compensates for any involuntary eye movement during the surgery in order to deliver the correct placement of the laser pulse.
Once the cornea is reshaped, the flap is replaced and the cornea is permitted to heal naturally.
Is WaveLight® LASIK right for me?
To be eligible, you must:
Be at least 21 years of age or older
Have a prescription for corrective eyewear
Have a stable prescription for 12 months
Have a healthy cornea, retina, and eye pressure
Have no major eye disease
Contact us.
For more information, contact our patient counselor at 304-598-4494 to schedule a consultation and see if WaveLight® LASIK laser correction is right for you.
Below are some commonly asked questions regarding the LASIK procedure. If your question is not listed here, please do not hesitate to contact Krista Felton at 304-598-4494.
What are the benefits of LASIK?
Laser vision correction has been shown to reduce dependence on glasses and contacts. Over 95% of our patients undergoing laser vision correction achieve 20/40 vision or better. This will enable you to pass a driver's license exam without glasses.
How do I know if I am a candidate for laser vision correction?
LASIK is used to correct many vision problems including nearsightedness, astigmatism and farsightedness. While it is a very safe and effective procedure, not everyone is a candidate. Certain eye and medical conditions can make a patient unsuitable for LASIK surgery. If you have questions, call our patient counselor at 304-598-4494.
How long is the procedure?
You will be at the Eye Institute approximately 1 ½ hours. The time in the surgery suite with the surgeon is 15-20 minutes. The actual laser treatment time is approximately one minute per eye.
Is LASIK really painless?
For many patients, LASIK is indeed painless. Anesthetic drops numb the eye prior to the procedure. Some patients may experience temporary symptoms such as scratchy or watery eyes after the procedure, but this usually disappears within 24 hours. Keeping the eyes closed and using the medication drops as instructed can help minimize any discomfort.
What if I blink during the procedure?
Your eye will be held open with a holder supporting your lid so that you cannot blink. The holder is placed on your eye right before the treatment and removed right after.
Why must I stop wearing my contacts before my preoperative exam?
Contact lenses can change the shape of the cornea similar to how a watchband can make a skin imprint on your wrist. If you have your eyes examined too soon after taking out your contact lenses, some of the eye tests could give inaccurate results. You should discontinue wearing soft contact lenses two weeks prior to the pre-operative measurements and surgery. Rigid gas permeable (RGP) contact lens wearers should discontinue wearing lenses four weeks prior to pre-operative measurements. Our doctors will advise you if they suspect your corneas have not returned to their natural shape after removing your contact lenses.
Do the results last?
LASIK is considered to be a permanent procedure; however, refractive surgery will not prevent any age-related conditions such as presbyopia (the need for reading glasses) or cataracts. In a small number of cases, eyes do change over time and develop a new prescription. If this happens, you may be able to be re-treated.
Does insurance cover laser eye surgery?
Most insurance companies consider laser eye surgery an elective surgery and it is not usually a covered benefit. However, it is certainly worth checking with your insurance company and we encourage you to call them.
How much work will I miss?
Most patients return to their normal activities the day after the procedure. The doctor can give your more details on what you can expect when you come in for an evaluation.
What are the risks of LASIK?
Your safety is our highest priority. While LASIK has a very high success rate, like any surgery there is risk associated with it. Some patients experience dryness in the eyes, which is usually relieved with eye drops and can disappear over time. In a very small number of people, vision can worsen rather than improve. Your surgeon will go over the potential risks with refractive surgery and measures taken to avoid them. Be sure to have all your questions are answered before having surgery.
Can both eyes be done at the same time?
Because of the advanced technology associated with LASIK both eyes are most often done at the same time.
PRK is a type of laser eye treatment that corrects nearsightedness, farsightedness, and astigmatism and can offer advantages over LASIK for some patients.
Both LASIK and PRK use a laser to reshape the inner cornea for vision correction. However, in LASIK surgery, a thin flap is created and lifted back before the laser reshapes the cornea. With PRK, a laser removes the outer layer of the cornea before the inner cornea is reshaped for vision correction.
The difference in procedure can make PRK laser treatment a better option for those with thin corneas who cannot spare tissue for flap creation. PRK may also be a better option for those whose occupations may involve trauma to the eye such as law enforcement officers, military personnel, martial artists, etc.
The disadvantage to PRK is that the recovery time takes longer than LASIK, because it takes some time for new cells to regenerate and cover the surface of the eye.
There is a variation of PRK, called LASEK, which uses a solution of alcohol to loosen the outer layer (surface cells). The eye surgeon can remove the outer layer and then replace it once the reshaping of the cornea is complete.
In both PRK and LASEK, a bandage contact lens is applied after surgery to speed healing.