Richard M. Goldberg, MD,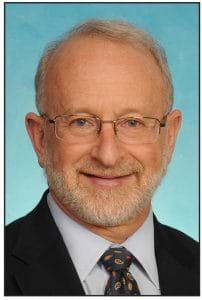 renowned gastrointestinal cancer expert, is the new director of the WVU Cancer Institute.
Dr. Goldberg comes to WVU from Ohio State University's Wexner Medical Center, where he served as the Klotz Family Professor of Cancer Research, the physician-in-chief of the James Cancer Hospital, and the associate director of the Ohio State Comprehensive Cancer
Center. He also served as the acting director of the Division of Medical Oncology.
"I am honored to come to West Virginia to lead the incredible team of clinicians and researchers at the WVU Cancer Institute," Goldberg said. "The Institute has already made great strides in the arenas of treatment, prevention, and research, and I hope that together
we can accomplish even greater advances in the future."
Prior to arriving at Ohio State, Goldberg served as the physician-in-chief and division chief for Hematology and Oncology at the University of North Carolina, where he was also the Richard M. Goldberg Professor of GI Cancer Research and associate director for clinical research of the Lineberger Comprehensive Cancer Center.
Learn more: WVUCancer.org
For questions or to refer a patient, call 855-WVU-CARE.