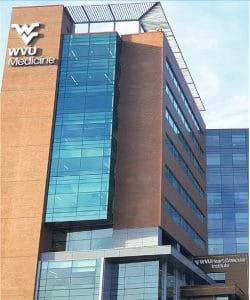 FIRST in West Virginia to:
Repair a mitral valve through a tiny incision in the chest using the da Vinci® Surgical System
Implant the Tendyne Bioprosthetic Mitral Valve and the WATCHMANâ"¢ Left Atrial
Appendage Closure Device
Use the MitraClip® device to repair a leaking mitral valve
Rebuild an aortic valve using a patient's own heart lining
Fix a thoracic aortic aneurysm using the Relay PRO implant
We've recruited some of the best heart and vascular surgeons, cardiologists, and anesthesiologists in the United States to care for all of your patients' heart and vascular needs. Now, the most advanced and comprehensive heart and vascular care is available, right here, in West Virginia.
Learn more: MyWVUHeart.com
For questions or to refer a patient, call 855-WVU-CARE.