About our physician outreach service
Our liaisons make on-site visits to referring physicians' offices and answer questions about our services and faculty. They can be the initial point of contact or provide necessary follow-up to improve the referral experience. Their top priority is making sure the referral process goes as smoothly as possible for referring providers and their patients.
We want your referral experience to be exceptional, and our dedicated physician liaisons, Swapna King, Steven Richards, and Robert Vincent are here to help.
If you would like to arrange an outreach visit to learn more about our specialists, address issues or questions, share compliments, or discuss areas of need, please contact Swapna, Steven, Amy, or Robert. You can also contact the liaisons to coordinate a visit from a provider, who can discuss the latest advances in specialty care at WVU Medicine.
This infographic summarizes the impact WVU Medicine physician outreach liaisons made in 2021.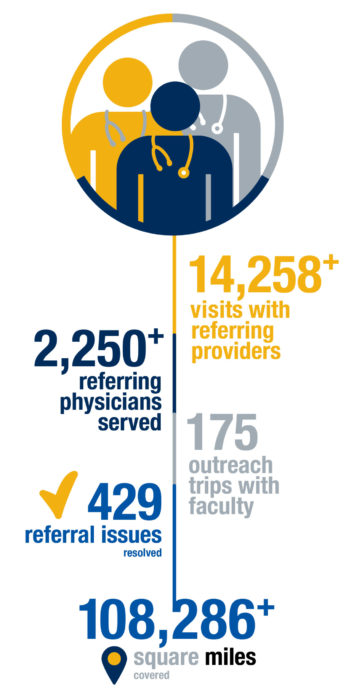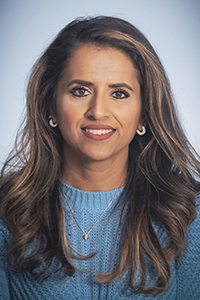 Swapna King
WVU Rockefeller Neuroscience Institute
Email: spking@wvumedicine.org
Address: 1 Medical Center Drive
PO Box 9083
Morgantown, WV 26506
Swapna is the liaison serving the WVU Rockefeller Neuroscience Institute, which includes neurology, neurosurgery, behavioral medicine, the Center for Integrative Pain Management, neurointerventional radiology, and associated departments such as the WVU Spine Center. With more than 23 years of experience working with behavioral medicine teams, Swapna has helped facilitate statewide community collaborations and coordinated the building of resources for private and public agencies, in addition to providing access to services supporting the delivery of behavioral medicine services for children and families throughout West Virginia.
An Ohio native, Swapna graduated from Fairmont State University and has called Fairmont home for 25 years. She has worked in, and traveled through, 54 of 55 Mountain State counties, in addition to portions of Virginia, Ohio, Maryland, and Pennsylvania.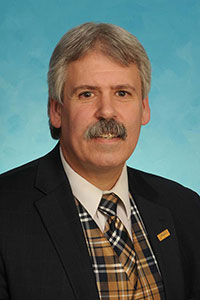 Steven Richards
WVU Heart and Vascular Institute
Steven Richards, a Morgantown resident since 2004, has served as a liaison representing multiple WVU Medicine service lines since 2017. His brackground includes 32 years of international pharmaceutical experience, including 13 years in North Central West Virginia.
Email: steven.richards@wvumedicine.org
Address: 1 Medical Center Drive
PO Box 9083
Morgantown, WV 26506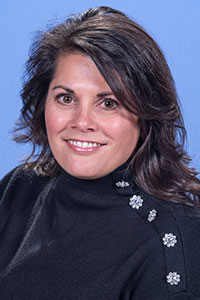 Amy Romano
WVU Cancer Institute
Dermatology
Opthalmology
Orthopaedics
Otolaryngology
Radiology
Surgery
Urology
Amy is the liaison serving the WVU Cancer Institute and Ambulatory Care Services, which includes the departments of Dermatology, Medicine, Ophthalmology, Orthopaedics, Otolaryngology, Radiology, Surgery, and Urology. Amy came to WVU Medicine with more than 14 years of biotech sales and management experience, focused on infectious diseases, complex cardiovascular products, and oncology. She additionally brings six years of management operations experience.
Amy has also taken on roles within her community, such as the incident commander and director for the Community Emergency Response Team and has held local and state chair positions for the GFWC Bridgeport Junior Women's Club. Amy has coached, motivated, mentored, and led teams as small as five and as large as 250. She believes teamwork is the key to success.
Born and raised in Connecticut, Amy attended Rutgers College, pursued a sales career in Boston, and then finally West Virginia, where she has lived for 25 years. Amy resides in Bridgeport with her husband, Mike, and their two children. Having covered West Virginia and the surrounding four states while in biotech, Amy is happy to be returning to the country roads and serving as a physician liaison to improve the health and lives of West Virginians.

Email: amy.romano@wvumedicine.org
Address: 1 Medical Center Drive
PO Box 9083
Morgantown, WV 26506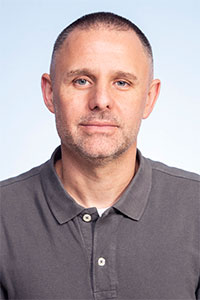 Robert Vincent
WVU Medicine Children's
Obstetrics and Gynecology

Robert has represented the wide spectrum of services available at WVU Medicine Children's since following country roads back to his home state in 2019. Born and raised in Buckhannon, Robert went on to serve in the U.S. Air Force. While stationed in Texas, he raised a family and earned his master's degree.

Email: robert.vincent.m@wvumedicine.org
Address: 1 Medical Center Drive
PO Box 9083
Morgantown, WV 26506