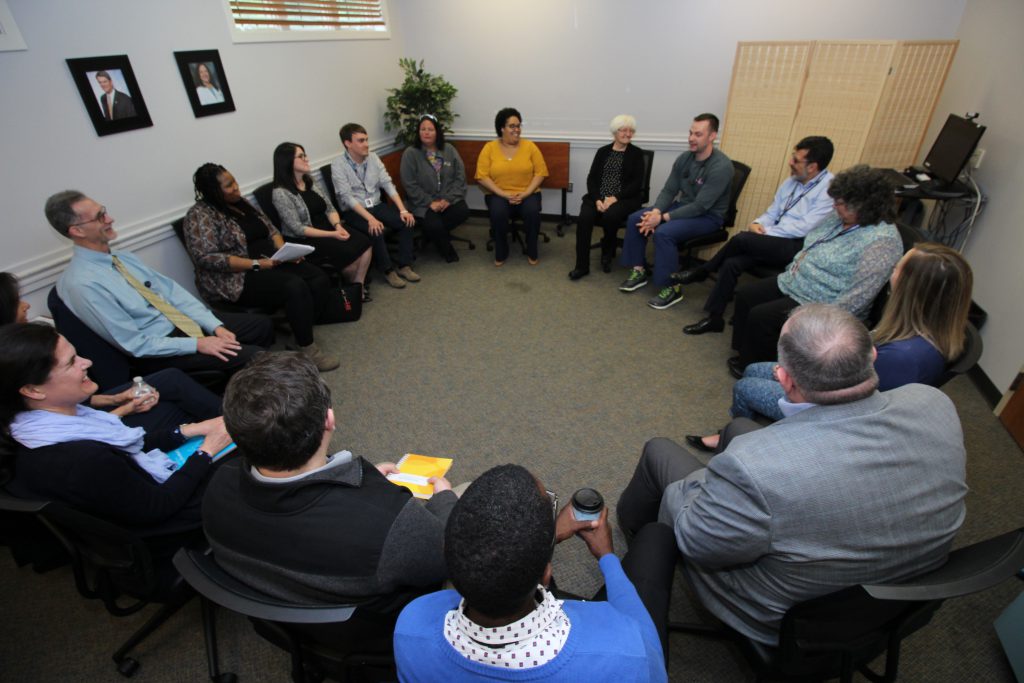 Better Care, Better Outcomes
Harpers Ferry Family Medicine Center's Prestige Care program offers patient-centered prenatal care for expectant mothers looking to spend less time in exam rooms and more time interacting with providers and other pregnant women in a comfortable group setting. The Prestige Care program follows CenteringPregnancy protocol to create better care, better health outcomes, and lower costs for patients and providers.
Harpers Ferry Family Medicine Center has been recognized by the Centering Healthcare Institute as the first CenteringPregnancy site in West Virginia.
What is CenteringPregnancy?
Centering is group prenatal care designed to bring women with similar due dates out of the exam room and into a comfortable group settings for fully comprehensive care. Group sessions include standard health assessments, interactive activities, guided discussions, and explorations of relevant topics such as nutrition, stress management, and breastfeeding. This protocol follows the recommended schedule of 10 prenatal visits, but each visit lasts between 90 minutes and 2 hours, allowing for more interaction and in-depth care.
Prestige Care groups are comprised of 6 to 8 women with similar due dates and typically begin around 15 weeks.
Why Prestige Care?[1]
CenteringPregnancy has benefits for moms, babies, and providers!
Better Health Outcomes: Numerous published studies show that Centering moms have healthier babies and that Centering nearly eliminates racial disparities in preterm birth.
Self-Care: Moms are actively engaged in their own healthcare and own their health information.
Self-Confidence: Centering moms are better prepared for labor, delivery, and to care for their infant. Practices report fewer after-hours calls and emergency visits from Centering moms because they better understand what is normal during pregnancy and what is cause for concern.
More Time with Your Provider: Moms in Centering spend 10x more time with their provider than women in traditional care.
Support & Friendship: Women enjoy being with other women who are going through a similar experience, giving them an opportunity to support each other. Centering moms create lasting friendships and are wonderful resources to one another during a very exciting but also stressful time in their lives
Learning & Fun: The most common word used to describe Centering is fun! Centering is based on the proven principle that when people are actively engaged and involved in a discussion with their peers, rather than being lectured or given a pamphlet, they will have greater understanding and are more likely to change their behavior.
[1] Benefits of CenteringPregnancy are from the Centering Healthcare Institute website. For more information regarding Centering, please visit their site.
Location and Appointments
Harper's Ferry Family Medicine Center
171 Taylor Street
Harpers Ferry, WV 25425
(304) 535-6343