Because of concerns related to the spread of COVID-19, our Harpers Ferry and Ranson Primary Care Clinics will temporarily suspend Sunrise Sick and Walk-in Sick visits effective March 16, 2020. These types of visits will be handled at our WVU Medicine Urgent Care Centers. We apologize for any inconvenience.
The Harpers Ferry Family Medicine Center clinic begin in 1982 in a small restored Civil War-era building. Since that time the program has grown into a large, thriving rural teaching and health care center housed in a 10,000 square foot state-of-the-art facility that currently accommodates more than 30,000 patient visits per year.
The staff includes full and part-time Family Medicine and Pediatric faculty physicians, resident physicians, a physician assistant, a nurse practitioner, a clinical pharmacist, medical students from WVU School of Medicine, clinical nursing staff and administrative support staff.
171 Taylor Street
Harpers Ferry, WV 25425
(304) 535-6343
Hours:
Monday
8:00AM  to 5:00PM
Tuesday
8:00AM to 8:00PM
Wednesday
8:00AM to 5:00PM
Thursday
8:00AM to 8:00PM
Friday
8:00AM to 5:00PM
Schedule a Non-Urgent Appointment
Office visits by appointment only except Sunrise Sick Call 8am-9am Monday-Friday.  We generally are able to provide you with an appointment date 2-4 weeks from the date of your request.
To schedule an appointment by phone call-
(304) 535-6343.

Cancel an Upcoming Appointment
If you fail to provide proper notification of an appointment cancellation, you will lose your privilege to utilize this service and will be charged a no-show processing fee of $15.00.
Sunrise Sick Call Information
Click here for information on our new limited urgent care service for established patients
Update Your Medication List.
Existing patients should download and complete the Medication List form. It is important to keep this information up-to-date.
In the event that the patient is unable to pay for the visit we offer the following assistance:
Referral to DHHR for medical assistance (Medicaid)
20 % discount when services are paid in full
Payment plans set through our main billing office (Morgantown)
Charity Care with Jefferson Medical Center (JMC) and Berkeley Medical Center (BMC) is accepted through University Healthcare Physicians (UHP). For those patients not qualified for charity care with JMC or BMC, we refer to DHHR for medical assistance. UHP offers equal access to care regardless of insurance status or ability to pay.

---
Harpers Ferry Family Medicine
loading...
---
Comments
loading...

Who is Family Medicine For?
Family Medicine is For Everyone!
In the increasingly fragmented world of health care, one thing remains constant: Family physicians are dedicated to treating the whole person.
Family medicine's cornerstone is an ongoing, personal patient-physician relationship focusing on integrated care. Providing patients with a personal medical home, family physicians deliver a range of acute, chronic and preventive medical care services Unlike other specialties that are limited to a particular organ, disease, age or sex, family medicine integrates care for patients of both genders across the full spectrum of ages within the context of community and advocates for the patient in an increasingly complex health care system.
Q. When are the phones answered?
A. We answer our phones Monday – Friday from 8 a.m. to 5 p.m. except for holidays.
We have office hours beyond 5pm on Tuesdays & Thursdays but we are only seeing scheduled patients at that time.
You can always reach the after hour on-call physician by dialing our main number (304) 535-6343 and follow the instructions or ask the operator to page the physician on-call for Harpers Ferry Family Medicine.
Q. What if I want to speak with someone instead of leaving a message?
A. Our phone options are set up to accommodate about 80% of the calls that we receive each day. Some of these options require that you leave a message for someone to return your call. This is primarily for lab results, billing questions, referrals, or medical records. These areas normally require that we obtain your chart or look up the information you are requesting before we are able to give you an answer. That is why we ask that you leave a message and a phone number where we can call you back. If you want to schedule an appointment you will always be able to speak to the next available staff member by pressing option 1. Our hope is that we will be able to service your requests much more efficiently with this new system. For those other 20% of calls that do not fall under one of the phone options, press zero. Someone will be able to take a message or transfer your call to the appropriate person.
Q. When is the best time to call for an appointment?
A. You can call anytime Monday through Friday between 8 a.m. and 5 p.m. For same day sick appointments we recommend that you call early in the morning between 8 – 10 a.m., although you can call anytime for this service. For future appointments such as re-checks or physicals, it is best to call after 10 a.m. Monday through Friday. You can call our office 304-535-6343.
Q. What if I need a prescription refilled?
A. If you are getting low on your medication you will need to contact your pharmacy and have them fax us the request. This helps speed up the process and ensures that your prescription is filled at the correct pharmacy. This policy assists in serving the needs of our patients.  Please contact your pharmacist before you get too low on your medications. Chronic conditions require regular appointments for the doctor to monitor and assess your condition. Refill requests should be made at that time.
Q. What if I am changing my pharmacy and I need a new prescription?
A. If you decide to change to a different pharmacy you will need a new prescription. Please call our office, 304-535-6343, and leave the requested information. It may take 24 to 48 business hours for us to complete your request.
Q. What if I have not received notice on my Lab/Test results?
A. Lab/Test studies are ordered by the physician to assist them with your care. If you would like copies of your results, please let the physician know during your visit or when the tests are ordered, otherwise your results will be discussed at your next visit. Depending on the test ordered, it could be up to seven days before we receive the results back from the lab. Prior to sending you the results the physician must review and sign off on them. If you asked your physician for copies of the results and have not received notice within about 14 business days (giving us time to process and the post office time to deliver) you can contact our office, 304-535-6343, and press option 5. Leave us the required information and we will look into the status and let you know when it was sent or resend it to you. This follow up process can take 24 to 48 hours depending on our volume.
Q. What if I need shot records or medical records copied?
A. For copies of your medical file please come in to the office and complete a records release.  Be sure to have a photo ID for verification with you.  To have records faxed to another office please call 304-535-6343 and choose option 0 to speak with an operator.
Q. What if I have billing questions?
A. Please contact the number located at the top of your bill to speak with a billing representative.
Q. Do you take my insurance?
A. Because we have resident physicians, nurse practitioners, and a physician assistant at this facility, you may need to provide the insurance company with one of the following physician names: Dr. Baltierra,  Dr. Lewis, Dr. Zavala or Dr. McLaughlin. You can also provide our Tax Identification number 90-0893455 and we are most likely listed under our corporate name of University Healthcare Physicians.
Q. What if I need a referral to another doctor?
A. If you need a referral to see another physician, most insurance companies require that you see your primary physician before you can go to the specialist. In this case, you will need to schedule an appointment with one of our physicians and the referral can be generated here. If this is not the case, you can call our office, 304-535-6343, and press option 3. Please leave the requested information so that we can begin to process your request. Referrals are normally ready within 2 to 3 business days depending on its complexity and requirements of your insurance company. If you want to check the status to see if it is ready or not you can also press option 4 and leave a message. Someone will call you back within 8 business hours. If it is an urgent matter, press zero and someone will attempt to assist you.
Please Contact our Office to Make an Appointment
Hours:
Monday
8:00AM  to 5:00PM
Tuesday, Wednesday, Thursday
8:00AM to 8:00PM
Friday
8:00AM to 5:00PM
171 Taylor Street
Harpers Ferry, WV 25425
(304) 535-6343
Brigitte Walters
RN Office Manager
Brandyce Lyons
Business Manager, Primary Care Department
Jennifer Gamino
Administrator, Primary Care Department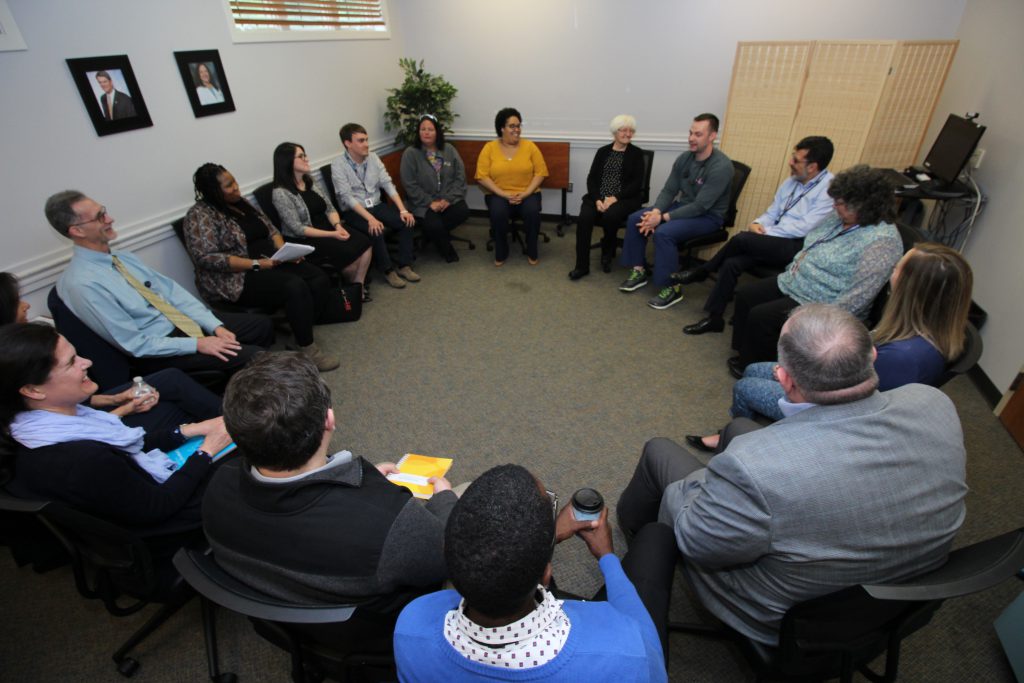 Better Care, Better Outcomes
Harpers Ferry Family Medicine Center's Prestige Care program offers patient-centered prenatal care for expectant mothers looking to spend less time in exam rooms and more time interacting with providers and other pregnant women in a comfortable group setting. The Prestige Care program follows CenteringPregnancy protocol to create better care, better health outcomes, and lower costs for patients and providers.
Harpers Ferry Family Medicine Center has been recognized by the Centering Healthcare Institute as the first CenteringPregnancy site in West Virginia.
What is CenteringPregnancy?
Centering is group prenatal care designed to bring women with similar due dates out of the exam room and into a comfortable group settings for fully comprehensive care. Group sessions include standard health assessments, interactive activities, guided discussions, and explorations of relevant topics such as nutrition, stress management, and breastfeeding. This protocol follows the recommended schedule of 10 prenatal visits, but each visit lasts between 90 minutes and 2 hours, allowing for more interaction and in-depth care.
Prestige Care groups are comprised of 6 to 8 women with similar due dates and typically begin around 15 weeks.
Why Prestige Care?[1]
CenteringPregnancy has benefits for moms, babies, and providers!
Better Health Outcomes: Numerous published studies show that Centering moms have healthier babies and that Centering nearly eliminates racial disparities in preterm birth.
Self-Care: Moms are actively engaged in their own healthcare and own their health information.
Self-Confidence: Centering moms are better prepared for labor, delivery, and to care for their infant. Practices report fewer after-hours calls and emergency visits from Centering moms because they better understand what is normal during pregnancy and what is cause for concern.
More Time with Your Provider: Moms in Centering spend 10x more time with their provider than women in traditional care.
Support & Friendship: Women enjoy being with other women who are going through a similar experience, giving them an opportunity to support each other. Centering moms create lasting friendships and are wonderful resources to one another during a very exciting but also stressful time in their lives
Learning & Fun: The most common word used to describe Centering is fun! Centering is based on the proven principle that when people are actively engaged and involved in a discussion with their peers, rather than being lectured or given a pamphlet, they will have greater understanding and are more likely to change their behavior.
[1] Benefits of CenteringPregnancy are from the Centering Healthcare Institute website. For more information regarding Centering, please visit their site.
Location and Appointments
Harper's Ferry Family Medicine Center
171 Taylor Street
Harpers Ferry, WV 25425
(304) 535-6343