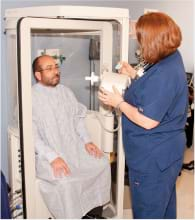 The Best Care is Close to Home
Our experienced team of respiratory therapists provide 24/7 inpatient respiratory care as well as outpatient services weekdays at both WVU Medicine Berkeley Medical Center and Jefferson Medical Center. Limited outpatient services are also available on Saturdays. We offer a full range of diagnostic and therapeutic services including:
Pulmonary Function Testing
EKG's
Stress Testing
Cardiac Holter Monitoring
To schedule an appointment at Jefferson Medical Center or Berkeley Medical Center, call 1-844-802-2734, Option #2.