Meet Our Chaplains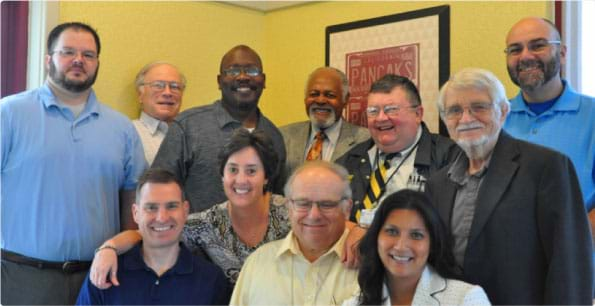 Pictured from left to right: front Lee Brumback, Richard Kroll, Arlene Fernandez-Anderson back Jason Powell, Jim Freeman, Tim Robinson, Don Taylor, John Ledford, Luther Osment, and Bill Ball not pictured: Tonya Armstrong and Duane Jensen
Jefferson Medical Center Volunteer Chaplains
Jefferson Medical Center respects and acknowledges each patient's right to pastoral counseling. To meet the spiritual needs of patients, their families, and employees, JMH Spiritual Care Services have 11 Chaplains of different faiths ready to aid whatever their need may be.
Our volunteer chaplains are required to have at least 2 years of pastoral experience as a religious leader of a recognized religious association, group, or denomination and One (1) unit of Clinical Pastoral Experience (CPE) OR equivalent experience.

Chaplain Bill Ball
Chaplain Bill Ball is a local of Charles Town, WV and recently graduated from the West Coast Bible College with a degree in Church Business and Administration. He is also a Certified Lay Minister in the United Methodist Church. Chaplain Bill has received training in pastoral hospital visitation, end of life and grief counseling, and Hospice Care which he has found very helpful in being an advocate to patients and their families during their stay in the hospital. Reaching out to his neighbors in stressful and trying times has been an avenue for him to show love and compassion to others which he feels is fulfilling in his ministry.

Chaplain Lee Brumback
Chaplain Lee Brumback lives in Charles Town, WV and has been Pastor of Saint Thomas Lutheran for the past 3 years. He has taken seminary classes focusing on Pastoral Care, completed CPE at Asbury Methodist Village, and has 16 years of parish experience. Chaplain Lee feels that by continuing his education on topics of grief, anxiety, and family system theory; he can more effectively support the spiritual and emotional needs of those in the community. Also by providing this support to patients, family, and staff, Chaplain Lee has the opportunity to connect them to God's healing.

Chaplain James L. Freeman, Jr.
Chaplain James L. Freeman, Jr., has a graduate school degree from the Assemblies of God Theological Seminary. He is an active leader in Way of Faith Ministries in Fairfax, VA and at Mt. Zion Assembly of God in Charles Town, WV. Chaplain Jim conducts services in three area nursing homes. Since retiring from his previous full-time commitments, Chaplain Jim is glad to be able to give added time to visiting with patients and their families, helping them with their spiritual and emotional needs, and offering encouragement and support to the staff.
Chaplain Richard A. Kroll
Chaplain Richard A. Kroll has two places of residency, one in Williamsport, MD and the other in Kearneysville, WV. Chaplain Richard attended Duke University for the study of Pastoral Psychology which included care in hospital, prison, field education, and nursing home settings. He recently retired from serving as Senior Pastor at the Asbury United Methodist Church but still serves as a volunteer in various hospital and nursing homes. Chaplain Richard feels it is very rewarding to offer comfort and encouragement to people facing challenging moments in life.

Chaplain John S. Ledford
Chaplain John S. Ledford is a local Pastor in Charles Town, WV. He graduated from both the University of Tennessee and Franciscan University of Steubenville with a B.S. in Agriculture and Accounting. Chaplain John completed course of studies at Mount Saint Mary's Seminary with a Masters of Divinity and also participated in Saint Mary's Seminary and University, Baltimore Doctorate in Ministry Program. After being ordained in 1975, Chaplain John has served as Pastor, Associate Pastor, and Chaplain in various churches throughout WV. He has volunteered his ministry to various hospitals for more than 39 years and feels that the role of Chaplain is important by assisting people with their own personal spiritual needs.

Chaplain Luther Osment
Chaplain Luther Osment lives and ministers in Harpers Ferry, WV. Over the years, he has obtained a College BA, Seminary Master of Divinity, and a Master of Religious Education. Chaplain Luther feels that his experience of over 50 years in hospital visitation is important in providing spiritual care and counsel to patients, their families, and staff in need. He also feels that spirituality and an understanding of peace, comfort, faith, hope, and assurance is a huge contributing factor in the physical healing process.

Chaplain Jason Powell
Chaplain Jason Powell is a native of Natural Bridge Station, VA where he lived for most of his life. Jason attended Liberty University and has a Bachelors degree in Religion and Criminal Justice and is finishing his Masters of Divinity with Liberty Baptist Theological Seminary (Liberty University) and plans to pursue a PhD in Theology and Apologetics or Doctor of Ministry after completion of his Masters degree. In 2010 he accepted a pastorate at Grace Baptist Church in Shenandoah Junction, WV where he continues to preside. Jason's goal for his ministry is to love his neighbors as he would want to be loved and to share God's love with all who will accept it.
Chaplain Timothy Robinson
Chaplain Timothy Robinson was born and raised in Charles Town, WV and was called to the ministry in 1997. He attended college at Faith Christian University and Schools and graduated with an Associate's degree in Christian Education in 2003. Chaplain Tim served as Youth Pastor at Zion Baptist Church for several years and later served as Pastor at First Zion Baptist Church in Harpers Ferry, WV. In 2007, he graduated with a Bachelors Degree in Biblical Studies and is still furthering his education and attending classes at Appalachian Bible College. Chaplain Tim's love for community, church, friends and family is shown through his work with various community activities, clubs, and volunteer services.

Chaplain Donald Taylor
Chaplain Donald Taylor was born in Charles Town, WV where he currently serves as an Associate Pastor for Administration and Organization. He received a Graduate Degrees in Divinity and in Cell Biology, and earned Doctorate in Path Biology (now Epidemiology). He has devoted his time and energies in various community programs and activities directed toward "wholeness" of the individuals and situations concerned with illness, loss, and disease prevention/awareness.

Chaplain Tonya Armstrong
Chaplain Tonya Armstrong is a servant at Kingdom Life Cathedral Ministries in Charles Town, WV where she serves as Chief Elder over the Prophetic Ministries, Chief Intercessor and serves on many other boards and committees. Chaplain Armstrong has an Associate's degree in Theology from North Carolina College of Theology. She loves the people of God and wants to tell a dying world about the love of God! She is excited about the work the Lord has called her to do and always says, if you send me Lord, I'll go!

Chaplain Duane Jensen
Chaplain Duane Jensen graduated from Brainerd High School in 1983 and attended Oak Hills Bible College, where in 1987 he earned an Associate of Arts degree in Bible. After earning his Masters degree in Divinity in 1996 at the Wesley Theological Seminary in Washington, DC, Chaplain Duane was ordain as an Elder in the Baltimore Washington Conference of the United Methodist Church in 2000. He has been serving United Methodist Churches since 1994, and now serves as Pastor of Asbury United Methodist in Charles Town, WV. Pastor Duane finds that chaplaincy work is not only an affirmation of this theological heritage, but also an opportunity to be about the business of Jesus, who was always aware of and concerned with the least, the last, the lost and the lonely.