OPENING IN SEPTEMBER 2020
WVU Medicine specialists provide virtual second opinions to patients without the need to travel or to be seen in person.
Patient Story
Diana explains how after 15 years of chronic cough and reflux, our team helped her find relief.
Video
Leaders in Lung and Esophageal Surgery
Video
World Class Care Right Here.
Our Thoracic Surgery Faculty
With decades of experience, our thoracic surgery team is one of the most experienced teams you will find anywhere. Our world-renowned thoracic surgery experts are recognized globally for their innovations and contributions to the field of thoracic surgery.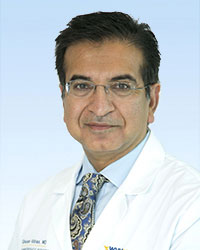 Ghulam Abbas, MD, MHCM, FACS
Chief, Division of Thoracic Surgery and Surgical Director of Thoracic Oncology at WVU Heart and Vascular Institute, J.W. Ruby Memorial Hospital, and the WVU Cancer Institute's Mary Babb Randolph Cancer Center; Associate Professor in the WVU School of Medicine Department of Cardiovascular and Thoracic Surgery.
Dr. Abbas is internationally recognized for robotic lung sparing surgery for lung cancer and minimally invasive esophagectomy for esophageal cancer. He is also an expert in robotic surgery for complex lung cancer resection, first rib resection for thoracic outlet syndrome, thymectomy for thymomas and myasthenia gravis, neurogenic tumors, chest wall tumor resection and reconstruction, and sympathectomy for "sweaty palms."
He came to WVU Medicine from Meridian Health System in New Jersey, where he served as director of minimally invasive thoracic surgery and medical director of thoracic oncology. Prior to that, he served as an assistant professor in the Department of Cardiothoracic Surgery at the University of Pittsburgh School of Medicine and Medical Center for eight years. He also served as the chairman of the Department of Surgery at UPMC Passavant.
Dr. Abbas completed his residency training at Long Island Jewish Medical Center in New York and fellowship training in cardiothoracic surgery at Rush University Medical Center. He subsequently obtained advanced training in minimally invasive lung and esophageal surgery at the University of Pittsburgh Medical Center. In 2013, he received his master's degree in healthcare management from Harvard University.
Dr. Abbas is board certified in surgery and thoracic surgery and author of numerous peer-reviewed scientific articles and book chapters. He has been an invited speaker at many international conferences on lung and esophageal cancer and is a member of several professional and scientific societies.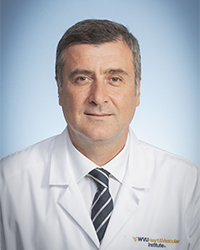 Alper Toker, MD
Director, Tracheal Reconstruction Program at the WVU Heart and Vascular Institute; Professor of Medicine in the WVU School of Medicine.
Dr. Toker is internationally recognized for his expertise in minimally invasive/robotic thoracic surgery and is one of the pioneers of robotic surgery for myasthenia gravis, a chronic autoimmune disease in which the skeletal muscles that are responsible for breathing and moving parts of the body, such as the arms and legs, become weak. He served as president of the European Society of Thoracic Surgery and continues to serve on the editorial boards of numerous thoracic and cardiovascular journals. He has published nearly 200 scientific publications in various international journals.
Dr. Toker leads the tracheal surgery program, robotic thymus/mediastinal surgery program, program for extended surgery for lung cancer, mesothelioma program, and chest wall surgery program.