Behind the Scenes
Our Chairs
01. Steve Antoline
Antoline, from Mount Lookout, WV, is a WVU alum and member of the WVU Medicine Children's Leadership Council. After receiving his Regents Bachelor of Arts degree from WVU, he founded Superior Highwall Miners, Inc., a Beckley-based company that grew into the world's largest manufacturer of highwall mining equipment. Antoline continues to operate various businesses throughout the state and serves as a trustee on the West Virginia State Investment Management Board.
He and his wife, Jamie, have been generous supporters of WVU Medicine Children's and the University for many years. Their donations have helped to fund scholarships, programs, research, and facilities in several areas of the University, including Athletics, the WVU Cancer Institute, and WVU Extension.
In recognition of their generosity, the football practice field at WVU is named the Steve Antoline Family Football Practice Facility. Also, in 2013, WVU Extension honored the Antolines with its Outstanding Philanthropists Award. Both are members of the WVU Foundation's Woodburn Circle and Irvin Stewart donor recognition societies.
02. Jeff Hostetler
As the parents of three sons – who, at various stages in their lives, have needed the care of WVU Medicine Children's – the Hostetlers understand firsthand what families and, more importantly, children go through during their stay at the hospital. This led them to become members of the WVU Medicine Children's Leadership Council, where they could advise and promote community involvement.
Involvement with the Leadership Council and their children's experiences led the family to donate $750,000 to WVU Medicine Children's for the creation of the Jeff and Vicky Hostetler Family Resource Center, which provides patients and their families with information about health conditions, area lodging, and community support.
A native of Pennsylvania, Hostetler had an 18-6 record as a two-year starter for Coach Don Nehlen's Mountaineers and captained the 1983 WVU Football team. He was chosen by the New York Giants in the third round of the 1984 NFL draft and won two Super Bowls with the Giants. His 15-year NFL career included stops with the Giants, Los Angeles/Oakland Raiders, and the Washington Redskins.
Hostetler and his wife Vicky have been passionate about providing assistance to children and families facing hardships due to traumatic injury, illness, or financial crisis. Over the years, they have used their focus of family and faith to guide not only their lives but the community activities they support.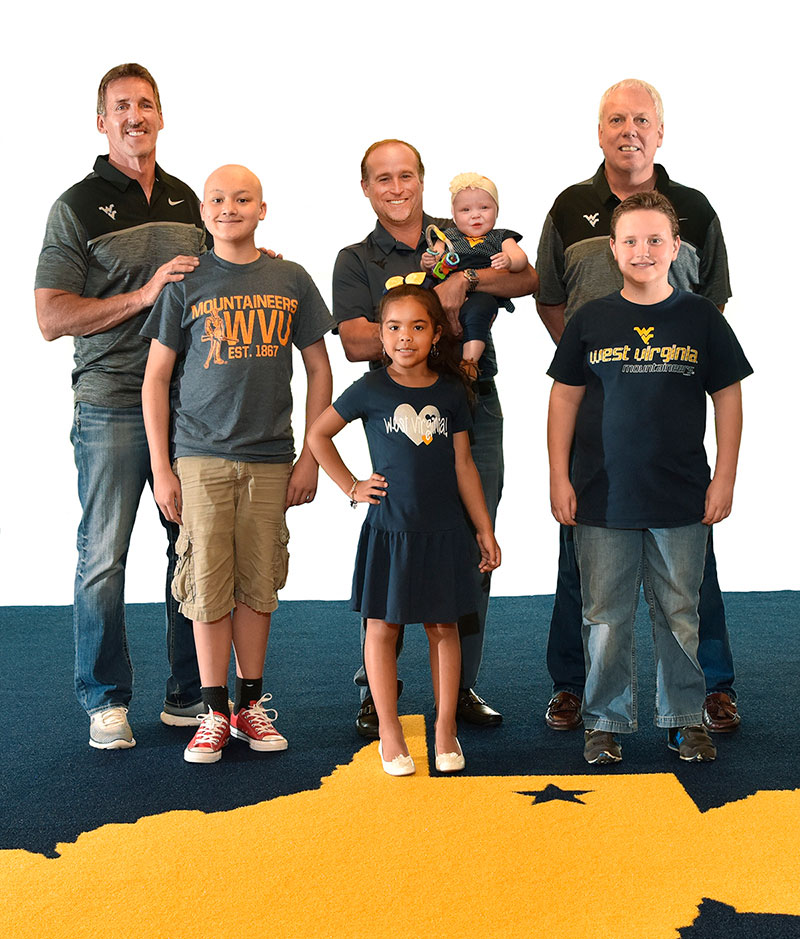 (Left to right) Jeff Hostetler, Dana Holgorsen, and Steve Antoline with WVU Medicine Children's patients.
Get Involved
Helping us is just one click away. Whether you want to donate to our campaign, host a fundraising event, or volunteer at WVU Medicine Children's, there are countless ways to show your support!