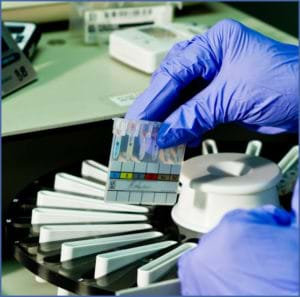 The clinical laboratory at CCMC is located in the MOB B.  The laboratory performs testing on clinical specimens in order to get information about the health of the patients as they relate to diagnosis, treatment and the prevention of disease. We provide services for patients of all ages.  The laboratory is divided into sections, anatomical pathology, microbiology, chemistry, hematology, blood bank, cytology and phlebotomy.  The laboratory at CCMC performs testing on both inpatients and outpatients. Over 98% of the testing is done in our own lab.  There are several convenient locations for outpatients including the Diagnostic Center at the Patriot Center, Garfield Medical Complex, Belpre Primary Care, and at Medical Office Buildings B and C.  The Laboratory is accredited by both the College of American Pathologists and CLIA.
---
Definitions
Complete Blood Count (CBC) – provides important information about the kinds and numbers of cells in the blood.
Comprehensive Metabolic Panel (CMP) – a blood test that measures your sugar level, electrolyte and fluid balance, kidney function.
BMP or Basic Metabolic Panel – a blood test that measures your sugar (glucose) level, electrolyte and fluid balance, and kidney.
Lipid Profile – a blood test that measures lipids-fats and fatty substances used as a source of energy in your body.
Urinalysis – a test performed on a patient's urine sample that is important in diagnosing conditions including urinary tract infections, bladder and kidney cancer, and diabetes.
Microbiology Cultures – a method of multiplying microbial organisms by letting them reproduce in predetermined culture media under controlled laboratory conditions.
PSA or Prostate Specific Antigen – an antigenic enzyme released by the prostate and found in abnormally high concentrations in the blood of men with prostate cancer.
Pap Smears – a screening test for cervical cancer. Cells scraped from the opening of the cervix are examined under a microscope. The cervix is the lower part of the uterus (womb) that opens at the top of the vagina.
Prothrombin Times/INR – a blood test that measures how long it takes blood to clot. A prothrombin time test can be used to check for bleeding problems. PT is also used to check whether medicine to prevent blood clots is working.
TSH or Thyroid Stimulating Hormone – a TSH test is used to measure the amount of thyroid stimulating hormone (TSH) in your blood. It will help your doctor determine if you need medication to treat hyperthyroidism (overactive thyroid gland) or hypothyroidism (underactive thyroid gland).

The phone number for the lab is 304-424-2304.
Location & Office Hours:
Medical Office Building-B
705 Garfield Ave., Parkersburg, WV
Monday – Friday from 6 am – 6 pm & Saturday from 6 am – 2 pm
Medical Office Building-C
705 Garfield Ave., Parkersburg, WV
Monday – Thursday from 8 am – 4:30 pm
Belpre Primary Care
2434 Richmiller Lane, Suite C, Belpre, OH
Monday – Friday from 8 am – 4:30 pm
Patriot Pointe
2838 Pike St., Parkersburg, WV
Monday – Friday from 8 am – 12:30 pm & 1 pm – 4 pm
Garfield Medical Complex
2012 Garfield Avenue, Suite 1, Parkersburg, WV
Monday – Friday from 8 am – 4:30 pm